VMF-V MA-311 Reunion Association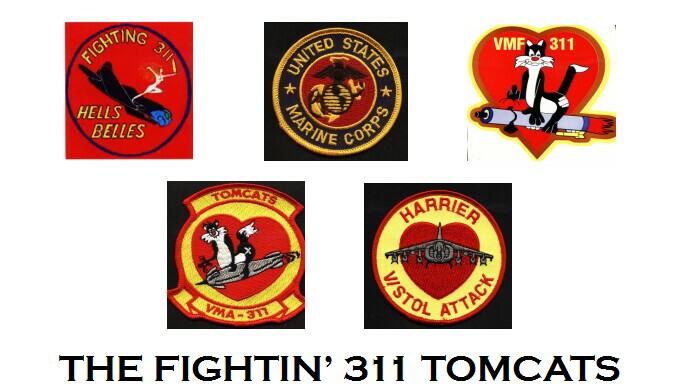 OFFICIAL WEB SITE:


*****************************************************************************************************************************
The fightin '311
AUGUST 2014 EDITION
******************************************************************************
Jim and Sue Galchick George and Jackie Phander Cecil and Chris Cheeka
1290 E. 12th St. 3032 Potshop Road 2207 Lilac St. S.E.
Salem, Ohio 44460 Norristown, PA 19403 Lacey, WA 98503
330-337-9383 610-584-5654 360-352-7227
jgalchick@neo.rr.com piboxer@comcast.net ccheeka@comcast.net
OFFICIAL WEB SITE: www.vmf-vma-311reunion.org
Webmaster:Fred Townsley, 805 Price Ave, Chandler, OK 73834, 405-258-0532 or
E Mail:oldsargfred@gmail.com
MEMBERSHIP: Charles "Ralphie" Read, 14 Brentwood road, Kingston, MA 02364
SAN ANTONIO 1-5 OCTOBER 2014
Well, the reunion is upon us. What more can we say. If you still need a reunion packet you can download one off the web site or we can send you one. Just get ahold of someone at the top of this newsletter. The only thing I can say about this reunion is that it won't be quite as elaborate as the one in Quantico. But, we are going to have a good time and hope that anyone who can will join us. If you are in the area and not going to the reunion, stop in and say hello.
If you have made reservations at the hotel and have not sent me your tour and banquet reservations you need to do that and, reversing that, if you have sent me your reservations don't forget to call the hotel and reserve your room if you are staying there. Deadline for everything is September 15th. We have to have the numbers into the bus people and the hotel caterers. We also have to have time to put the packets together and make out the dinner tickets.
A group of us will be at the Holiday Inn on Sunday 28th. Those of you who are going to make a week of it make sure you look us up.
There is going to be a representative from Alamo Tours at the check in table or somewhere and she will be able to answer any questions you may have regarding the tour from Alamo Center. The tours leave at 0930 and 1015. The hotel shuttle will be hot wheels on the road that morning to make sure that we all get up to the tour bus. Buffet breakfast is at 0600 so you will have plenty of time to eat and make it to the tour at either one of those times. All the places seem to offer military discounts at least for eating and there is plenty of places on the river walk to do that. You may have to show your name tag or military ID. Your pass is a two day pass so you can go back and see some things on Saturday that you may have missed on Thursday. It'll be warm so take your time. We only got rained on once in 16 years so odds are on our side.
2. We got some good things to auction off on Friday night. We've acquired some nice matted pictures of 311 groups from 1948 and 1950 compliments of Andy Anderson (48-50) and a A-4 flight line picture of the Skyhawks all lined up on the runway in 1969 at Chu Lai courtesy of Bill Burgett from the 211 group. Both Ralphie Read (66-68) and Jim Davis (68-69), my famous auctioneers, will be attending the reunion and ready to impart their skills to the buying masses. Anyone who has not attended our reunions before will get a kick out of auction night. We have a really good time of it. The hotel will serve up a snack of some kind for the auction.
Friday we'll head out to Fredericksburg to the Nimitz and WWII Museums. Bus will leave at 0800. There are wheelchairs available, both push and motorized, for no charge. Lot of places to eat on the main street for lunch. Every place seems to have a German cuisine on the menu. We'll get up there about 0900 and leave about 1600. Take your time there's a lot to see. You can spend 2-3 hours just reading all the plaques in the Memorial Garden. We'll get back to the hotel about 1700 and it'll give you some time to eat dinner and get ready for the auction which we'll start around 1900-1930.
Saturday we'll have a business meeting in the hospitality room at 0830 and close that down. The banquet will start at 1800 with Memorial service at 1900 followed by dinner. We're lacking VMA-311 presence and any kind of formal entertainment but we have a plan "B".What that is exactly we haven't got it quite nailed down but we're working on it. Bring your cameras. Anyone who takes a bunch of pictures can send me the doubles to put the reunion book together. I'll pay for the film. I'm usually too busy to play candid camera.
In a nutshell that's about it. On behalf of the reunion committee, it has been an honor to serve you over the years. Be safe when traveling. We'll see y'all in San Antone!!
NEW ALUMNI
FREDERICH, JIM 4401 NW 66 Court, Kansas City, MO 6415
816-746-4421, jfrederich@att.net
1947-49, El Toro, Mechanic
LUND, L.L. 3104 S. Early Dawn Court, Spokane Valley, WA 99037
509-927-9124, lllund5@juno.com
1951, K-3, Ordnance
ADDRESS CHANGES
DELL, DON PO BOX 260, Goshen, AR 72735-0260
LEAVENGOOD, BOB 211 Sweetbriar St. Apt #308, Pittsburgh, PA 15211
YOCCA, AIMEE 629 Roughbeard Road, Winter Park, FL 32792
EMAILS, PHONES AND OTHER CHANGES
ANDERSON, ANDY swede1@mailbug.com
YOCCA AIMEE 561-948-5785
YETTMAN, JIM If you have a roster, change Jettman to Yettman
DATELINE: VIETNAM MAY 1968: Les McMillan and Jim Galchick were transferred from 311 to 211. Les was guarding the Philippines and is questionable that he was ever in Vietnam. We have no picture proof!!
TAPS
HERBER, JACK VMF-311 1957-58, VMA-311 1967-68, Pilot
Gig Harbor, WA, 24 May 2014.
PAGE, GLENNA Wife of LTC Dorsie D. Page Jr., CO VMA-311
Alexandria, VA
TODD, SHIRL VMF-311 1948-1952, K-3 AND K-9, Plane Captain
In Calusa, CA. Served in Korea, China and two tours in Vietnam.
(Names will be read at the memorial service prior to the banquet in San Antonio.)
DONATIONS
Richard Arehart (66-67, 69-70), Latham, OH; Ray Ekseth (Dowling) (69-70) Hampton, SC; Sam Dickey (68-69) Fountain Valley, CA; Tom French (42-46) Rockport, TX; Jon Mendes (53), New York, NY; Tom Lackovic, Los Gatos, CA; and Bill Leese (62-66, 74) Millington, TN. Thanks everyone.
LOST IN THE MAIL
DORN, RALPH LKA Alexandria, VA
SCOOP FROM THE TROOPS
PAT HERBER, GIG HARBOR, WA: It is with a heavy heart that I advise you that on May 24th 2014 my handsome hero of the air LTC John H. (Jack) Herber went to be with the lord. He always knew that "God was his co-pilot" and lived his life with that in mind.
He served with VMF-311 from April 1957 through December 1958 where he served as safety officer after attending Safety School in Tennessee. He also served his Vietnam tour with VMA-311 from August 1967 through September of 1968.
I was so proud to have been a part of his life for 58 years and the 25 years he flew in the Marine Corps. We were blessed with great friends, good duty stations, his command of VMA-333, even a tour of duty in Naples, Italy on the NATO staff.
My father, Major Frederick E. Sparling, was in the Marine Corps for 36 years, so one might say I have slept under a "green blanket" for my 82 years.
We have enjoyed reading your publication and keeping up with the TOMCAT news. You should be proud of the work you do trying to keep this unit alive. We has always hoped to attend a reunion, but never got there. Now I've learned that one should follow through with your desires, life is short.
Sincerely, with gratitude for your service to our country.
L.L. LUND, SPOKANE VALLEY, WA: I was in 311 most of 1951 in Korea at K-3. My MOS was ordnance but I was a NAP M/SGT and only flew missions. We had F9F-2s, I never worked in ordnance when I was there. We had 3 or 4 enlisted pilots in the squadron. The CO most of the time I was there was LTC Ben Moore. His predecessor was LTC Kinney and his relief was LTC Irwin. My time in service was 1942-1963.
4. I only recognize one name on the roster, Jack Herber, I didn't serve with him but I knew him from the Richard Mangrum Squadron of the Marine Corps Aviation Association in the Seattle area. Sadly, Jack recently passed away.
PAUL KRECZKOWSKI, SEATTLE, WA: I'm trying to find people that may have served with my father in WWII. He was a Corsair pilot at Kwajalein. At 91 years old he still has his hiking stick. (Editor's Note: His father's name is Chuck Warrender. I emailed him the list of the Corsair pilots that I have on the roster, Vic Crowe, Wayne Knight, DeLloyd Roush, Hugh Reynolds and Jake Torrence. Jake Torrence was at our reunion in St. Louis and Vic Crowe was at the one in San Diego and I haven't heard from them since those times. I assume they are still with us. However, if you can pass on any information to Paul contact him at pmkrecz@msn.com ).
ANDY "SWEDE" ANDERSON, TUCSON, AZ: I just got home from UPS and mailed the pictures to you, they said you should have the in a couple days. Please forget about the charge for mailing. I have a hard case of COPD and before they play Taps over me it is good to know that someone from 311 will have them. I got to El Toro in March 1948 and left July 1st for great Lakes Naval Marine barracks so I missed going to Korea. In case anyone wants to know, I drove refueling truck and a starter jeep as they started the jeeps back then with a jeep back full of batteries. Do you know what they did with El Toro because I heard they closed the base. As you can see in one of the pictures we had a couple of flying Sgts. The one picture is with a "Shooting Star" and the other with a F9F in the background. We were the first outfit to get jets on the west coast. What a lot of fond thoughts I have from those years. I have COPD so bad that traveling much out of the question as much as I would enjoy being at the reunions and meeting your group. All from southern Arizona. Semper Fi. (Editor's Note: I remember Tommy Dobsch lived close to El Toro or had access to a lot of info concerning the base and I seem to remember something about they were taking taped interviews from Marines that served at El Toro for some college study. Any of you who might be able to give the "Swede" some incite to the status of El Toro I'm sure he would be grateful. Email him at swede1@mailbug.com)
DICK AVERY: I am a writer of WWII subjects. My latest book is a historical novel about the Marines in the Pacific on the island-hopping campaign and brought the war to the doorstep of Imperial Japan.
It's not a book about sweeping strategies of generals and admirals. It's a story about the gyrenes, the devil dogs, slogging their way through the steamy jungles of the South Pacific. They fought two enemies; the fanatical Japanese army and the insect-ridden, malarial jungle.
It's a story of valor, bravery and endurance.
If that appeals to you, visit my web site at www.worldwar2stories.net and read an excerpt. You can read about my other WWII books there as well. All are $4.99
(Editor's Note: I emailed Dick back and told him that very little has ever been written about Marine squadrons in the Pacific and any war for that matter. I went on to expound on the fact that 311, for the past 72 years has been the best fixed wing fighter squadron in the Marine Corps and has a linage with no equal and him or one of his writer cohorts ought to write something about that. He email me back and said he was gathering information for another book about little known heroes of the wars. People who were little known but did heroic things to change the tide. He asked if there was anyone in the 311 who would like to contribute to that. I said we didn't have any heroes that I knew of and the ones that may have been are not expounding on it. We are a bunch of Marines that did our job and did it well. But, I said I would pass the word along. If you have a story of significance to pass on to Mr. Avery about your exploits and would like to be considered for a chance to be in print contact him at djaverytx@gmail.com )
LTC TOBY F. MOORE, COMMANDING OFFICER VMA-311: Unfortunately, we will not be able to send anyone to the reunion this year because we will be in Alaska participating in a Red flag exercise and I wanted to let you know.
The TOMCATS just finished our first CQ period onboard the USS Essex (LHD-2) IN June. It went very well and we day qualified 10 pilots who will be deploying next spring in support of either the 15th MEU or the 31st MEU. We will be performing at the Sacramento, CA air show on 6 September if anyone can come by. Finally we will be going to Elmendorf AFB Alaska for a month between September and October so we can do a couple weeks of unit level training followed by participating in a Red Flag Alaska exercise. These exercises are a large force that bring a level of intangible experience to all participating pilots. Really wish we could make the reunion this year but duty calls. Semper Fidelis.
5. KAREN FRENCH, ROCKPORT, TX: My father is Tom French, He sent you many pictures that you have printed. He was with VMF-311 in the South Pacific. He will turn 95 on August 23rd. I have advised him that he should attend the reunion as we are only a couple hours away. I hope he can come. He still is very interested in the newsletters. Hope someone close to his age will be there. Thank you so much for your hard work. We Texans are proud of San Antonio. It's hot, humid and the mosquitoes are as big as the stars in Texas. (We also stretch the truth a bit!! Ya'll will enjoy authentic Mexican food. Hope ya'll are Spurs fans right now.
San Antonio really is a wonderful city with many things to do. People are very friendly and helpful. You might tell the ladies that San Manos, Texas (not too far) has great discount stores with name brand merchandise and lots of them. October is the perfect time of the year to come. (Editor's Note: Tom French was a Navy Corpsman attached to the Marines. He served from 1942-1946 in the South Pacific.)
BRUCE DEWALD, SEA STORIES: (EDITOR'S NOTE: I don't know Bruce DeWald or any of the others mentioned in this story but it is a good A-4 story.)
Call signs
You can never have too many stories. My friend and almost Tophatter squadron mate Larry "Splash" Coy (we virtually passed each other as I checked out as he checked in) relates his.
"Wish I could say that it was with great skill and cunning, but I was along just for the ride. Bridle separated during a CAT shot, ripped off my A-4 nose strut, skidded off the bow already out of the safe ejection window. Decided it was better to die on impact than to drown in my sinking Skyhawk. They never saw my chute as I impacted the water just after seat/man separation. Thought I broke my neck so did what any 28 year old would do…check to see if I could still feel my balls even though I was still underwater. I was the first guy saved by FLU-8, unfortunately I was right in front of the Mighty Lexington. It got to me before the trusty H-46 Plane Guard. I came out on the starboard side of the aft elevator. Swimmer jumps in, on me in seconds, asks if I am OK. Reply "I'm in the water and shouldn't be, can you help me out?" My Gulf of Mexico swim lasted eight minutes vice the following 2+ hour medical exam. Went to the bridge afterward as the Captain wanted to see me. After being granted permission to enter the Bridge, the Skipper says "Ensign Coy, sorry about running over you, but you were in the way!" he paused for effect and added "Stay out of the way next time!" I rogered his order with an "Aye Aye Sir" and then he said, "Henceforth you shall always be known as "Splash"". In Naval Aviation we all know what "shall" means…and so it is. I flew 48 hours later.
h/t "Pitch" Paisley
Ed Schriber
Col. USMC (Ret.)
Semper Fi
JEAN TODD, CALUSA, CA: "Just a line to inform you of Shirl's death on May 2nd 2014. He kept any and all information that came into this house. As a result, I'm still going through papers and magazines. Our daughter said "Mom, it's mind boggling!!" It took me two days to go through just the LEATHERNECK magazines and box them up again. Had one dated back to 1954!
There is a small private museum in the area called THE MUSEUM OF THE FORGOTTEN WARRIORS in Linda, CA and if you are ever in the area do stop in and be surprised. This museum was started by a young man who didn't like the way service men were treated when they came back from Vietnam.
Shirl was a Marine through and through and I guess "Semper Fi" says it all.
DATELINE: 1945: OKINAWA: Throughout the month of April the squadron continued flying combat air patrol missions, and on 28 April, 13 more Japanese aircraft were added to 311's growing record. By the end of April, 22 enemy aircraft had been destroyed with the squadron's only loss occurring on April 30th. 1st LT William Ouellette, while flying near a US destroyer was mistaken for an enemy aircraft, shot down and killed.
May proved to be as exciting as the previous month as the determination of the fanatical enemy tested the skill of every pilot. On 4 May a total of 60 enemy aircraft were shot down by Okinawa based flyers, and VMF-311 got its share as it tallied 17 kills. 2nd LT William Brown led the squadron with four enemy planes shot down. By the end of the month the squadron had topped April's score with a total of 37 enemy aircraft destroyed.
BOTTOM OF THE NINTH
As mentioned before make sure you get your registrations in by 15 September. My wife Susan, "The Eternal Gunny" types up all the dinner tickets and tour rosters and a myriad of other things and she pulls rank on me if everything piles up at the last minute.
We are planning and looking forward to seeing you all in San Antonio. These last two years we have seen the passing of some good friends that have attended our reunions and that is always tough. But, we also have some new attendees and we hope that they will enjoy the comradery of our group.
Speaking for the rest of the officers, their wives and all who work hard to make these things happen, I say that it has been our honor to serve you. We've made many friends over the years and most have become as extended family. We elate in their joy and mourn when they are gone and so it is the way of life.
Without further comment, to those who are traveling west, be safe and we'll see you in San Antone, pardner!
For the Alumni association,
Semper fidelis
Jim Galchick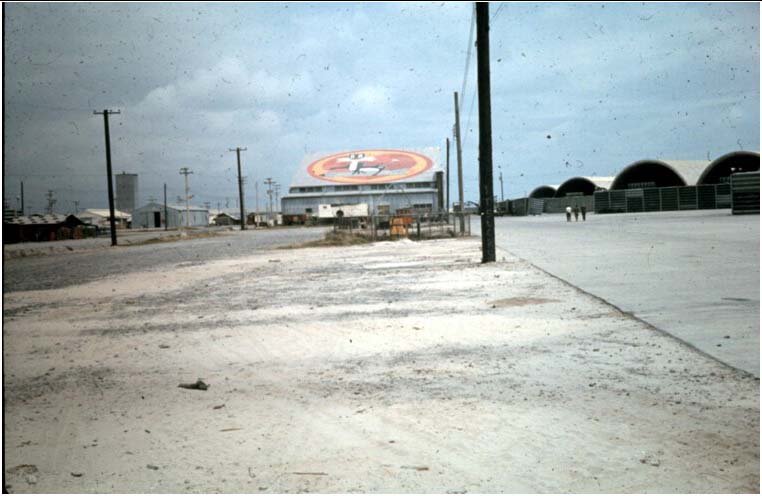 I don't know where this picture was taken but it sure is a big TOMCAT. Someone will please expound on this I would be grateful. I'm guessing maybe Da Nang or Ben Hoi.
TOMCAT AIR: ON TIME, ON TARGET
Got the scoop on the hanger picture. Thanks, Joe.
The hangar picture at the end of the newsletter had me going for a second--it was in DaNang in early 1971. The picture is reversed. The revetments are on the right. I'm sure bunches of us of that era have the same picture. If I ever get my slides digitized I'll send them to you on a thumb drive.
Joe Fournelle
Avionics 70-71
I think the picture is correct now. Fred