VMF-VMA-311 Reunion Association

DECEMBER 2014 EDITION
**********************************************************************************************
Jim and Sue Galchick George and Jackie Phander Cecil and Chris Cheeka
1290 E. 12th St. 3032 Potshop Road 2207 Lilac St. S.E.
Salem, Ohio 44460 Norristown, PA 19403 Lacey, WA 98503
330-337-9383 610-584-5654 360-352-7227
jgalchick@neo.rr.com piboxer@comcast.net ccheeka@comcast.net
OFFICIAL WEB SITE: Fred Townsley, 805 Price Ave, Chandler, OK 73834, 405-258-05
WebPage www.vmf-vma-311reunion.org Email: oldsargfred@gmail.com
MEMBERSHIP: Charles "Ralphie" Read, 14 Brentwood road, Kingston, MA 02364
SAN ANTONIO REUNION 2014 RECAP
ANOTHER REUNION HAS COME AND GONE AND WE REALY HAD A GOOD TIME IN SAN ANTONIO. THE WEATHER WAS PERFECT, THE TOURS WENT GREAT AND THE CUSINE WAS JUST ABOUT ANYTHING YOU COULD ASK FOR. WE DECENDED ON THE ALAMO CITY 55 STRONG WITH MANY SHOWING UP PRIOR TO THE REUNION DATES. SORT OF LIKE A RECON TEAM. MOST OF US HAD NEVER BEEN TO TEXAS OR SAN ANTONIO SO IT WAS GREAT TO SEE ALL THE THINGS WE JUST ALWAYS HEARD ABOUT SUCH AS THE FAMED RIVERWALK, THE ALAMO, TOWER OF THE AMERICAS (ALL 600+ FEET OF IT!) AND THE BEAUTIFUL SPANISH MISSIONS. ON THE SIDE WE WENT FREDERICKSBURG, TEXAS AND SEEN THE CHESTER NIMITZ MUSEUM AND GEORGE BUSH MUSEUM OF THE PACIFIC. WE JUST HAPPENED TO BE THERE ON THE FIRST DAY OF OCTOBERFEST WHICH WAS A PLUS, AND ATE SOME GOOD GERMAN FOOD AND NO DOUBT SAMPLED SOME GOOD GERMAN BREWSKIS.
BACK IN SAN ANTONIO WE WERE TREATED REALLY GOOD BY THE HOTEL AND THE STAFF WAS GREAT AND RECEPTIVE TO OUR NEEDS. STANDARD BUFFET BREAKFAST EVERY MORNING WAS MORE THAN ADEQUATE. JUST SO HAPPENED THAT THE MAINTENANCE GUY WE DEALT WITH, NAME OF ROCKY, WAS A MARINE AND WOUNDED WARRIOR. SO WE GOT ALONG GREAT.
WE HAD THE FORTUNE OF SHARING A HOTEL WITH COMPANY OF VIETNAM VETERANS OF THE 2ND BATTALION, 14TH INFANTRY, AMERICAL DIVISION. THEY HAD ABOUT 30 GUYS THERE AND WE HAD A GREAT INTERACTION WITH THOSE GUYS THOUGHOUT THE WEEK. WE EVEN TOOK A GROUP PICTURE WITH THEM. (If anyone has a copy of that pic I would appreciate one. –jim).THEY WERE IN VIETNAM THE SAME TIME AS MOST OF US.
THE AUCTION WENT GREAT ON FRIDAY NIGHT. I SWEAR JIM DAVIS AND RALPHIE READ COULD MAKE A GOOD SECOND CAREER AS AUCTIONEERS. THEY JUST KEEP GETTING BETTER EVERY REUNION. THANKS TO THE MANY DONATIONS WE WERE ABLE TO RAISE ENOUGH MONEY TO KEEP THE GROUP AFLOAT FOR THE COMING YEARS AND WE MADE A $1000.00 DONATION TO THE VMA-311 FAMILY READINESS GROUP IN YUMA. HAVE TO MENTION THAT THE SQUADRON DID SEND A BOX OF THINGS FOR THE REUNION AND WE GAVE SOME OF IT AWAY AND AUCTIONED SOME OF IT. SGT. GRIT MARINE SPECIALTIES ALSO SENT A BOX OF THINGS. SEEMS LIKE EVERYONE DONATED SOMETHING. WE REALLY HAD A GOOD TIME WITH CHICKEN WINGS AND SNACKS TO BOOT.
BANQUET WENT GREAT STARTING OFF WITH OUR MEMORIAL SERVICE WHICH IS ALWAYS A SOMBER MOMENT. WITH A SERIES OF UNFORSEEN INCIDENTS, I HAD NO GUEST OF HONOR OR MAIN SPEAKER LAID ON FOR THE EVENING.BUT AS FATE WOULD HAVE IT, FELLOW TOMCAT ALUMNI JUAN MEDRANO (78-83) WHO LIVED NEAR BY IN NEW BRAUNFELS, TEXAS SHOWED UP AND , AFTER HEARING OUR PLIGHT, OFFERED TO SPEAK TO THE GROUP. HE WORKS WITH THE VA SYSTEM HELPING FORMER MILITARY WITH DIABILITY CLAIMS AND APPLICATIONS. THERE WERE MANY IN ATTENDANCE WHO CURRENTLY DEAL WITH THE VA SYSTEM SO JUAN HAD A CAPTIVE AUDIENCE AND ANSWERED SOME QUESTIONS. EVERYONE T HE REUNION GOT A ROSTER IN THEIR PACKET. JUAN'S CONTACT INFO IS ON THE ROSTER AND I'M SURE IF YOU WANTED TO ASK HIM SOMETHING CONCERNING VA CLAIMS HE WOULD BE MORE THAN WILLING TO ENLIGHTEN YOU. I HAVE LITTLE OR NO INFO CONCERNING VA CLAIMS. MY OWN ASSOCIATION WITH THE VA GOES AS FAR AS PHYSICAL ONCE A YEAR, EYEGLASSES EVERY TWO YEARS AND HEARING AIDS EVERY FOUR.
SO EVERYTHING WENT REALLY WELL AND THE VOTE FOR REUNION 2016 WAS ALMOST UNANIMOUS FOR PENSACOLA, FLORIDA. FIRST PART OF THE YEAR WE'LL START WORKING ON THAT. CAN'T SAY ENOUGH ABOUT ALL THE PEOPLE WHO MADE SAN ANTONIO A SUCCESS. YOU ARE A GREAT BUNCH AND IT'S AN HONOR TO WORK WITH YOU.
OH—ONE MORE THING. I KNEW THIS WOULD COME UP EVENTUALLY AND I BELIEVE THAT RALPHIE READ INSTIGATED IT. HE DECLARED THAT MY WIFE, SUE, HAS HAD ENOUGH TIME IN GRADE AS A "GUNNY" AND MOTIONED THAT SHE BE PROMOTED. I STRENUOUSLY OBJECTED TO THE MOTION NOTING THAT AS A RETIRED E-7 I COULD NOT BE OUTRANKED MILITARILY IN MY OWN HOUSE. CIVILIAN WISE I HAVE ALWAYS BEEN OUTRANKED, MILITARILY NO. AFTER A CLAMOROUS UPROAR, I DEMOCRATICALLY PUT THE MOTION TO THE VOTE. ALL IN FAVOR SAVE ONE VOTE. THEREFORE MY LOVELY WIFE IS NOW AND HENCEFORTH A "FIRST SERGEANT". MY, OH, MY!
AGAIN THANKS TO ALL WHO ATTENDED AND MADE THE REUNION A SUCCESS. THOSE WHO DIDN'T MAKE IT WE HOPE YOU CAN JOIN US IN PENSACOLA IN 2016. GOD WILLING AND THE GULF OF MEXICO DON'T RISE!
ATTENDEES TO REUNION 2014 SAN ANTONIO
GEORGE ARNONE, BRONX, NY (65-66); FRED AND JANET AVERY, WILLOW STREET, PA (64-66); JACK AND TEE BIBEY, CHURCH ROAD, VA (72-73); JERRY AND DARLENE BRADLEY ST. PETERS, MO (64-66); CECIL AND CHRIS CHEEKA, LACEY, WA (67-68); JIM AND DOT DAVIS, PENSACOLA, FL (68-69); TOMMY AND MARIANN DOBSCH, MISSION VIEJO, CA (76-78); KEN AND KATHY DOUCET, LAFAYETTE, LA (66-67); DON DOUGHERTY, TOM AND ALYSIA DOUGHERTY, JAKE AND JOSH NIERER, WHITEHALL, PA (52-53); RAY EKSETH, HAMILTON, SC (69-70); JIM AND SUE GALCHICK, SALEM, OH (67-68); RICHARD AND NORMA KIELMAN, BARB AND RICHARD BROWN, JACOB AND CHOLE FITE , ELKHORN WI (62-64); JIM KOTMEL AND MARILYN SPIEWAK, MAPLE HEIGHTS, OH (67=68); BILL LEESE, MILLINGTON, TN (62-66, 74); TERRY AND LAURA LOVELESS, MARION, IA (69-70);KEN AND CAROL MAYNARD, EPPING, NH (66-67); BILLAND CELIA MCKOWN, WHITTIER, CA (64-66); LES AND BONITA MCMILLAN, CRESTON, OH (67-68): BILL AND CYNTHIA MURPHY, ST. PETERSBURG, FL (63-67); DAVE AND JANET PARKER, FARMINGTON, ID (66-67); CHARLES READ , KINGSTON, MA (66-68); BOB AND LISA SCAR ASHVILLE, NC (70); LOU STANKO, PORTAGE, IN 968-69); ED AND LYNN STEPNOWSKI, NAPLES, FL (66); FRED AND ETHEL TOWNSLEY, CHANDLER, OK (53-54, 69-70); CHUCK VINCENT, FREDERICKSBURG, VA (52); AND AIME AND PAT YOCCA, WINTER PARK, FL (67-68).
DONATIONS
EVERYONE THAT WENT TO THE REUNION CONTRIBUTED TO THE GROUP FINANCIALLY IN SOME WAY. THESE DONATIONS WERE OTHER THAN REUNION ATTENDEES: Al FAVELA , SAN DIEGO, CA (62-65); RICHARD AREHART, LATHAM, OH (66-67, 69-70); PETE PHILLIPS, ST.CLOUD, FL (42-45); GEORGE FLORES, ANAHEIM, CA (64-66); SAM DICKEY, FOUNTAINVIEW, CA (68-69); JERRY HOLLERAN, COLLIAGE PARK, NY (55-57). THANKS MARINES FOR ALL YOUR SUPPORT.
NEW ALUMNI
MORRIS, DELMER MAJ. (RET) 2832 E. GARFIELD AVE., ORANGE, CA 92867
714-532-3457, K-3, PILOT, 1952-53
EMAIL AND ADDRESS CHANGES
BIRCHLER, MONA 6210 6TH AVE S, ST. PETERSBURG, FL 33707-2335
DICK KIELMAN kiel4925@hotmail.com
ART REGAN 4225 ORCHARD LOOP W., TILLAMOOK, OR 97225
arregan@comcast.net
LOST IN THE MAIL
MILTON GIFFIN LKA NORTHWOOD, NH
EVE GORLEY LKA HOT SPRINGS, AR
TOM TURNER LKA WICHITA, KS
BONNIE KINNEY LKA CUPERTINO, CA
TAPS
BOB POLHAMUS BOYNTON, FL, 2014. PILOT, 63-65, CHU LAI
(WE WERE READING AN OBIT AT THE REUNION FOR DORSEY PAGE AND BOB'S NAME WAS RIGHT UNDERNEATH IT. I DON'T HAVE ANY OTHER INFO. BOB'S NAME WAS READ AT THE MEMORIAL SERVICE…JG)
COMMO FROM THE TROOPS…
HAROLD (PETE) PHILLIPS, ST. CLOUD, FL: "IT IS WITH REGRET THAT I WILL NOT BE ABLE TO COME TO THE REUNION. WHICH WE HAD BEEN LOOKING FORWARD TO. RUTH WAS DIAGNOSED WITH LYMPHOMA IN HER RIGHT FEMUR. SHE HAD SURGURY AT MOFFITT CANCER CENTER IN TAMPA IN NOVEMBER 2013. IT HAD FRACTURED HER FEMUR AND A TITANIUM ROD WAS INSTALLED. SHE WAS IN A NURSING HOME UNTIL THE END OF MARCH. SHE IS HOME AND DOING WELL. SHE ALSO HAD A BLOOD CLOT IN HER LEFT LEG WHICH PREVENTS AIR TRAVEL.
I TURNED 90 JULY 5TH AND HAVE HAD SOME HEALTH ISSUES ALSO. JUST DID A FEW DAYS IN THE ST. CLOUD HOSPITAL STARTING WITH ACID REFLUX GETTING INTO MY LUNGS.
WE HOPE YOU HAVE A GREAT REUNION. DEBBIE AND SAM LIVE IN ST. CLOUD NOW (QUITE A CHANGE FROM ALASKA) AND SHE'S BEEN A BIG HELP. ALL THE GIRLS WILL BE HERE FOR THE 65TH WEDDING ANNIVERSARY SEPTEMBER 16TH. LORD WILLING. SEMPER FI."
RICHARD AREHART, LATHAM, OH: "PRIOR TO JOINING THE AIR WING I WAS A GRUNT. I WAS WITH THE 3RD, 5TH, AND 9TH REGIMENTS AS A BARMAN. I ALSO SPENT A 13 MONTH TOUR AT MB KODIAK, ALASKA. I WENT TO VIETNAM VIA MAMS-17 AT IWAKUNI ARRIVING IN CHU LAI IN EARLY 1966. I WAS IN 121, 223, 211 AND 311 DURING THAT TIME. 69 AND 70 I WAS IN HAMS-12 REBUILDING GSE EQUIPMENT. I WAS DISCHARGED IN 1974 AND JOINED THE TNARNG IN MEMPHIS. I WAS IN FOR EIGHT YEARS AND A FEW MONTHS BACK AS A 13B40 WITH THE RANK OF E-7. OVER THE YEARS I SPENT 20 YEARS IN CIVIL SERVICE AND RETIRED OUT OF THAT. IT IS HARD TO MAKE SOLDIERS INTO MARINES. I FOUND THAT OUT PRETTY QUICK. I AM PROUD TO BE A MARINE AND A MEMBER OF THE VMF/VMA-311 ASSOCIATION. "
AL FAVELA, SAN DIEGO, CA: (CONTINUING MEMOIRS) "I JUST SPENT THE LAST MONTH IN ENGLAND WHERE MY BEST FRIEND OF 46 YEARS PASSED AWAY WITH CANCER. LORNA CROWTHER, AGED 83 YEARS, WAS A LOVELY, UNDERSTANDING, AND FORGIVING LADY. THAT'S WHY WE WERE FRIENDS FOR SO LONG. SHE KEPT ME ON THE STAIGHT AND NARROW AND IF IT WASN'T FOR HER I WOULD BE LONG-DEAD OR IN ONE OF HER MAJESTY'S PRISONS AS I WAS A BIT ON THE WILD SIDE WHEN I WAS FIRST STATIONED IN ENGLAND IN THE LATE 60S. SHE LOVED AMERICANS. SHE LIVED THROUGH WWII AND ESPECIALLY LOVED THE 8TH AIR FORCE AND THE MARINES. SHE STILL HAS A LOT OF RELATIVES IN AUSTRAILIA. I NEVER HEARD HER SAY AN UNKIND WORD ABOUT THE "YANKS".
RECENTLY, I VISITED WHAT USED TO BE, ONE OF OUR BASES IN EL TORO. IT WAS VERY SAD TO SEE WHAT HAS BECOME OF THE OLD BASE, DERELICT, DESERTED AND FULL OF WEEDS. THE MAIN GATE AND THE ROAD THAT LED TO IT ARE NO LONGER THERE, IT'S ALL BLOCKED OFF. YOU HAVE TO GO TO THE REAR GATE TO GET IN, BUT THERE IS NOTHING MUCH LEFT. I SPENT 3 VERY HAPPY YEARS THERE WITH VMA-311 AND IT MAKES YOU WONDER WHY THIS HAS BEEN ALLOWED TO HAPPEN AS LAND AND PROPERTY ARE VERY VALUABLE IN THIS PART OF CALIFORNIA. IT MAKES ONE SICK TO SEE WHAT IS HAPPENING TO OUR COUNTRY, EVERYWHERE!"
COUPLE OF CARDS YOU MIGHT WANT TO SEND OUT WHEN YOU GO GET CHRISTMAS CARDS.
FRED MIGHT HAVE POSTED THESETHINGS AREADY ON THE WEB SIGHT.
FRED'S GREAT GRANDSON IS MAKING UP A CLASS PROJECT OF COLLECTING POSTCARDS FROM AS MANY STATES AS HE CAN. THIS GROUP COVERS A LOT OF STATES. SEND THE CARD TO:
KADEN MARTIN, C/O D.DOOLEY, 211 W. 2ND ST., CHANDLER. OK 74834
FROM JANICE RAMEY, GENE WILSON'S DAUGHTER, "WE ARE TRYING TO REACH AS MANY PEOPLE AS POSSIBLE TO SHOWER DAD WITH BIRTHDAY CARDS FOR HIS 90TH BIRTHDAY ON DECEMBER 22ND. MAIL CARDS TO: GENE WILSON 129 EAST STREET, ASHVILLE, OHIO 43103.
BOB NAVARRO, AMERICAL DIVISION: "WE WERE TALKING ABOUT THAT GROUP PICTURE WE ALL TOOK TOGETHER. I WOUD LIKE A COPY TO SHARE WITH THE REST OF OUR GUYS. YOU SEE, SOME OF OUR GUYS BACK HOME BELONG TO ORGANIZATIONS THAT ARE MAINLY MARINES, SO WE WANT TO SHOW IT OFF. IF YOU HAVE A COPY OR KNOW SOMEONE IN YOUR GROUP THAT MIGHT HAVE ONE WILL YOU PLEASE EMAIL ME A COPY?" (EMAIL OR SEND PHOTO TO MR. ROBERT NAVARRO, PO BOX 87, ASHERTEN, TX 78827 rc.navarro@hotmail.com OR PHONE 210-501-6189)
MICHAEL WALTON: "I AM FINISHING UP SOME RESEARCH, WAS THERE A PILOT BY THE NAME OF BLAINE KEITH ATTACHED TO VMF-311 IN 1949-52 TIME FRAME WHO FLEW F-9S IN KOREA? ( I DON'T HAVE A BLAINE KEITH ON MY ROSTER BUT SOME OF YOU GUYS FROM THE KOREAN ERA MIGHT RECALL HIM. EMAIL: mjskwalton@aol.com )
PAT HERBER, WIFE OF MAJOR JACK HERBER, PILOT, VIETNAM 1967-68, GIG HARBOR, WA: "MAYBE SOMEONE MIGHT REMEMBER THIS STORY. THE FIRST PART WHICH WE DIDN'T SAVE WAS ABOUT HIS MISSIONS OVER LAOS AND RETURN WHERE HE LOST ALL HIS ELECTRICAL SYSTEMS. HE DIDN'T KNOW WHAT HIT HIM BUT HIS WING MAN SAID HE SAW SMOKE. HE RETURNED TO BASE AND JACK BAILED OUT. HERE IS THE TEXT OF THE STORY."
(I'LL PRINT THIS IN TWO PARTS AS IT IS PRETTY LONG. I DON'T RECALL LOSING THIS AIRCRAFT AND JACK'S BAILOUT AND I WORKED ON THE FLIGHT LINE IN 67-68. SHE SENT A PICTURE OF SOME PILOTS WALKING AFTER MISSION 200 IN 1968. I REMEMBER ALL THE NAMES: RON MERRIMAN, DON KIRBY, NORM PRIDGEN AND JACK HERBER. DON'T REMEMBER THE INCIDENT.)
"I WAS RELUCTANT TO HIT THE SILK OVER HOI AN BECAUSE ONLY A WEEK BEFORE I HAD BEEN ON A CAS MISSION IN THAT AREA AND THE FIGHTING FOR THE GROUND MARINES HAD BEEN INTENSE AND THE VC WOULD NOT GIVE UP EVEN WHEN WE HIT THEM WITH EVERYTHING WE HAD. MUCH LATER WE FOUND OUT THE VC WERE BEING BACKED BY NVA REGULARS HIDDEN IN CAVES.
BUT, IT WAS TIME TO GO SO I REACHED UP AND PULLED THE CURTAIN. THE BLAST OFF WAS SMOOTH, THE CANOPY FLEW OFF AND BETWEEN MY LEGS I COULD SEE THE SEAT ROCKET LIFTING ME OUT OF THE AIRCRAFT. SINCE I WAS RELATIVELY SLOW, ABOUT 200 MPH, THERE WAS RELATIVELY NO TURBULANCE. IT LOOKED LIKE THE AIRCRAFT TURNED TO THE LEFT AS THE ROCKET BURNED OUT AND I BEGAN TO DO A BACKWARD SUMMERSAULT. WITHOUT WARNING I SEPERATED FROM THE SEAT, AND BANG, THE CHUTE OPENED AND I FOUND MYSELF FLOATING IN THE AIR. WHEN I LOOKED DOWN IT APPEARED I WAS ON THE EASTERN EDGE OF TOWN AND THE LIGHTS BELOW ME WERE MOVING AWAY TO THE LEFT. I SAW THE AIRCRAFT IMPACT NORTH OF TOWN AND EXPLODE. RIDING IN THE CHUTE AT NIGHT IS A PLEASANT EXPIERIENCE BECAUSE YOU HAVE NO IDEA YOU ARE MOVING OR HOW FAST YOU ARE DECENDING. BUT, I KNEW THIS WOULD NOT LAST LONG. AND I WAS RIGHT.
AS I DECENDED CLOSER TO THE GROUND, I COULD HEAR PEOPLE SHOUTING AND SMALL POPS LIKE GUNFIRE. I DON'T KNOW HOW THE VC KNEW I WAS COMING DOWN IN THEIR TERRITORY BUT THEY KNEW AND WERE WAITING FOR ME. BUT I GOT LUCKY AND CONTINUED MY DECENT TO THE EAST OF TOWN. WITHOUT A WARNING I SLAMMED INTO THE GROUND AND ROLLED A LITTLE BIT. LUCKILY, I MISSED A BIG TREE OR I WOULDN'T BE HERE TO TELL ABOUT IT. WHEN I GOT UP I COULD HEAR THE ENEMY COMING AND THEY WERE YELLING AND SHOOTING THEIR GUNS BUT THEY COULDN'T SEE ME, THEY WERE JUST MAKING NOISE TO GATHER UP MORE HELP.
I THREW AWAY MY HELMET AFTER UNBUCKELING MY CHUTE AND DECIDED TO RUN NORTH IN THE DIRECTION OF DA NANG BECAUSE I FIGURED THE VC WOULD THINK I WAS HEADED EAST TO GET TO THE WATER. BESIDES, I DID NOT WANT TO GET TRAPPED ON THE WATER'S EDGE WITHOUT A RAFT WHICH I LEFT AT THE LANDING SITE SO I COULD MOVE FASTER.
THINGS WERE REALLY GETTING TENSE ABOUT THIS TIME AND I RAN A COUPLE OF HUNDRED YARDS NORTH IN THE DARK AND STOPPED AND LISTENED. THAT'S SOMETHING YOU LEARN IN SURVIVAL SCHOOL. MOVE, STOP, LISTEN AND TRY TO FIGURE OUT WHAT THE SEARCHERS ARE DOING.
IT WASN'T LONG BEFORE I HEARD A LARGE GROUP OF PEOPLE YELLING AND SHOUTING TO THE SOUTH OF ME. THIS WENT ON FOR ABOUT 5 MINUTES OR MORE AND I KNEW THEY HAD FOUND MY CHUTE AND HELMET AND THEY KNEW I WAS ON THE RUN. THEN QUIET.
WITH ALL THIS SILENCE I KNEW THAT IT WAS OK TO MOVE AGAIN SO I BEGAN TO MOVE QUIETLY NORTH AGAIN. I DIDN'T NEED TO USE MY COMPASS BECAUSE I COULD SEE THE LIGHTS FROM DA NANG ON THE HORIZON TO THE NORTH AND THE LIGHTS OF HOI AN BEHIND ME.
ALTHOUGH THERE WAS NO MOON LIGHT I COULD DISTINGUISH THE BRUSH AND VEGITATION BECAUSE IT WAS DARK AGAINST THE LIGHT COLOR OF THE SAND. WHENEVER I STOPPED MOVING I WOULD ALWAYS STOP IN A DARK PLACE AND LISTEN.
THIS STOP AND GO MOVEMENT WENT ON FOR CLOSE TO A HALF HOUR WHEN ALL OF A SUDDEN I BEGAN TO SEE A STRING OF LIGHTS UP AHEAD. IT APPEARED TO BE MOVING TOWARDS ME AND WAS ORIENTED EAST TO WEST AND MOVING SOUTH. I WAS GUESSING BUT I BELIEVED IT WAS THE VC WITH FLASHLIGHTS FORMING A SKIRMISH LINE LOOKING FOR ME.
MY FIRST THOUGHT WAS TO HEAD EAST TOWARDS THE WATER BUT DECIDED THAT WOULD BE WRONG BECAUSE THAT'S WHAT THEY WANTED ME TO DO. INSTEAD I TURNED WEST AND HEADED TOWARD THE JUNGLE. NOW THAT I KNEW THEY WERE ON MY TRAIL I MOVED QUIETLY BUT STEADILY AWAY FROM MY LAST HIDING POSITION. THE TERRAIN WAS VERY IRREGULAR AND I RAN INTO A LITTLE CREEKWHERE I MOVED IN THE WATER AND THEN WOULD EXIT ON ONE BANK, MOVE FOR AWHILE AND THEN BACK IN THE WATER AND EXIT ON THE OPPOSITE SIDE. I WANTED TO MAKE MY TRAIL AS DIFFICULT AS POSSIBLE FOR THE VC TO FOLLOW AND IT OCCURRED TO ME THAT I WAS GLAD THESE PEOPLE ATE THEIR DOGS INSTEAD OF USING THEM TO HUNT PEOPLE.
I HAD PROBABLY MOVED ABOUT A QUARTER MILE OR MORE WHEN I STOPPED AND LOOKED BACK AND COULD JUST BARELY MAKE OUT THE ENEMY SEARCH LINE WHICH I HAD SPOTTED EARLIER. I HAD OUTFLANKED THEM BUT SUDDENLY I REALIZED THERE WAS A SECOND LINE OF LIGHTS IN THE SOUTH HEADING NORTH. IF I HAD NOT MOVED TO THE WEST I WOULD HAVE BEEN TRAPPED BETWEEN THE TWO LINES. I COULDN'T HEAR ANY SOUNDS FROM THESE MOVING LIGHTS BUT KNEW THEY WERE THE ENEMY. I GUESS I HAD BEEN ON THE GROUND FOR OVER AN HOUR WHEN I DECIDED TO USE MY SURVIVAL RADIO. WHEN I CALLED I IMMEDIATELY GOT A REPLY FROM A MARINE C-117 CIRCLING OVERHEAD. THEY TOLD ME THAT A JOLLY GREEN FROM DA NANG WAS BEING LAUCHED AND WOULD BE ON ITS WAY TO PICK ME UP. THAT GAVE ME THE GOOD FEELS BUT WHAT I DIDN'T KNOW WAS THAT THE ENEMY WAS ALSO LISTENING TO THE CONVERSATION AND HAD THE EQUIPMENT THAT THEY COULD USE TO FIND MY POSITION ON THE GROUND.
SINCE I HAS SEEN THE TWO LINES OF LIGHTS I TURNED ONCE MORE TO MOVING NORTH INSTEAD OF WEST. I FIGURED I HAD OUTFLANKED THEM AND IT WAS OK TO MOVE TOWARDS THE LIGHTS ON THE HORIZON. ABOUT A HALF HOUR LATER I USED MY RADIO AGAIN AND THE PILOT OVERHEAD SAID THE JOLLY GREEN GIANT WAS IN THE AIR AND HEADED SOUTH OVER THE WATER. WHAT HE DIDN'T SAY WAS THERE WAS A FOG LAYER FORMING ON THE WATER AND WAS MOVING IN OVER THE HOI AN AREA. I COULDN'T TELL THAT FROM MY POSITION BUT IT WOULD BE A FACTOR ON THE FIRST ATTEMPT TO PICK ME UP.
A SHORT TIME LATER I HEARD THE JOLLY GREEN ON GUARD CHANNEL NAD HE SAID TO STAY ON THE AIR SO HE COULD FIND MY POSITION. HE SAID HE HAD CROSSED THE BEACH INBOUND TO MY POSITION AND I SHOULD LISTEN FOR HIS ENGINE NOISE. MINUTES LATER I HEARD THE SOUNDOF HELICOPTER BLADES AND I KNEW HE WAS CLOSING IN. BUT I COULDN'T SEE HIM BECAUSE OF THE FOG. AS HE GOT CLOSER I TOLD HIM TO START DOWN AND I WOULD LET HIM KNOW WHEN HE WAS OVERHEAD. ONLY MINUTES LATER I SAW HIS LANDING LIGHTS SHINING THROUGH THE FOG AND THEN ALL HELL BROKE LOOSE.
WHILE THE JOLLY GREEN AND I HAD BEEN TALKING, THE VC HAD CLOSED ON MY POSITION AND SUDDENLY THERE WAS RIFLE AND MACHINE GUN FIRE COMING FROM ALL DIRECTIONS. HOLY SMOKES, I WAS SURROUNDED AND THE JOLLY GREEN WAS UNDER INTENSE FIRE.
WITHIN SECONDS HIS LANDING LIGHT WAS OUT AND HE PULLED UP AND AWAY FROM MY POSITION. I DECIDED THAT THE ONLY WAY TO ESCAPE AGAIN WAS TO HEAD WEST TOWARDS THE JUNGLE AND SEE HOW LUCKY THIS WOULD WORK OUT FOR THE SECOND TIME.
(TO BE CONTINUED)
PRETTY GOOD READING HUH? YOU'LL HAVE TO TUNE IN AGAIN NEXT NEWLETTER TO FIND OUT HOW JACK GOT BACK TO CHU LAI.
LTC TOBY MOORE, COMMANDING OFFICER VMA-311: "I CANNOT BEGIN TO EXPRESS WHAT YOUR GIFT MEANS TO THE FAMILY READINESS. THE MONEY IS MOST DEFINATLY HELPFUL AND WILL GO TO EXTREMELY GOOD USE. BUT, MORE THAN THE MONETARY VALUE, I SO GREATLY APPRICIATE THE THOUGHT BEHIND THE GIFT. THANK YOU AND THE ALUMNI ASSOCIATION FOR YOUR SUPPORT."
ONE OF ALUMNI, JIM ECHEMENT (68-69), IS THE EXECUTIVE DIRECTOR OF THE RESCUE MISSION OF MAHONING COUNTY HERE IN OHIO. THEY DO A REALLY GREAT JOB IN PROVIDING FOOD AND SHELTER FOR THE HOMELESS AND HUNGRY OF THE VALLEY AREA. AS I WATCH THE NEWS EVERY NIGHT I HAVE SEEN JIM ON THE TV ON MORE THAN ONE OCCASION ASKING FOR HELP. I KNOW THAT, ESPECIALLY THIS TIME OF YEAR, YOU ALL SWAMPED WITH CHARITABLE ORGANIZATIONS WANTING DONATIONS. SEEMS EVERYONE WANTS A PIECE OF YOUR PAYCHECK. BUT, THAT BEING SAID, IF YOU HAVE A FEW EXTRA BUCKS AND WANT TO MAKE A WORTH WHILE DONATION TO JIM'S CAUSE I KNOW THAT IT WILL BE APPPRICIATED. JIM DIDN'T ASK ME TO MAKE THIS APPEAL. I THOUGHT I WOULD THROW IT OUT THERE. IF YOU WISH TO DONATE YOU CAN SEND A CHECK TO THE RESCUE MISSION OR MAIL DIRECTLY TO JIM. I'M SURE IT WILL GET WHERE IT NEEDS TO GO. MAKE ANY CHECK PAYABLE TO: RESCUE MISSION OF MAHONING VALLEY AND MAIL TO : RESCUE MISSION OF MAHONING VALLEY, 962 MARTIN LUTHER KING JR. BLVD., YOUNGSTOWN, OH 44501-0430 OR MAIL TO JIM AT 8580 INDIAN CREEK DRIVE, YOUNGSTOWN, OH 44514-3387.
BOTTOM OF THE NINTH...
WHEN WE WENT DOWN TO SAN ANTONIO TO CHECK OUT THE PLACE A YEAR AGO CHRIS CHEEKA STATED THAT SHE WOULD NOT ASCEND THE TOWER OF THE AMERICAS. REUNION TIME WE GATHERED UP A BUNCH TO GO UP TO THE TOP AND EAT DINNER AND GLAD TO SAY SHE MADE IT. I DON'T RECALL IF SHE LOOKED OUT THE ELEVATOR AS IT WAS GOING UP THE SIDE OF THE TOWER BUT WE DID HAVE A GREAT MEAL AND SAW THE MOST BEAUTIFUL SUNSET I HAVE EVER SEEN.
KRIS SHEWELL (85-89) HEADS UP A GROUP OF TOMCATS AND I HEARD A RUMOR THAT THEY WILL BE MEETING IN INDIANAPOLIS IN 2015. I HAVEN'T HEARD ANY DETAILS BUT I'LL TRY TO FIND OUT AND PASS THAT INFO ALONG TO ANYONE WHO MIGHT WANT TO ATTEND.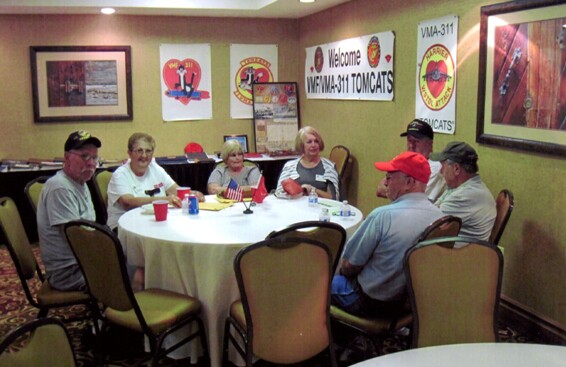 KEN AND KATHY DUCET, LYNN STEPNOWSKI, CYNTHIA AND BILL MURPHY, ED STEPNOWSKI AND DAVE PARKER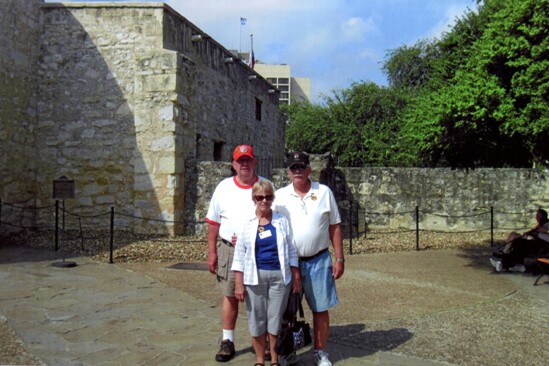 DICK KIELMAN, LES AND BONITA MCMILLAN AT THE ALAMO
COUPLE MORE THINGS I WANTED TO MENTION. JERRY HOLLERAN HAD HIS KNEE REPLACED AND HAD TO CANCEL AT THE LAST MINUTE TO THE REUNION. HAVEN'T TALKED TO HIM SINCE BUT MOST KNEE REPLACEMENTS SEEM TO DO OK. SAM AND LORIE DICKEY WERE ON THEIR WAY TO THE REUNION AND WERE INVOLVED IN A CAR WRECK THAT TOTALED THEIR CAR. I CALLED THE AFTER WE GOT HOME AND HE SAID THEY WERE BANGED UP BUT OK. TO ALL CONCERNED I CALLED TEE BIBEY UP WHEN WE GOT HOME FROM THE REUNION AND SHE WAS DOING WELL.
WELL, THAT'S ABOUT ALL I CAN THINK OF FOR THIS ISSUE. SUE AND I WISH EVERYONE A JOYOUS AND BLESSED CHRISTMAS SEASON. WE HOPE THAT THE NEW YEAR WILL BRING US ALL HAPPINESS AND CONTINUED HEALTH. MANY THANKS TO ALL OF YOU WHO HAVE MADE THE PAST 20 YEARS A HUGE PART OF OUR LIVES. KEEP THE FAITH AND GOD BLESS.
FOR THE ALUMNI ASSOCIATION
JIM GALCHICK
TIMELINE: APRIL 1959: THE UNIT BECAME ONE OF THE FIRST MARINE SQUADRONS TO BE DEPLOYED TO THE NEWLY DESIGNATED MCAS YUMA, AZ, WHICH ORIGINALLY HAD BEEN VINCENT AFB. WHILE DEPLOYED, THE SQUADRONS ORDNANCE CREWS WORKED LONG INTO THE NIGHT KEEPING THE A-4S ARMED WITH BOMBS AND ROCKETS. BY THE END OF THE MONTH, THE UNIT HAD SET A NEW MONTHLY FLIGHT HOUR RECORD FOR AN A-4 SQUADRON WITH A TOTAL OF 1,042 HOURS. LTC DAVID RICKABAUGH, COMMANDING OFFICER, STATED THAT THE HOURS AND SORTIES FLOWN WERE SYLLABUS HOPS WHICH CONTRIBUTEDGREATLY TO THE SQUADRON'S COMBAT READINESS CAPABILITY.
TOMCAT AIR; ON TIME, ON TARGET