VMF-VMA-311 Reunion Association

THE FIGHTIN' 311 TOMCATS
GEORGE AND JACKIE PHANDER JIM AND SUE GALCHICK CECIL AND CHRIS CHEEKA
3032 POTSHOP ROAD 1290 E. 12TH ST. 2207 LILAC ST. S.E.
NORRISTOWN, PA 19403 SALEM, OH 44460 LACEY, WA 98503
Piboxer@comcast.net jgalchick@neo.rr.com ccheeka@comcast.net
610-584-5654 330-337-9383 360-352-7227
OFFICIAL WEB SITE: http://www.vmf-vma-311reunion.org
Webmaster: FRED TOWNSLEY
805 PRICE AVE, CHANDLER, OK 73834,
Phone #:405-2580532
EMail: oldsargfred@gmail.com
MEMBERSHIP COMMITTEE CHAIRMAN: CHARLES "RALPHIE" REED,
14 BRENTWOOD ROAD, KINGSTON, MA 02364
***************************************************************************************************************
OCTOBER 2015 EDITION
PENSACOLA, FLORIDA REUNION 2016 OCTOBER 12-15
SOMEHOW IN THE MIDDLE OF ALL THE SUMMER CONFUSION AND WORK, I HAVE MISSED A COMPLETE NEWSLETTER. TRUTH BEING THAT I WANTED TO WAIT UNTIL WE GOT A CONFIRM ON THE HOTEL DOWN IN PENSACOLA. SEEMED LIKE EVERY TIME WE HAD TO MAKE A REVISION THAT WEEKS HAD GONE BY. BUT, LOW AND BEHOLD WE DO NOW HAVE A SIGNED CONTRACT. WHAT WE DON'T HAVE IS A ROOM BLOCK NUMBER WHICH THEY SAID THEY COULDN'T ISSUE UNTIL NOVEMBER WHEN THE REUNION WAS UNDER A YEAR OUT. WHATEVER! THAT BEING SAID, ANYONE WHO IS GOING TO PENSACOLA WILL HAVE TO CALL IN FROM DECEMBER ON. I'LL POST THE ROOM BLOCK CODE IN THE NEXT NEWSLETTER. HERE'S THE ADDRESS AND WEB SITE. THEY SAID THAT THE HOTEL WAS TO UNDERGO A COMPLETE TRANSFORMATION BY THE TIME WE GET THERE NEXT YEAR. THAT OUGHT TO BE INTERESTING!
HILTON GARDEN INN PENSACOLA AIRPORT/ MEDICAL CENTER
1144 AIRPORT BLVD.
PENSACOLA, FL 32504
PH: 850-479-8900
I GUESS YOU CAN GOOGLE IT UP ON FACEBOOK. HAVEN'T WENT THERE YET. HOWEVER, WE DID GET A GOOD PACKAGE TOGETHER THAT WAS COST EFFECTIVE INDIVIDUALLY AND FOR THE GROUP. GOT TO GET BUSY LINING UP THE TOURS AND THOSE SORT OF THINGS. BE INFORMED THAT WE ARE NOT GOING TO BE ON THE BEACH. ONE QUESTION WE ASKED OURSELVES WAS " HOW MANY OF US ARE GOING TO SPEND A LOT OF TIME ON THE BEACH?" FOR THOSE WHO WISH TO PARTAKE OF THE SANDY PENSACOLA BEACHES, WE ARE ONLY 15 MINUTES AWAY. WE HAD A LITTLE REUNION GOING WITH THE SITE INSPECTION. THERE WAS CECIL AND CHRIS CHEEKA, AIME AND PAT YOCCA CAME OVER FROM ORLANDO, JIM AND DOT DAVIS WHO RESIDE THERE AND OF COURSE THE FIRST SERGEANT AND I. JIM DAVIS GAVE US A SHORTENED TOUR OF PENSACOLA AND WE GOT AN IDEA OF WHAT WE ARE GOING TO TRY TO DO FOR THIS REUNION. ALL TO BE SPELLED OUT LATER.
2. NEW ALUMNI
BONNER, DANNY M. 316 VALERIE DRIVE., CRANBERRY TOWNSHIP, PA 16066
VIETNAM (GREG MANLEY SENDS)
ADDRESS CHANGES
RICHARD AREHART 792 RICHARD DRIVE, ZENIA, OH 45385-2500
PH: 937-432-5951
DARRELL BJORKLAND 4528 PIPER GLEN DRIVE, PENSACOLA, FL 32514
MORRIS LIEBHABER ATRIA SENIOR LIVING, 3718 HENRY HUDSON PARKWAY, BRONX, NY 10463
PH: 347-341-5904 EMAIL: morrisliebhaber29@gmail.com
JOEL WADE 27719 94TH AVE. SW, VASHON, WA 98070-8609
PH: 206-463-2273 EMAIL: joelwade@centurytel.net
MIKE TRANT THREE FOUNTAINS, 6011 MELODY LANE, APARTMENT 437, DALLAS, TX 75231
PH: 214-363-1841
PAT HERBER 12507 GREENWOOD AVE. N, APT A-404, SEATTLE, WA 98133
EMAIL: pat.jackherber@comcast.net
VMF/VMA-211 RUNION ASSN. BRUCE M. HARTON, MARINE AIR GROUP 24, 10415 LEE ANN COURT, BRIGHTON,
MI 48114 PH: 810-588-6303 EMAIL: pbharton@comcast.net
EMAIL, PHONE AND OTHER CHANGES…
BILL LEESE wleese@rittermail.com
MARK WILLIAMS A-4 SKYHAWKERS GROUP rogerwilco@comcast.net
MATT HAEFNER av8b.heed@me.com
KRIS SHEWELL Kristine.shewell@yahoo.com
PH: 832-847-5411
GREG MANLEY mmanley6@tampabay.rr.com
ART REGAN Arrc310b@gmail.com
TAPS
JOE COTY PITTSFIELD, MA , VMF-311 1942-44, ROI-NAMUR, TRANSPORTATION COMPANY
( I DO NOT KNOW ANYTHING ELSE CONCERNING JOE'S DEATH. I RECEIVED HIS
NEWSLETTER BACK MARKED "DECEASED")
NAME WILL BE READ AT MEMORIAL SERVICE IN PENSACOLA.
LOST IN THE MAIL MIKE BERGER LKA WASHINGTON ISLAND, WI
3. DONATIONS
RICHARD AREHART (66-67, 69-70), ZENIA, OH; BOB SIMMONS, (72-73), COLORADO SPRINGS, CO; JOEL WADE (77-79), VASHON, WA. THANKS MARINES!!
LETTERS AND EMAILS FROM THE TROOPS…
MARTY IRONS, FAIR HAVEN, VT: " I'M RESEARCHING CORSAIR PILOT RESCUES IN THE PACIFIC IN WWII. DOES YOUR ORGANIZATION HAVE ANY INFO ABOUT A RESCUE OF A LT. SARK ON 6 JUNE 1945 BY A PBM OF VH-3? THE VMF-311 RECORDS ARE AWFULLY THIN."
(THE HISTORY OF 311 BOOK SHOWS THAT ON 11 JUNE, 2ND LT. WILFRED W. WILHIDE WENT DOWN AT SEA AFTER EXPERIENCING ENGINE FAILURE AND ON 22 JUNE, 1ST LT. EUGENE READE WAS HIT BY GROUND FIRE WHILE MAKING A STRAFING RUN. MAKING A SUCCESSFUL WATER LANDING HE WAS UNABLE TO INFLATE HIS WATER RAFT , THE AIRCRAFT SANK AND HE WAS NOT FOUND. THERE IS NO MENTION OF A LT. SARK. AND THESE WERE THE ONLY TWO FATALITIES THE SQUADRON SUFFERED IN JUNE 1945. THERE ARE SOME OF YOU CORSAIR PILOTS OUT THERE THAT WERE WITH THE SQUADRON MAYBE YOU REMEMBER THE INCIDENT. MARTY'S EMAIL IS ironsrx@aol.com )
MATT HEFNER, VIRGINIA BEACH, VA: "JEN AND I HAVE FOLLOWED THE NEWSLETTERS AND WISH WE COULD HAVE MADE THE 2014 REUNION. WE JUST WEREN'T ABLE TO CARVE OUT THE TIME. I WAS BASICALLY WORKING TWO JOBS GETTING READY TO GET OUT OF THE MARINE CORPS.
I STARTED FLIGHT INSTRUCTING AT A LOCAL FLIGHT SCHOOL TO BUILD FLIGHT CURRENCY IN ORDER TO APPLY AT THE AIRLINES SINCE I WAS WORKING ON STAFF "FLYING" A DESK. I WAS DOING INSTRUCTING DURING THE EVENINGS AND ON THE WEEKENDS.
MY RETIREMENT CEREMONY WAS JULY 24TH AND MY LAST DAY AS AN ACTIVE DUTY MARINE WAS 31 AUGUST 2015.
THE EFFORT OVER THE LAST 18 MONTHS PAID OFF AND I WAS HIRED BY UNITED BACK IN MAY AND I STARTED TRAINING WITH THEM IN AUGUST. WE PLAN ON STAYING IN NORFOLK UNTIL OUR OLDEST SON GRADUATES FROM HIGH SCHOOL AND THEN WE PLAN TO PICK UP AND MOVE…ONE LAST TIME HOPEFULLY!!
JEN AND I BOTH HOPE THAT MY SCHEDULE WILL ALLOW MAKING THE TRIP TO PENSACOLA IN 2016. SHE HASN'T BEEN THERE SINCE I FINISHED FLIGHT SCHOOL. I'VE BEEN BACK TWICE FOR VARIOUS MILITARY CONFERENCES. TELL SUE HELLO AND WE HOPE TO SEE EVERYONE IN 2016."
JOEL WADE, VASHON, WA: "I HAD THE PRIVILEGE OF SERVING IN VMA-311 AS AN A-4 DRIVER FROM 1977 TO 1979 IN EL TORO AS WELL AS IWAKUNI ,JAPAN. SINCE LEAVING THE USMC IN 1985, I PUT MY MARINE CORPS TRAINING TO WORK AS AN AIRLINE PILOT FOR 23 YEARS; NOW I'VE CROSSED TO THE "DARK SIDE" AND HAVE WORKED FOR THE FAA FOR THE LAST EIGHT.
NOTHING WILL EVER COMPARE WITH THE EXPERIENCES AND FRIENDSHIPS THAT I ESTABLISHED DURING MY TIME WITH THE "TOMCATS"; SOME OF THOSE INDIVIDUALS WITH WHOM I AM STILL IN TOUCH WITH TODAY!
THANK YOU FOR YOUR CONTINUING WITH THE LONG HOURS AND HARD WORK THAT IT TAKES TO KEEP AN ASSOCIATION LIKE THIS GOING; IT IS MY HEARTFELT DESIRE TO ATTEND A REUNION AT SOME POINT SO I CAN HAVE THE PRIVILEGE OF REESTABLISHING OLD FRIENDSHIPS AND STARTING NEW ONES WITH THOSE THAT PRECEEDED ME.
SEMPER FIDELIS!"
BRUCE M. HARTON, VMF/VMA-211 ASSOCIATION: "AFTER THE DAVENPORT REUNION , RICHARD DOWNS AND BILL BURGETT RETIRED AFTER MANY YEARS OF SERVICE TO OUR ORGANIZATION. A BIG THANK YOU IS DUE BOTH OF THESE MEN FOR THEIR FAITHFUL SERVICE IN KEEPING US GOING. ALTHOUGH NOONE CAN FILL THEIR SHOES, JOE KALIL AND I HAVE ASSUMED THEIR RESPONSIBILITIES. JOE AS TREASURER AND ME AS "AVENGER" EDITOR. JOE'S ADDRESS IS 10927 FAIRWAY RIDGE LANE, FISHER, IN 46032 PHONE: 317-842-7461. FINANCIAL THINGS GO TO HIM. NEWS FOR THE NEWSLETTER OR ANY OTHER BUSINESS CONTACT ME ( SEE ADDRESS CHANGES THIS NEWSLETTER). WE WANT TO KNOW WHAT'S HAPPENING WITH OUR MEMBERS SO KEEP SENDING LETTERS. ALSO IF YOU LEARN OF THE PASSING OF ANY 211 MEMBERS, PLEASE LET US KNOW SO WE CAN PAY TRIBUTE TO THEM IN OUR NEWSLETTERS. AND FINALLY, DUE TO TECHNICAL DIFFICULTIES IN DATA TRANSFER, WE LOST OUR MAILING LIST SO WE HAD TO REENTER THE DATA. PLEASE SEND ANY ADDITIONS OR CORRECTIONS TO ME. ALSO, WE WOULD LIKE YOUR EMAIL AND PHONE NUMBER IF YOU ARE COMFORTABLE WITH SHARING THAT."
(NOTE: I KEEP 211 IN OUR LOOP BECAUSE A NUMBER OF OUR GROUP SERVED IN 211 ALSO, ME INCLUDED.)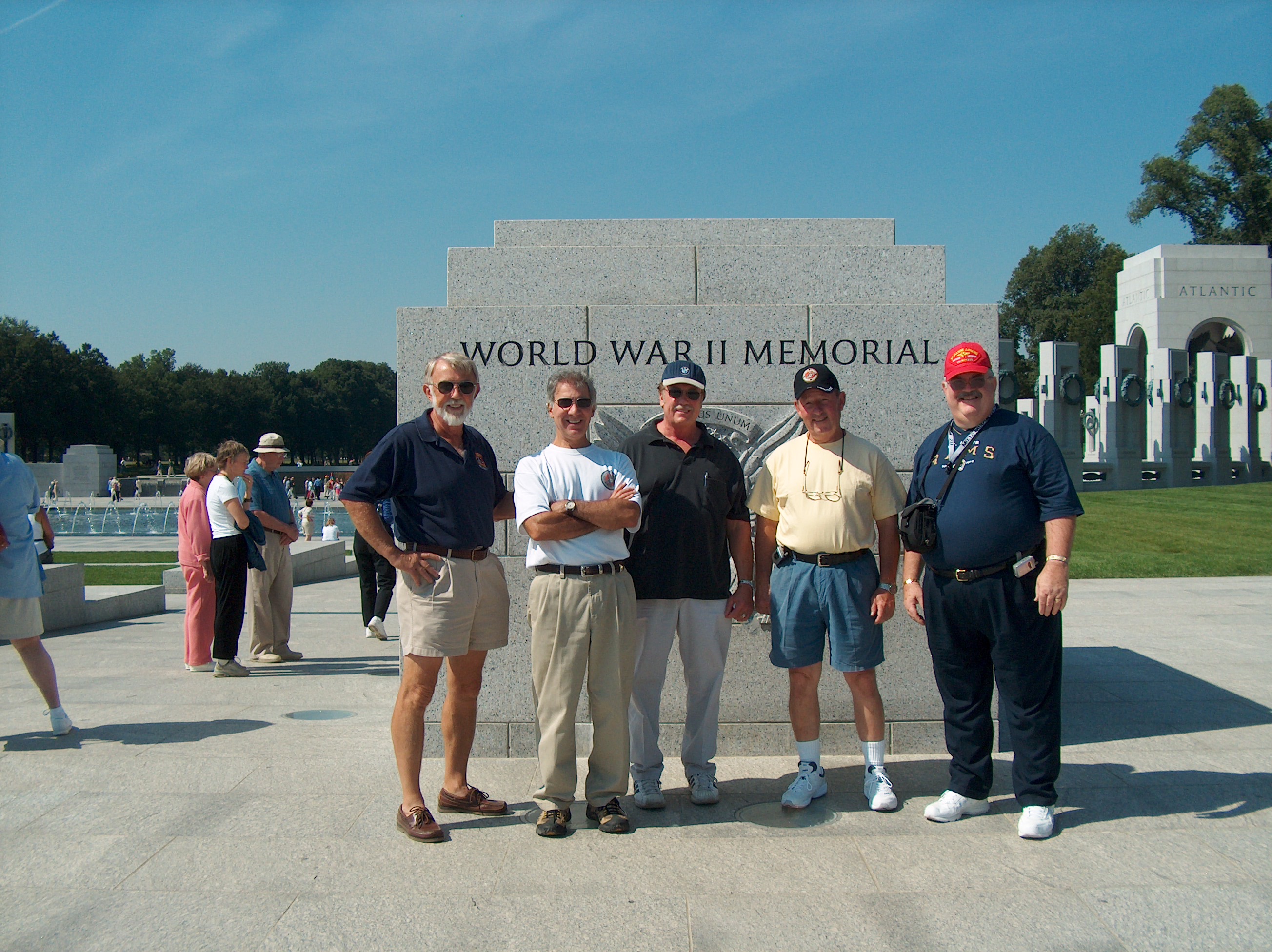 IN ARLINGTON IN 2004. IT DROPPED OUT OF ONE OF MY PILES OF PAPERS THAT I KEEP AROUND. (L-R) STEVE KALAFUT (64-66), GEORGE ARNONE (65-66), NEED SOME HELP WITH THE GUY IN THE MIDDLE, FRED AVERY (64-66) AND JERRY BRADLEY (64-66). ANYONE GOT THE MIDDLE GUYS NAME?
THIS NEXT STORY WAS RELATED BY FRED BAUER, CINCINNATI, OH, WHEN HE WAS IN VMF-311. FRED JOINED 311 A SHORT TIME AFTER IT WAS COMMISSIONED.
"I WAS FRESH OUT OF SCHOOL AT JACKSONVILLE, FL IN THE SUMMER OF 1943. I AND ABOUT 20 OTHER MARINES JOINED THE 311 AT PAIGE FIELD.
IN THE FALL OF 1943 THE SQUADRON WAS ORDERED TO MIRAMAR AIR FIELD AT SAN DIEGO, CA. WITHIN TWO WEEKS WE WERE ABOARD SHIP AND ON OUR WAY TO AMERICAN SAMOA. THIS TRIP TOOK ABOUT 29 DAYS. AFTER AN OVERNIGHT AT SAMOA WE WERE ON OUR WAY TO WALLACE ISLAND. WE WERE ON WALLACE THROUGH DECEMBER 1943. IN EARLY JANUARY 1944 WE WERE ON THE MOVE AGAIN, THIS TIME TO ROI AND NAMUR. WE ARRIVED RIGHT AFTER THE NAVY AND MARINE CORPS HAD BLOWN THE ISLAND APART. ONLY TWO PALM TREES WERE LEFT STANDING. THE GROUND CREWS WENT ASHORE TO UNLOAD EQUIPMENT. THERE WERE STILL JAPANESE SOLDIERS LAYING ON THE GROUND WAITING TO BE BURIED. WE WERE BOMBED, HAD A FEW MORE ALERTS BUT NO MORE BOMBINGS
AFTER ABOUT 4 DAYS MYSELF AND ABOUT 20 GROUND CREW WERE SENT TO KWAJALIEN ATOLL ALONG WITH 4 OR 5 F4US FOR PROTECTION OF A SQUADRON OF AIR FORCE B-24S. TWO WEEKS LATER WE WERE BACK ON ROI. BY THAT TIME THE TENTS WERE UP AND THE AIRFIELD WAS IN PRETTY GOOD SHAPE. FROM THEN ON IT WAS OUR JOB TO KEEP THE F4US FLYING EVERY DAY.
IN THE LATE FALL OF 1944, MYSELF AND A GROUP OF MARINES WITH ABOUT 10 TO 15 F4US WERE SENT BACK TO AMERICAN SAMOA. WE WERE TOLD IT WAS FOR IFF (FRIEND OR FOE PRACTICE). IT WAS A HELL OF A LOT OF WORK. OUR
5. BUDDIES ON ROI HAD LITTLE TO DO WHILE WE WERE GONE; MAJOR HOOPER GAVE EACH OF US A CASE OF BEER. WHEN I RETURNED THERE WAS ONLY TWO BOTTLES LEFT IN MY CASE. MY BUDDIES ENJOYED MY ABSENCE.
IN DECEMBER 1944 I AND SEVERAL OTHER MARINES WERE TOLD TO GET WEIGHED WITH A RIFLE, 100 ROUNDS OF AMMUNITION AND WHATEVER ELSE WE WANTED NOT TO EXCEED 200 TO 215 POUNDS. WE THOUGHT WE WERE GOING TO OKINAWA.
IN THE MEANTIME NEW PEOPLE BEGAN ROTATING INTO THE SQUADRON AND OUR CREW LEFT ROI FOR QUANTICO, VIRGINIA. ALL THE TIME I SPENT WITH VMF-311 OUR PLANES HAD THREE BLADED PROPELLERS. WE HAD NO NICKNAME THEN. THE F4US WERE GREAT PLANES."
WAY ON THE OTHER END OF THE SQUADRON TIMELINE…WITH COL. CLYDE WOLTMAN COMMANDING, THE TOMCATS DEPLOYED TO IRAQ IN NOVEMBER 2004. THIS IS HIS INITIAL CONTACT WITH THE FAMILIES OF 311 MARINES:
GREETINGS FROM AL ASAD AIRBASE, IRAQ. WITH THE EXCEPTION OF TWO HARRIERS AND A SMALL GROUP OF MAINTAINERS, THE MAJORITY OF OUR MARINES ARRIVED HERE FROM THE UNITED STATES THIS MORNING, AND WE'VE HIT THE DECK RUNNING. I AM SURE YOU ARE ALL WATCHING THE NEWS AT HOME AND ARE AWARE THAT THE MARINES ARE VERY BUSY. ALTHOUGH THE LAST LARGE ECHELON OF OUR SQUADRON ARRIVED JUST THIS MORNING, YOU SHOULD BE VERY PROUD THAT WE HAVE BEEN HEAVILY ENGAGED IN SUPPORTING THESE ACTIONS FOR THE PAST WEEK. AND IN TRUE TOMCAT FORM, YOUR MARINES ARE PERFORMING ADMIRABLY.
TO GIVE YOU A FEEL FOR THE CURRENT SITUATION, OUR MARINES ARE IN A TRANSITIONAL PHASE. THE UNIT WE ARE REPLACING IS STILL HERE, AND ALTHOUGH AGGRESSIVELY PREPARING FOR THEIR NEAR-TERM DEPARTURE, THEY REMAIN IN OUR FUTURE WORKPLACES AND LIVING FACILITIES. THEREFORE FOR THE NEXT SEVERAL DAYS MOST OF OUR MARINES WILL BE LIVING IN TENTS , NOT OF THE KOREAN WAR VINTAGE THAT WAS COMMONPLACE A COUPLE OF YEARS AGO, BUT HARDENED DOUBLE LAYERED, CLIMATE CONTRLLED FACILITIES. THE TENTS ARE GROUPED IN SORT OF A "CITY", OURS POPULATED PRIMARILY BY VMA-311 AND MALS-13 MARINES. NEAR EACH GROUP OF TENTS ARE THE "CONVENIENCE SHELTERS", WHICH ARE SIMPLY PORTABLE SHOWER/SINK/TOILET STRUCTURES. ON THAT NOTE, "INDOOR PLUMBING" IS NOT SOMETHING YOUR MARINES WILL SEE FOR QUITE SOME TIME. ONCE OUR PREDECESSOR SQUADRON DEPARTS, WE WILL LEAVE OUR TENT CITY AND MOVE INTO THE "CANS", WHICH ARE HARDENED MOBILE STRUCTURES, RESEMBLING TRAILERS. OUR MARINES WILL STILL SHARE THEIR ROOMS, BUT THE PRIVACY WILL BE VASTLY BETTER THAN LIFE IN THE TENTS.
WITH RESPECT TO AMENITIES HERE AT AL ASAD AIRBASE, FIRST AND FOREMOST WE HAVE A COUPLE CHOW HALLS, SO REST ASSURED YOUR MARINES HAVE ACCESS TO THREE WARM MEALS A DAY. WE HAVE A BASE EXCHANGE, WHICH OFFERS THE "BASICS" SUCH AS SNACKS, CLOTHING , TOILETRIES, UNIFORM ACCESSORIES, BOOKS, CDS, DVDS, APPLIANCES, BARBER SHOP AND PHONE CENTER, ETC. ADDITIONALLY WE ALSO HAVE IRAQI CONCESSIONAIRES, WHICH SELL LOCAL GOODS SUCH AS RUGS, APPLIANCES AND SOUVENIRS. ALSO WE HAVE, INTERNET CAFÉ/PHONE CENTER, CHAPELS, POST OFFICE. THEATER, LAUNDROMAT SERVICE, GYM, AND "SATURDAY NIGHT BOXING". ALL IN ALL, THE LEVEL OF COMFORT IS NOT TOO BAD.
IF YOU HEAR OF ANY COMPLAINTS FROM YOUR MARINES, THE MOST COMMON ONE IS LACK OF TRANSPORTATION. BILLETING, THE MAIN MESS HALL, AND THE EXCHANGE COMPLEX ARE ALL WITHIN 5-10 MINUTES OF EACH OTHER, HOWEVER THE DISTANCE FROM BILLETING TO THE FLIGHT LINE IS A 25 MINUTE WALK. THERE IS A SHUTTLE SERVICE, WHICH IS UNRELIABLE AT BEST, BUT IT GETS US THERE.
FOR THE REMAINDER OF THE DEPLOYMENT YOUR MARINES WILL BE WORKING 12 HOUR WORK DAYS. THE SQUADRON HAS TWO SHIFTS, SO WE ARE AT THE JOB 24 HOURS A DAY, SEVEN DAYS A WEEK, UNTIL WE GO HOME. THE DEMAND FOR AIR SUPPORT BY OUR HARRIERS IS CONSTANT. THE HARRIERS HAVE PROVIDED THE GROUND FORCES AN INVALUABLE SERVICE, AND IN TRUE TOMCAT TRADITION. I EXPECT THAT WE WILL CONTINUE TO OUR JOB RIGHT.
ON A LAST NOTE, I AM CERTAIN THAT ALL OF YOU ARE CONCERNED ABOUT SAFETY. I CAN'T DICUSS ANYTHING ABOUT SAFETY MEASURES, HOWEVER PLEASE BE CONFIDENT THAT YOUR MARINE CAN'T BE BETTER PROTECTED. IN CASE YOU WERE WONDERING, YOUR MARINES ARE RESTRICTED TO BASE; OFF BASE LIBERTY DOES NOT EXIST HERE.
SEMPER FIDELIS.
TIMELINE: DA NANG: MARCH 1971:
VMA-311 PILOTS HAVE FLOWN 46,000 COMBAT SORTIES IN THE REPUBLIC OF VIETNAM, MORE THAN ANY OTHER MARINE FIXED WING SQUADRON HAS FLOWN HERE.
PILOTING THE TWO A-4 SKYHAWKS ON THE 46,000 MISSION, FLOWN 7 MARCH, WERE LTCOL RICHARD LEE, MAG-11 S-3 OFFICER, AND LT. BRIAN HOWE.
6. MAJOR GENERAL ALAN J. ARMSTRONG, CG OF THE 1ST MARINE AIR WING, AND COL A.C. POMMERENK, MAG-11 CO, WERE ON HAND WHEN THE AIRCRAFT TOUCHED DOWN TO CELEBRATE THE OCCASION.
VMA-311'S MISSION IS TO ATTACK AND DESTROY ENEMY GROUND TARGETS. THEY ALSO SUPPORT ALLIED GROUND UNITS IN MR1.
(REPRINTED FROM THE SEA TIGER 26 MARCH 1971)
THE REUNION BY RACHEL FIRTH:
AUTUMN LEAVES RUSTLING, TOGETHER TO AN APPOINTED PLACE, THE OLD WARRIORS COME. PILGRIMS, DRIFTING ACROSS THE LAND THEY FOUGHT TO PRESERVE. WHERE THEY MEET IS NOT IMPORTANT ANYMORE. THEY MEET AND THAT'S ENOUGH FOR NOW. GREETINGS ECHO ACROSS THE LOBBY. HANDS REACH OUT AND ARMS DRAW BUDDIES CLOSE. EMBRACES, THAT AS YOUNG MEN THEY WERE TOO UNCOMFORTABLE TO GIVE, TOO SHY TO ACCEPT SO LOVINGLY. BUT DEEP WITHIN THESE INDIAN SUMMER DAYS, THEY HAVE REACHED A DEEPER UNDERSTANDING OF LIFE AND LOVE. THE SHELLS HOLDING THEIR SOULS ARE WEAKER NOW, BUT HEARTS AND MINDS GROW VIGOROUS , REMEMBERING.
ON A TABLE SOMEONE SPREADS OLD PHOTOGRAPHS, A TEST OF RECOLLECTION. AND FRIENDLY LAUGHTER ECHOES AT SHOCKS OF HAIR GONE GRAY OE WHITE, OR MERELY GONE. THE RUGGED SLENDER BODIES LOST FOREVER, YET, THEY NO LONGER NEED TO PROVE THEIR STRENGTH. SOME ARE NOW SUSTAINED BY ONE OF THE "MEDICINES MIRACLES" AND EVEN IN THIS, THEY MANAGE TO FIND HUMOR.. THE WOMEN, ALL THOSE THAT WAITED, ALL THOSE WHO LOVED THEM, HAVE WATCHED THE CHANGES TAKE PLACE. NOW, THEY OBSERVE AND LISTEN, THEY SMILE AT EACH OTHER, AS GLAD TO BE TOGETHER AS THE MEN.
TALK TURNS TO WAR AND PLANES AND FOREIGN LANDS. STORIES ARE TOLD AND TOLD AGAIN, REWEAVING THE THREADBARE FABRIC OF THE PAST. MENDING ONE MORE TIME THE BANNER OF THEIR YOUTH. THEY HEAR THE VIBRATIONS, FEEL THE SHUDDER OF METAL AS THE ENGINES WHINE AND THE PLANES COME TO LIFE. THESE BIRDS WITH FRACTURED WINGS CAN BE SEEN BEYOND THE MIST OF CLOUDS AND THEY ARE IN THE AIR AGAIN, CHASING THE WIND, FEELING THE EXHILERATION OF FLIGHT CLOSE TO THE HEAVENS
DEAD COMRADES, HEARING THEIR NAMES SPOKEN, WANTING TO SHARE IN THIS TIME, IF ONLY IN SPIRIT, MOVES SILENTLY AMONG THEM. THEIR PRESENCE IS FELT AND SMILES APPEAR BENEATH MISTY EYES. EACH, IN HIS OWN WAY MAY WONDER WHO WILL BE ABSENT IN ANOTHER YEAR. THE ROOM GROWS QUIET FOR A TIME. SUDDENLY AN EMBER FLAMES TO LIFE. ANOTHER MEMORY BURNS. THE TALK MAY TURN TO OTHER WARS AND OTHER MEN, AND OF FUTILITY.
SO THIS IS HOW IT GOES. THE PAST IS SO MUCH THE PRESENT. IN THEIR CEREMONIES, THE ALLEGIANCIES, THE SPEECHES AND THE PRAYERS, ONE CANNOT HELP BUT HEAR THE DEEP ETERNAL LOVE OF COUNTRY THEY WILL FOREVER SHARE.
FINALLY IT IS TIME TO LEAVE. MUCH TOO SOON TO SET ASIDE THIS LITTLE PIECE OF YESTERDAY, BUT THE PAST CANNOT BE HELD TOO LONG, FOR IT IS FRAGILE. THEY SAY "FAREWELL" …"SEE YOU IN ANOTHER YEAR, GOD WILLING". EACH KEEP A LITTLE OF THE OTHERS WITH HIM FOREVER.
WRAPPING IT UP….
JUST A COUPLE THINGS TO GIVE YOU A HEADS UP OF SOMETHING DIFFERENT THIS REUNION. THE MEMORIAL PARK IN PENSACOLA HAS A MARINE AVIATION MONUMENT WITH A BELL. AFTER WE GO TO THE MUSEUM WE ARE LOOKING INTO STOPPING OFF AT THE BELL TOWER AND HOLDING OUR MEMORIAL SERVICE. WE'LL BE WORKING WITH JIM DAVIS ON THAT AND SEE IF WE CAN'T GET THAT DONE, ALSO A COLOR GUARD. WE USUALLY HOLD THE MEMORIAL SERVICE AT THE BANQUET. THIS WILL BE A LITTLE DIFFERENT. ALSO, JIM SAYS THERE IS A BUS THAT GOES TO THE GAMING HOUSES AT BILOXI. WE MAY SET THAT UP FOR ANYONE WHO IS COMING IN BEFORE THE REUNION ON MONDAY OR TUESDAY OR REUNION WEEK. WE WON'T DO THAT AS A REGULAR TOUR THING. TOO MUCH OTHER STUFF TO DO THERE IN A FEW DAYS. BUT…IT'S SHAPING UP.
SEMPER FIDELIS AND GOD BLESS.
FOR THE ALUMNI ASSOCIATION
JIM GALCHICK
~~~~~~~~~~~~~~~~~~~~~~~~~~~~~~~~~~~~~~~~~~~~~~~~~~~~~~~~~~~~~~~~~~~~~~~~~~~~~~~~~~~~~~~~~
This young lady is looking for information about her Grandfather who served in VMA-311 in VietNam. She sent some pictures of Edward Stephen Fay which I will add at the bottem of here firsr EMail.
Aug 26

To: vmfvma311reunion@gmail.com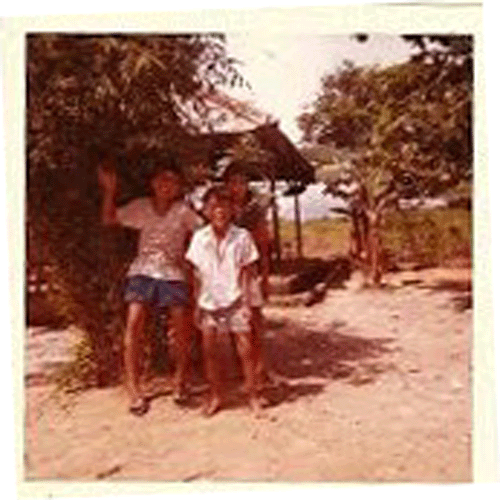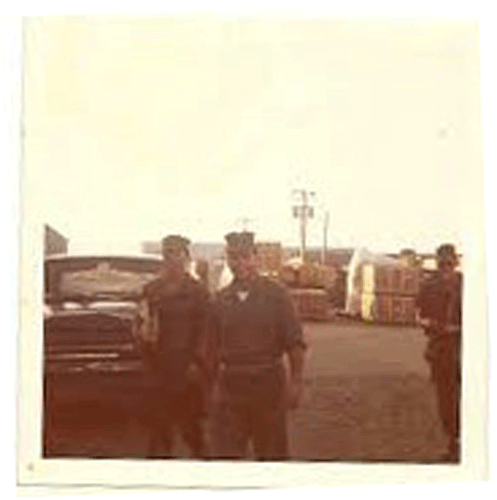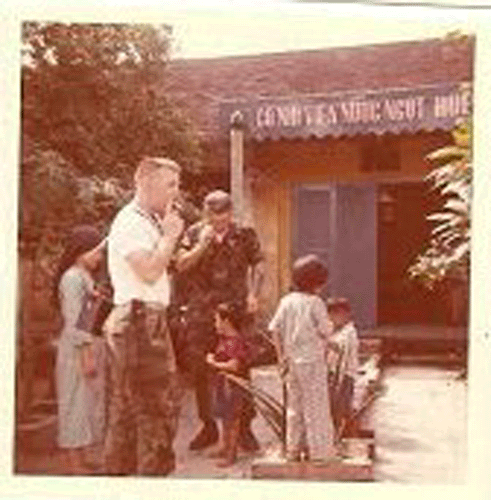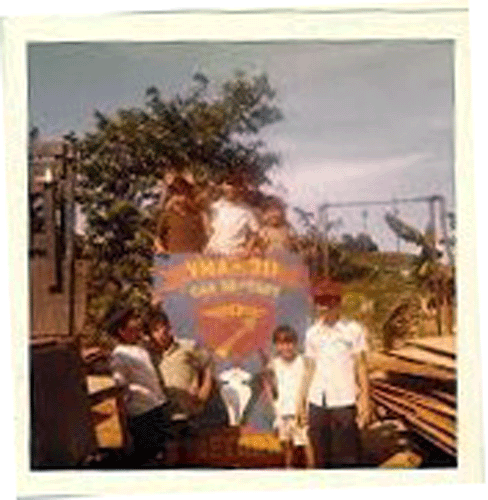 These are not all the highest resolution pictures, but had to work with what I had. It looks to me like he may have served in VMA-211 as well as the "TOMCATS".
THANKS for any and all help you can give to this young lady who is looking for information about her "PAPA".
Fred your webmaster.
~~~~~~~~~~~~~~~~~~~~~~~~~~~~~~~~~~~~~~~~~~~~~~~~~~~~~~~~~~~~~~~~~~~~~~~~~~~~~~~~~~~~~~~~~
TOMCAT AIR…ON TIME…ON TARGET!!
MARCH 2015 EDITION
EMail on 7/6/2015 7:59 PM from Jim

Just a heads up before I make it official. Reunion 2016 is 12-15 October 2016 at the Hilton Garden Inn on Airport Avenue in Pensacola. we looked at four hotels two of which were on the beach. The Hilton gave us pretty much everything we asked for so it was kinda of a no brainer. Beach was expensive and all the extras were ala carte. even a charge for the podium. Both hotels were run by the same outfit. Pricey and high traffic from all the beach goers. Parking was iffy. I think the general thought was "How many of us want to be beach bums for a week."
Check the hotel out on line if you want. Kinda had a mini reunion, Aime and Pat Yocca came over from Orlando and Jim and Dot Davis hooked up with us for a day.
Later—SF
Chick
PENSACOLA, FLORIDA 2016 REUNION
Not much to report here yet. We just started the process of contacting the Pensacola CVB and getting the word out to the hotels about what our requirements are and they have been responding and we are taking a look at them as they come in
On another note I have been trying to get in touch with some contacts from other groups that have had reunions there to get their input. This is a pretty good source of information.
Another thing we are mulling over is whether to have the reunion in the spring or fall. Normally we have had the reunions in the fall but we might be flirting with the hurricane season. Switching it to the spring season would avoid that problem pretty much. Anyone has any input in that area let us know. Another thing we have avoided during the reunions is planning in the tourist months as to get better hotel rates. Tourist season drastically increases the prices of the rooms. We always were aware that by having the reunions after school started we were probably not going to get any alumni that still had family in school and we always wanted the alumni to bring their families.
We plan the reunions to be as cost effective as possible and so you wouldn't have to mortgage your house or leave your children as collateral and we will continue to do this. We look for the hotels that are full service and can give us the most bang for our dollar. In 20 years we have had a lot of success and very few pitfalls which accounts for the good reunion group planning and a really good group attending. Thanks to everyone for the great support.
I've already heard from a few people who are going to lump in the reunion with a Florida visit to relatives or relatives that live in proximity to Pensacola in nearby states. That's good. Sue and I are planning the same thing. Both her brothers are in Florida and my sister lives in Alabama. We're looking forward to a long trip and a good reunion.
If anyone has any input please contact us.
DONATIONS
Richard and Rhea Arehart, (Chu Lai 66-67, 69-70), Latham, Ohio. Our continued appreciation Rich and Rhea! Thanks Marine.
LOST IN THE SNAIL MAIL
CLARK, GENEVIEVE NORTHFIELD, MA
HUNTINGTON, LOU ROCKY MOUNTAIN, NC
ROSOWSKI, DAVE YULEE, FL
SHEWELL, KRIS BEDFORD, TX
WEILAND, PHIL CHICAGO, IL
Note: Please notify me when you have a change of address or an email change as I can keep the roster updated and current.
ADDRESS AND EMAIL CHANGES
FORNELLE, JOE 2344 N. THUNDER GULCH CIRCLE, PALMER, AK 99645
HITCHCOCK, STEPHEN stephenhitchcock020@gmail.com
INGLE, CHARLES charlesingle@hughes.net
REGAN, ART aarc310b@gmail.com
SCHREINER, GEORGE 5601 E. ROCKTON RD. APT 7E, ROSCOE, IL 61073
TIERNAN, TERRY 7623 TEAL TRACE, BRADENTON, FL 34203
COMMO AND EMAILS FROM THE TROOPS…..
ERIC ARNONE: "Greetings everyone. I am George Arnone's son. If you are receiving this email it is because you are a close friend of my father, and most likely a fellow US Marine, or Navy serviceman. As some of you may know, we recently found out that my dad has Multiple Myeloma, which is an incurable blood cancer. That being said, there have been some breakthrough in just the past few months that have extended the lives of those people living with Multiple Myeloma., so we are remaining hopeful. It is widely believed that exposure to Agent Orange is the cause of this terrible disease, and as many of you know, my father is a US Marine and Vietnam veteran.
Currently, my dad is undergoing chemotherapy and will ultimately will have to undergo stem cell transplant. Eventually, assuming this is all successful, the multiple Myeloma will come back. This is why we need a cure.
On May 8th I am participating in a Spartan Race in Citifield for the Multiple Myeloma Research Foundation. I am going to raise money to find a cure for my father and for the numerous others who are fighting this disease.
Please take time to check out this page for "TEAM GEORGE" and if you wish to make a donation- anything- that would be huge. The money is not going to us but is going to the Multiple Myeloma Research Foundation, the MMRF, which is directly responsible for prolonging the lives of the many people who are battling this disease by funding breakthrough medicine. The MMRF has accomplished a great deal in the past 24 months and I'm hoping I can help them accomplish the cure before time runs out.
Please include my father in your prayers…finally, I would ask if you can share this with anyone you think might be interested in donating. I would greatly appreciate it. Here is the link to the page:
http://support.themmrf.org/site/TR/EnduranceEvents/EnduranceEvents?px=1823106&pg=personal&fr_id=1930
Thank you all so much for reading this email and I hope you have a wonderful day. Also, THANK ALL OF YOU FOR YOUR SERVICE."
Editors Note: Many of you out there know George Arnone. He has attended a number of our reunions and has many friends among us. Also, there are many of you on the roster that served with George in Chu Lai. He was an electrician serving with VMA-311 in 1965-66. We have made a contribution to Eric's cause in the name of the Alumni group and we hope that some of you will donate to this worthy endeavor. We wish George all the best and offer our prayers for a recovery. To you George we know you will hang tough. "Semper Fidelis my friend!!"
DON ENER: "I am looking for information regarding any living folks that were with VMF-311 on Okinawa during WWII. I am a Vietnam veteran who has a 90 year old friend who was with the squadron in the war. His health is going down fairly rapidly and if possible I would like for him to have contact with Marines of that era. Any information you can provide on this matter would be greatly appreciated. Semper Fi."
Editor's Note: My roster is down to about 15 WWII names mostly all from Roi-Namur but I sent him all the names in case he may remember someone. Any of you out there from WWII that might be of help please email Don at sgtgrumpy@cmaaccess.com I have no phone number but will relay info if you are not online.
CHARLES INGLE, WOODVILLE, TX: "San Antonio was not far from where we live but, health reasons kept me at home. Receiving your newsletter was for me quite a lift.
I lately have been wondering about you guys. My wife and I wish you all a Merry, Merry Christmas and a New Year that is just as great.
I can only pray for our country, that we can return to what it was in the 20th century. As God was in on our forefathers and the constitution and our first.
President beat the British with our Lord's help makes me think he will not forsake America, His ONE NATION UNDER GOD. I'm sure we are all getting up in age now. With pacemaker and defibrillator I'm still hanging in life. I hope you are too. Wish I could see you guys. Semper Fi."
STEVE, AOA DECALS: "I have been trying to reach out to contact as many Vietnam A4 vets as I can.
I'm looking to produce scale model decals of Marine A4s in Vietnam, ideally I would like to represent the markings from all the squadrons, and preferably all the iterations of the squadron markings carried- so this would include VMA-211, 121, 214, 223, 224, 225, and 311. I recently completed an extensive project on the Marine based A6 squadrons in Vietnam and I was able to get many photos and copies of the cruise books direct from the vets themselves. Without their help there is no way I could have completed it. To see that A6 work and to show what I'd like to similarly do for the Marine A4s see the profiles at : www.aoadecals.com/48001/home.htm
While I have many, many books on the A-4 and the Vietnam war aircraft in general, all tend to cover predominantly the Navy A-4s or show mostly the same general photo. I also looked through the A-4 association Marine squadron pages and found many excellent photos, although many are too small in resolution for me to determine markings details. I also sent similar request there for assistance, and also to some from the Facebook 311 group.
I was hoping you could help if you could share some photos from that period? What I'm looking for are any photos that show any part of the A-4 while in Vietnam, even if it's the background of other subjects, only small portion seen or an overall view. I'm looking for details that would most consider very insignificant, and example being like the chamfer angle used on the model/Buno, the pilot and the p/c names applied if appropriate, the style of the font used, close-ups of the squadron markings, etc. Copies of cruise books were also immensely helpful. Anything new will help.
Any photos would be for my personal viewing only , for the few A-6 phtos I posted on my web site I asked permission before using and all were credited. I would greatly appreciate if you could pass this on this request to your Marine brothers."
Editor's Note: Anyone out there, and I know there is a ton of Vietnam A-4 pics floating around in our group, and want to contribute to Steve's endeavor you can email him at info@aoadecals.com.
DREXEL UNIVERSITY: ( Editor's Note: Anyone who has attended our reunions knows Chuck Vincent. He can usually be found in the company of a couple others named Jerry Holleran and Bill Leese, and they are usually helping us out in almost anything we need done. Chuck served with VMF-311 in 311 at K-3 as an avionics repairman. He was also a Vietnam veteran serving down south in the MACV area if I remember in a non-aviation capacity. However, this story appeared after San Antonio reunion. We had this flag, up at auction, that flew over the USS Arizona Memorial and Chuck got it with this purpose in mind.)
On Veteran's Day (Nov 14, 2014), Drexel alumnus, Chuck Vincent, electrical engineering '57, presented an unprecedented historic gift to the University, a framed flag from the USS Arizona, one of the naval ships attacked on December 7, 1941. More than half the victims that day were aboard the Arizona.
Vincent, a Korean and Vietnam War veteran, won the flag this year as part of a silent auction at his biennial military reunion. He immediately knew that he wanted to present it as a gift to his alma mater to display in the University's Veteran Lounge in the armory.
Vincent was a student at Drexel from 1949-1957 and graduated from the college of engineering after a four year hiatus to enlist in the US Marine Corps. While on campus, he was a member of the choir, wrestling team and later the Lacrosse team. He was actively involved in the advanced ROTC program. After graduation, he enlisted in the US Army as a second Lieutenant. His military career included deployments in Europe and Southeast Asia and culminated in the rank of Lieutenant Colonel, including numerous years of distinguished service marked by citations, ribbons and medals.
Vincent remains actively involved with Drexel, as the founding member of the Drexel Veterans Alumni Network and through continued involvement with his fraternity, Alpha Pi Lambda. He was inducted into the initial class of the Alpha Pi Lambda Crimson and Grey Society in 2011 during their 78th Anniversary Ball celebration. He also attends various sporting events and cheers for the dragons.
While presenting the flag, he shared the personal story of his continued commitment to supporting student veterans at Drexel. He recalled the change in how veterans and active duty military were treated following WWII, Korea and Vietnam. During and following the war in Vietnam, veterans were greeted with hatred and unkind words like never before. His goal is for no other veteran to choose not to wear his/her uniform in public for fear of negative treatment.
Members of the Drexel Veterans Association accepted the flag on behalf of the university during the Veteran's Day Tribute. They expressed their desire to have the flag displayed across campus so the most people could possibly see it. To read more about Vincent and his memories of Drexel and serving in the war check out this profile: http://drexelmagazine.org/2014/07/the-yellow-ribbon-welcome/ from the summer 2014 issue of Drexel Magazine
Editor's Note: Chuck emailed me this column but also noted that they got the info wrong about the flag flying over the Arizona. It flew over the Memorial. I don't think that any of the original flags are in circulation.
LTC TOBY MOORE, CO VMA-311: "January was a very productive month for the squadron. Not only did we complete the back-in-the-saddle training following the holidays, but the Operations and safety department did a great job coordinating the majority of our annual training during the same time period in order to alleviate those requirements as we get closer to deployment.
Over the past month, we successfully completed Major Fong's Air Combat Tactics Instructor qualifications and my hat is off to the squadron for their efforts to provide fully mission capable aircraft during the build and certification process.
Last week we celebrated our heritage with a warrior Night at Auxiliary airfield II in the middle of the desert, about 8 miles from the base. It was a absolute honor to be part of such a great event. The comradery in the unit is incomparable
For two weeks now, the squadron has been working 12 hour days in order to set ourselves up for success over the next few months. I can assure this is necessary in order to meet our difficult mission, and as always, I am trying to prevent an abundance of work from bleeding over into the weekends. If the mission can be successfully completed within normal work hours, we will go back to as normal a schedule as soon as possible. I want Marines to be able to 5.spend as much time as possible with family and friends prior to the deployment and we will ensure we are not working long hours unless it is absolutely necessary.
I believe the true character of a person comes out when they are tested under difficult circumstances. This squadron has, and is currently being challenged with a series of obstacles as we prepare to deploy. As I've stated numerous times to the Marines in formation, I truly believe VMA-311 is one of the best units in the Marine Corps and it is my honor to serve as its Commanding Officer."
MRS. JACK HERBER: PART II OF MAJOR JACK HERBER'S BAIL OUT OVER HOI AN MARCH 1968:
"I think the word CHAOS, from the Greek word ka-as meaning- a state of utter confusion—best describes the scene at 0200 north of Hoi An. The Jolly green is right overhead, his landing light is on, and he is trying to descend through the fog and can't see a thing. He can hear me talking but he can't see the ground and then suddenly the enemy is shooting up his helicopter from all sides. I had no idea that the enemy had figured out my position by triangulation on my radio messages and they had moved closer to me without using their lights. To say I was shocked would be a gross understatement. I think the words "scared shitless" would be more appropriate. After a few minutes of pure terror, I decided the best course of action was to move as quickly as I could west again toward the jungle.
The bad guys kept shooting awhile after the Jolly green pulled out and this helped me estimate their distance and direction. It appeared they were South, East and North of me but my way appeared clear to the West so I kept moving in that direction. It seems funny now looking back on that time but now I know how an animal feels when it is trapped and surrounded by the enemy. The stakes were high because we were playing the serious game of life and death. I knew I had pretty slim odds but I knew I had to stay calm, use my head and be very lucky. Needless to say I called upon my Lord, Jesus Christ, to be with me in this struggle and I felt confident that he heard my prayer.
After about 15 or 30 minutes, I stopped moving and listened to the sounds of the night. A snap of twig or a whisper, but there was nothing but the distant sound of an aircraft somewhere overhead. I think this was due to the fog which muffled the people moving or any conversation they might be having. After waiting awhile, I decided to take a chance and head North in the direction of Danang. Watching and listening, moving from one dark patch to another I made some progress and then I encountered a new problem. While moving in the light colored areas, I fell into a trench. It was about 4 feet deep and two feet wide and I couldn't see it in the dark. And I wondered to myself "What in the world is this all about?" Climbing out of the trench and probably 100 yards further I came upon a second trench and then a third. Now I could only imagine that I had stumbled onto an enemy fighting position and fortunately the position was not manned at the time.
As I began to move North the terrain began to change. The small brush that I had been moving through now became larger and there appeared to be some of the trees looked to be about 10 feet tall and were closer together. It was hard to see very far so I stopped more often and listened for sound or movement. Perhaps an hour after the moment of chaos, I stumbled into a fortification surrounded by barbed wire and tore up my legs a bit. I didn't see it in the dark and now began to wonder if the enemy was closer than I thought. But, the silence was reassuring and I continued north.
Now the trees were taller and the thickets more dense and I'm guessing it's around 0400. The aircraft overhead sounded close so I came up on the guard channel and told them I was still ready for a pick-up. This time the C-130 pilot replied and I found out later that it was my old friend from VMGR-152, Bud Wildfang. He said the fog was moving out to sea again and that he was going to drop a flare near me to mark the position for pick up. I said OK and seconds later that damn thing nearly landed on my head and lit up the area like a Christmas tree. This is exactly what I didn't need, telling the whole world where I was on the ground.
As the flare went out I got another surprise. Two search lights, one in the south and one in the east came on and crossed right over my head in the top of the trees. I asked the pilot overhead if he could see them or if we had any friendlies in the area. He said no to both questions. Now I knew that the enemy was on to me again. I shut down the radio and moved quickly away from the light but now decided to move east instead of north. About a half hour later I came upon a path. It was easy to see in the dark and I could tell it ran North and South. My survival training said stay off the path because this is where the enemy is moving or lying in wait for their prey. I waited and waited but there was no one there so I decided to give it a try. Bad decision!!!I was really tired by then and wanted to get some relief from the loose sand between the tree groves.
6. And then it happened! I was moving quietly to my right I became aware of another path intersecting mine and as I turned there was, standing about a foot away, a person in black. We both froze. He was struck by fear and so was I. Face to face with the enemy. Seconds later I said "It's OK" or something like that I might have just as well yelled "Fire" because this guy screamed something in Vietnamese and went screaming by me on the trail to the west as fast as his sandaled feet could carry him. Screaming and yelling at the top of his lungs and I'm sure he was trying to tell his buddies he just saw a dragon.
Well, I had about enough of this crap for one night so I ran down the path for about 100 yards going East and then went back into the brush again headed North. Hit another creek, into the water, walk some, up on one bank go the distance, then back in the creek and up the opposite bank. Stop and Listen. Silence—except for a distant plane overhead. Now moving very slowly I moved from one tree clump to the next. No more paths for me!! Without any warning all hell broke loose again.
There was one explosion after another and I don't know if it's the enemy or friendly fire but there was a ton of it. It scared the dickens out of me and I got on the radio and the pilot said that it is the Korean Marines firing artillery and that I must be close to their front lines. The pilot said "Don't move any further north because they will shoot first and ask questions later." Great, now what the hell do you do? I've got VC behind me, the Korean Marines in front of me and both of them will shoot anybody on sight that's running around in a flight suit. By this time it's beginning to lighten up and I spot what appears to be an intersection of a fence line surrounded by large bushes. That looks like a good hiding place so I get inside and I find this great place because it is slightly higher than the surrounding area and I can see some distance in all directions. Now it's quiet again, the Koreans have stopped shooting their big guns and the sun in the east is looking good.
Now it's about 0530 or 0600 and I contact the C-130 overhead. They tell me the Jolly Green is in the air and headed my way. Within minutes I spot the helicopter headed towards my position and I give directions to the pilot. When I can see both his port and starboard running lights I tell him he is headed directly at me. I left the sheltered area and moved out into the open and call him into position. Here again my FAC training came in handy. As the Helo got closer to the ground I ran over to the open door and made a dive for it, the crew chief grabbed me as I came sliding in and we were back up to a couple hundred feet in a matter of seconds. No enemy fire this time and we all were glad. The crew chief asked how glad I was and I said the only thing I had was my service .38 which I never used. He said "Great" and I handed it over. Landing at Danang, I thanked the rescue team and got a jeep ride over to the Marine side of the field.
A quick shower, new flight suit and I was on a bird headed for Chu Lai. The medics treated my legs and I got sent out of country for a couple days. Seems I had pneumonia. I called my wife from Okinawa and she was relieved that everything turned out well. I get on my knees every night and thank my Lord for his love and faithfulness."
IT'S A WRAP
As normal things go there isn't much to report on. Things go that way right after a reunion. Some good things are happening though. Snow is melted off (Not sure about Boston. Hey Ralphie, Murph might have house for sale somewhere next to him in Florida!) Joking aside, you guys in New England deserve a break. Baseball is in the air, freshly caught fish in the frying pan. We're getting there. Stay safe and until next issue…"May the Good Lord take a likin' to you". (How many of you remember that one?)
For the reunion Association,
Jim Galchick
DATELINE 26 AUGUST 1951: The squadron received a letter of commendation from Maj Gen Claude Ferenbaugh, Commanding General US army 7th Division for missions flown in support of elements of the division on 16 August. The 7th Div was in the vicinity of Hills 851 and 820 when it received heavy fire and encountering the enemy in several positions along the front. The call was answered by 4 F9Fs from VMF-311. They bombed, strafed and rocketed forward positions with such "deadly accuracy" that the Army was able to counter the enemy thrust. The general also congratulated the squadron skipper on the "splendid cooperation and fighting efficiency of the pilots".
~~~~~~~~~~~~~~~~~~~~~~~~~~~~~~~~~
DECEMBER 2014 EDITION
**********************************************************************************************
Jim and Sue Galchick George and Jackie Phander Cecil and Chris Cheeka
1290 E. 12th St. 3032 Potshop Road 2207 Lilac St. S.E.
Salem, Ohio 44460 Norristown, PA 19403 Lacey, WA 98503
330-337-9383 610-584-5654 360-352-7227
jgalchick@neo.rr.com piboxer@comcast.net ccheeka@comcast.net
OFFICIAL WEB SITE: Fred Townsley, 805 Price Ave, Chandler, OK 73834, 405-258-05
WebPage www.vmf-vma-311reunion.org Email: oldsargfred@gmail.com
MEMBERSHIP: Charles "Ralphie" Read, 14 Brentwood road, Kingston, MA 02364
~~~~~~~~~~~~~~~~~~~~~~~~~~~~~~~~~~~~~~~~~~~~~~~~~~~~~~~~~~~~~~~~~~~~~~~~~~~~~~~~~~~~~~

March 7, 2015
Got this from Jim to pass along to all members
Fred- Send this out on the email list of guys. It looks legit. I'll go into the web site and have a look later. Newsletter out next week. – Stay warm--Jim
Sent: Wednesday, March 04, 2015 4:10 PM
To: undisclosed-recipients:
Subject: My father George
Good afternoon, everyone - my name is Eric and I am George Arnone's son. If you're receiving this email it is because you are a close friend of my father, and most likely a fellow US Marine, Navy, or military serviceman.
As some of you may know, we recently found out that my dad has Multiple Myeloma, which is an incurable blood cancer. That being said, there have been some breakthroughs in the just the past few months that have extended the lives of people living with Multiple Myeloma, so we are remaining hopeful. It is widely believed that exposure to agent orange is a cause of this terrible disease, and (as many of you know) my father is a United States Marine and Vietnam Veteran.
Currently, my dad is undergoing chemotherapy and will ultimately will have to undergo a stem cell transplant. Eventually, assuming this is all successful the Multiple Myeloma will come back. This is why we need a cure.
On May 8th I am participating in a Spartan Race in Citifield for the Multple Myeloma Research Foundation. I am going to raise money to find a cure for my father and the numerous others who are fighting this disease.
Please take the time to check out the page for "Team George," and if you would like to make a donation - anything - that would be huge. The money is not going to us but is going to the Multiple Myeloma Research Foundation - the MMRF - which is directly responsible for prolonging the lives of many people who are battling this disease by funding breakthrough medicine. The MMRF has accomplished a great deal in the past 24 months and I am hoping I can help them accomplish the cure before time runs out.
Please include George in your prayers...Finally, I would ask if you can
share this with anyone you think might be interested in donating. I would greatly appreciate it...
Here is the link to the page:
Thanks so much for taking the time to read this email and I hope you have a wonderful day. Also, THANK YOU ALL FOR YOUR SERVICE
--

-Eric Arnone
3/6/2014 Just checked out the web site and it looks OK. Will check in with the the cohorts and see if there is anything we want to do as a group donation.--Jim
Sent: Saturday, March 07, 2015 11:14 AM
Subject: Re: My father George
Jim - I absolutely cannot thank you enough for what you've done. I had a short list of Marines to send this too but it was my hope we could get the word further out. I'm really hoping we can raise enough money to forward the MMRF because, from what I know, they are responsible for funding groundbreaking medications in just the past 24 months. I'm hoping we can help them find a cure.
Thank yo also for the well wishes...Please do not hesitate to reach out if there's anything I can do on my end to help out, or to facilitate getting the word and the proper information out.
Thank you for being a friend to my father, and to your continued service to this Country. I believe that with the Marines in my father's corner, he can beat anything.
-Eric
On Fri, Mar 6, 2015 at 10:06 PM, Jim Galchick
<jgalchick@neo.rr.com>
wrote:
Good evening Eric,
Sorry to hear this about your Dad. Have forwarded this letter to Fred Townsley who runs our web page and he will send it out to everyone on our email list. I will post in the hard copy newsletter which will be mailed out next week. Your Dad has attended most of our reunions and I'm sure that his friends would want this information. I'm sure we can help out.
Wishing you well. Thank you for contacting us and undertaking the Spartan Race on his behalf. Noble task. Anything you need from us give a yell. Keep us informed.
Semper Fidelis,
Jim Galchick
VMF/VMA-311 Alumni Assn.
~~~~~~~~~~~~~~~~~~~~~~~~~~~~~~~~~~~~~~~~~~~~~~~~~~~~~~~~
Sent: Thursday, December 11, 2014 4:38 PM
Subject: Vietnam VMA-311 photo reference help request
Gents, apologies if this is duplicate email you may have received from the A-4 Association, as I've been trying to reach out to contact as many Vietnam A-4 vets as I can.
I'm looking to produce scale model decals of Marine A-4's in Vietnam, ideally I would like to represent the markings from all the squadrons, and preferably all iterations of the squadron markings carried – so this would include VMA-121, 211, 214, 223, 224, 225, and 311. I recently completed a similar extensive project on the Marine ground based A-6 squadrons in Vietnam and I was able to get many photos and copies of the cruise books direct from the vets themselves. Without their help there is no way I could've completed it. To see that A-6 work and to show what I'd like to similarly do for the Marine Vietnam A-4s see the profiles at www.aoadecals.com/48001/home.htm
While I have many, many books on the A-4 and Vietnam War aircraft in general, all tend to cover predominantly the Navy A-4s or show mostly the same general photos. I also looked through the A-4 Association marine squadron pages and found many excellent photos, although many are too small resolution for me to determine marking details. I also sent similar request there for assistance, and also to some from the Facebook 311 group.
I was hoping you could help if you have any photos you can share from that period? What I'm looking for are any photos that show ANY part of the A-4 while in Vietnam, even if it is in the background of other subjects (like people), only small portion seen, or an overall view. I'm looking for details that most would consider very anal/insignificant - an example of this are things like the chamfer angle used on the modex/BuNo, the pilot and p/c names applied if appropriate – and style of font used, close-ups of the squadron markings, etc. Copies of cruise books were also immensely helpful. Really, anything new to me will help.
Any photos would be for my personal viewing only, for the few A-6 photos I posted on my website I asked permission before using and all are credited.
Would greatly appreciate if you could also pass my request to your Marine brothers.
Thanks,
Steve
~~~~~~~~~~~~~~~~~~~~~~~~~~~~~~~~~~~~~~~~~~~~~~~~~~~~~~~~~~
SAN ANTONIO REUNION 2014 RECAP
ANOTHER REUNION HAS COME AND GONE AND WE REALY HAD A GOOD TIME IN SAN ANTONIO. THE WEATHER WAS PERFECT, THE TOURS WENT GREAT AND THE CUSINE WAS JUST ABOUT ANYTHING YOU COULD ASK FOR. WE DECENDED ON THE ALAMO CITY 55 STRONG WITH MANY SHOWING UP PRIOR TO THE REUNION DATES. SORT OF LIKE A RECON TEAM. MOST OF US HAD NEVER BEEN TO TEXAS OR SAN ANTONIO SO IT WAS GREAT TO SEE ALL THE THINGS WE JUST ALWAYS HEARD ABOUT SUCH AS THE FAMED RIVERWALK, THE ALAMO, TOWER OF THE AMERICAS (ALL 600+ FEET OF IT!) AND THE BEAUTIFUL SPANISH MISSIONS. ON THE SIDE WE WENT FREDERICKSBURG, TEXAS AND SEEN THE CHESTER NIMITZ MUSEUM AND GEORGE BUSH MUSEUM OF THE PACIFIC. WE JUST HAPPENED TO BE THERE ON THE FIRST DAY OF OCTOBERFEST WHICH WAS A PLUS, AND ATE SOME GOOD GERMAN FOOD AND NO DOUBT SAMPLED SOME GOOD GERMAN BREWSKIS.
BACK IN SAN ANTONIO WE WERE TREATED REALLY GOOD BY THE HOTEL AND THE STAFF WAS GREAT AND RECEPTIVE TO OUR NEEDS. STANDARD BUFFET BREAKFAST EVERY MORNING WAS MORE THAN ADEQUATE. JUST SO HAPPENED THAT THE MAINTENANCE GUY WE DEALT WITH, NAME OF ROCKY, WAS A MARINE AND WOUNDED WARRIOR. SO WE GOT ALONG GREAT.
WE HAD THE FORTUNE OF SHARING A HOTEL WITH COMPANY OF VIETNAM VETERANS OF THE 2ND BATTALION, 14TH INFANTRY, AMERICAL DIVISION. THEY HAD ABOUT 30 GUYS THERE AND WE HAD A GREAT INTERACTION WITH THOSE GUYS THOUGHOUT THE WEEK. WE EVEN TOOK A GROUP PICTURE WITH THEM. (If anyone has a copy of that pic I would appreciate one. –jim).THEY WERE IN VIETNAM THE SAME TIME AS MOST OF US.
THE AUCTION WENT GREAT ON FRIDAY NIGHT. I SWEAR JIM DAVIS AND RALPHIE READ COULD MAKE A GOOD SECOND CAREER AS AUCTIONEERS. THEY JUST KEEP GETTING BETTER EVERY REUNION. THANKS TO THE MANY DONATIONS WE WERE ABLE TO RAISE ENOUGH MONEY TO KEEP THE GROUP AFLOAT FOR THE COMING YEARS AND WE MADE A $1000.00 DONATION TO THE VMA-311 FAMILY READINESS GROUP IN YUMA. HAVE TO MENTION THAT THE SQUADRON DID SEND A BOX OF THINGS FOR THE REUNION AND WE GAVE SOME OF IT AWAY AND AUCTIONED SOME OF IT. SGT. GRIT MARINE SPECIALTIES ALSO SENT A BOX OF THINGS. SEEMS LIKE EVERYONE DONATED SOMETHING. WE REALLY HAD A GOOD TIME WITH CHICKEN WINGS AND SNACKS TO BOOT.
BANQUET WENT GREAT STARTING OFF WITH OUR MEMORIAL SERVICE WHICH IS ALWAYS A SOMBER MOMENT. WITH A SERIES OF UNFORSEEN INCIDENTS, I HAD NO GUEST OF HONOR OR MAIN SPEAKER LAID ON FOR THE EVENING.BUT AS FATE WOULD HAVE IT, FELLOW TOMCAT ALUMNI JUAN MEDRANO (78-83) WHO LIVED NEAR BY IN NEW BRAUNFELS, TEXAS SHOWED UP AND , AFTER HEARING OUR PLIGHT, OFFERED TO SPEAK TO THE GROUP. HE WORKS WITH THE VA SYSTEM HELPING FORMER MILITARY WITH DIABILITY CLAIMS AND APPLICATIONS. THERE WERE MANY IN ATTENDANCE WHO CURRENTLY DEAL WITH THE VA SYSTEM SO JUAN HAD A CAPTIVE AUDIENCE AND ANSWERED SOME QUESTIONS. EVERYONE T HE REUNION GOT A ROSTER IN THEIR PACKET. JUAN'S CONTACT INFO IS ON THE ROSTER AND I'M SURE IF YOU WANTED TO ASK HIM SOMETHING CONCERNING VA CLAIMS HE WOULD BE MORE THAN WILLING TO ENLIGHTEN YOU. I HAVE LITTLE OR NO INFO CONCERNING VA CLAIMS. MY OWN ASSOCIATION WITH THE VA GOES AS FAR AS PHYSICAL ONCE A YEAR, EYEGLASSES EVERY TWO YEARS AND HEARING AIDS EVERY FOUR.
SO EVERYTHING WENT REALLY WELL AND THE VOTE FOR REUNION 2016 WAS ALMOST UNANIMOUS FOR PENSACOLA, FLORIDA. FIRST PART OF THE YEAR WE'LL START WORKING ON THAT. CAN'T SAY ENOUGH ABOUT ALL THE PEOPLE WHO MADE SAN ANTONIO A SUCCESS. YOU ARE A GREAT BUNCH AND IT'S AN HONOR TO WORK WITH YOU.
OH—ONE MORE THING. I KNEW THIS WOULD COME UP EVENTUALLY AND I BELIEVE THAT RALPHIE READ INSTIGATED IT. HE DECLARED THAT MY WIFE, SUE, HAS HAD ENOUGH TIME IN GRADE AS A "GUNNY" AND MOTIONED THAT SHE BE PROMOTED. I STRENUOUSLY OBJECTED TO THE MOTION NOTING THAT AS A RETIRED E-7 I COULD NOT BE OUTRANKED MILITARILY IN MY OWN HOUSE. CIVILIAN WISE I HAVE ALWAYS BEEN OUTRANKED, MILITARILY NO. AFTER A CLAMOROUS UPROAR, I DEMOCRATICALLY PUT THE MOTION TO THE VOTE. ALL IN FAVOR SAVE ONE VOTE. THEREFORE MY LOVELY WIFE IS NOW AND HENCEFORTH A "FIRST SERGEANT". MY, OH, MY!
AGAIN THANKS TO ALL WHO ATTENDED AND MADE THE REUNION A SUCCESS. THOSE WHO DIDN'T MAKE IT WE HOPE YOU CAN JOIN US IN PENSACOLA IN 2016. GOD WILLING AND THE GULF OF MEXICO DON'T RISE!
ATTENDEES TO REUNION 2014 SAN ANTONIO
GEORGE ARNONE, BRONX, NY (65-66); FRED AND JANET AVERY, WILLOW STREET, PA (64-66); JACK AND TEE BIBEY, CHURCH ROAD, VA (72-73); JERRY AND DARLENE BRADLEY ST. PETERS, MO (64-66); CECIL AND CHRIS CHEEKA, LACEY, WA (67-68); JIM AND DOT DAVIS, PENSACOLA, FL (68-69); TOMMY AND MARIANN DOBSCH, MISSION VIEJO, CA (76-78); KEN AND KATHY DOUCET, LAFAYETTE, LA (66-67); DON DOUGHERTY, TOM AND ALYSIA DOUGHERTY, JAKE AND JOSH NIERER, WHITEHALL, PA (52-53); RAY EKSETH, HAMILTON, SC (69-70); JIM AND SUE GALCHICK, SALEM, OH (67-68); RICHARD AND NORMA KIELMAN, BARB AND RICHARD BROWN, JACOB AND CHOLE FITE , ELKHORN WI (62-64); JIM KOTMEL AND MARILYN SPIEWAK, MAPLE HEIGHTS, OH (67=68); BILL LEESE, MILLINGTON, TN (62-66, 74); TERRY AND LAURA LOVELESS, MARION, IA (69-70);KEN AND CAROL MAYNARD, EPPING, NH (66-67); BILLAND CELIA MCKOWN, WHITTIER, CA (64-66); LES AND BONITA MCMILLAN, CRESTON, OH (67-68): BILL AND CYNTHIA MURPHY, ST. PETERSBURG, FL (63-67); DAVE AND JANET PARKER, FARMINGTON, ID (66-67); CHARLES READ , KINGSTON, MA (66-68); BOB AND LISA SCAR ASHVILLE, NC (70); LOU STANKO, PORTAGE, IN 968-69); ED AND LYNN STEPNOWSKI, NAPLES, FL (66); FRED AND ETHEL TOWNSLEY, CHANDLER, OK (53-54, 69-70); CHUCK VINCENT, FREDERICKSBURG, VA (52); AND AIME AND PAT YOCCA, WINTER PARK, FL (67-68).
DONATIONS
EVERYONE THAT WENT TO THE REUNION CONTRIBUTED TO THE GROUP FINANCIALLY IN SOME WAY. THESE DONATIONS WERE OTHER THAN REUNION ATTENDEES: Al FAVELA , SAN DIEGO, CA (62-65); RICHARD AREHART, LATHAM, OH (66-67, 69-70); PETE PHILLIPS, ST.CLOUD, FL (42-45); GEORGE FLORES, ANAHEIM, CA (64-66); SAM DICKEY, FOUNTAINVIEW, CA (68-69); JERRY HOLLERAN, COLLIAGE PARK, NY (55-57). THANKS MARINES FOR ALL YOUR SUPPORT.
NEW ALUMNI
MORRIS, DELMER MAJ. (RET) 2832 E. GARFIELD AVE., ORANGE, CA 92867
714-532-3457, K-3, PILOT, 1952-53
EMAIL AND ADDRESS CHANGES
BIRCHLER, MONA 6210 6TH AVE S, ST. PETERSBURG, FL 33707-2335
DICK KIELMAN kiel4925@hotmail.com
ART REGAN 4225 ORCHARD LOOP W., TILLAMOOK, OR 97225
arregan@comcast.net
LOST IN THE MAIL
MILTON GIFFIN LKA NORTHWOOD, NH
EVE GORLEY LKA HOT SPRINGS, AR
TOM TURNER LKA WICHITA, KS
BONNIE KINNEY LKA CUPERTINO, CA
TAPS
BOB POLHAMUS BOYNTON, FL, 2014. PILOT, 63-65, CHU LAI
(WE WERE READING AN OBIT AT THE REUNION FOR DORSEY PAGE AND BOB'S NAME WAS RIGHT UNDERNEATH IT. I DON'T HAVE ANY OTHER INFO. BOB'S NAME WAS READ AT THE MEMORIAL SERVICE…JG)
COMMO FROM THE TROOPS…
HAROLD (PETE) PHILLIPS, ST. CLOUD, FL: "IT IS WITH REGRET THAT I WILL NOT BE ABLE TO COME TO THE REUNION. WHICH WE HAD BEEN LOOKING FORWARD TO. RUTH WAS DIAGNOSED WITH LYMPHOMA IN HER RIGHT FEMUR. SHE HAD SURGURY AT MOFFITT CANCER CENTER IN TAMPA IN NOVEMBER 2013. IT HAD FRACTURED HER FEMUR AND A TITANIUM ROD WAS INSTALLED. SHE WAS IN A NURSING HOME UNTIL THE END OF MARCH. SHE IS HOME AND DOING WELL. SHE ALSO HAD A BLOOD CLOT IN HER LEFT LEG WHICH PREVENTS AIR TRAVEL.
I TURNED 90 JULY 5TH AND HAVE HAD SOME HEALTH ISSUES ALSO. JUST DID A FEW DAYS IN THE ST. CLOUD HOSPITAL STARTING WITH ACID REFLUX GETTING INTO MY LUNGS.
WE HOPE YOU HAVE A GREAT REUNION. DEBBIE AND SAM LIVE IN ST. CLOUD NOW (QUITE A CHANGE FROM ALASKA) AND SHE'S BEEN A BIG HELP. ALL THE GIRLS WILL BE HERE FOR THE 65TH WEDDING ANNIVERSARY SEPTEMBER 16TH. LORD WILLING. SEMPER FI."
RICHARD AREHART, LATHAM, OH: "PRIOR TO JOINING THE AIR WING I WAS A GRUNT. I WAS WITH THE 3RD, 5TH, AND 9TH REGIMENTS AS A BARMAN. I ALSO SPENT A 13 MONTH TOUR AT MB KODIAK, ALASKA. I WENT TO VIETNAM VIA MAMS-17 AT IWAKUNI ARRIVING IN CHU LAI IN EARLY 1966. I WAS IN 121, 223, 211 AND 311 DURING THAT TIME. 69 AND 70 I WAS IN HAMS-12 REBUILDING GSE EQUIPMENT. I WAS DISCHARGED IN 1974 AND JOINED THE TNARNG IN MEMPHIS. I WAS IN FOR EIGHT YEARS AND A FEW MONTHS BACK AS A 13B40 WITH THE RANK OF E-7. OVER THE YEARS I SPENT 20 YEARS IN CIVIL SERVICE AND RETIRED OUT OF THAT. IT IS HARD TO MAKE SOLDIERS INTO MARINES. I FOUND THAT OUT PRETTY QUICK. I AM PROUD TO BE A MARINE AND A MEMBER OF THE VMF/VMA-311 ASSOCIATION. "
AL FAVELA, SAN DIEGO, CA: (CONTINUING MEMOIRS) "I JUST SPENT THE LAST MONTH IN ENGLAND WHERE MY BEST FRIEND OF 46 YEARS PASSED AWAY WITH CANCER. LORNA CROWTHER, AGED 83 YEARS, WAS A LOVELY, UNDERSTANDING, AND FORGIVING LADY. THAT'S WHY WE WERE FRIENDS FOR SO LONG. SHE KEPT ME ON THE STAIGHT AND NARROW AND IF IT WASN'T FOR HER I WOULD BE LONG-DEAD OR IN ONE OF HER MAJESTY'S PRISONS AS I WAS A BIT ON THE WILD SIDE WHEN I WAS FIRST STATIONED IN ENGLAND IN THE LATE 60S. SHE LOVED AMERICANS. SHE LIVED THROUGH WWII AND ESPECIALLY LOVED THE 8TH AIR FORCE AND THE MARINES. SHE STILL HAS A LOT OF RELATIVES IN AUSTRAILIA. I NEVER HEARD HER SAY AN UNKIND WORD ABOUT THE "YANKS".
RECENTLY, I VISITED WHAT USED TO BE, ONE OF OUR BASES IN EL TORO. IT WAS VERY SAD TO SEE WHAT HAS BECOME OF THE OLD BASE, DERELICT, DESERTED AND FULL OF WEEDS. THE MAIN GATE AND THE ROAD THAT LED TO IT ARE NO LONGER THERE, IT'S ALL BLOCKED OFF. YOU HAVE TO GO TO THE REAR GATE TO GET IN, BUT THERE IS NOTHING MUCH LEFT. I SPENT 3 VERY HAPPY YEARS THERE WITH VMA-311 AND IT MAKES YOU WONDER WHY THIS HAS BEEN ALLOWED TO HAPPEN AS LAND AND PROPERTY ARE VERY VALUABLE IN THIS PART OF CALIFORNIA. IT MAKES ONE SICK TO SEE WHAT IS HAPPENING TO OUR COUNTRY, EVERYWHERE!"
COUPLE OF CARDS YOU MIGHT WANT TO SEND OUT WHEN YOU GO GET CHRISTMAS CARDS.
FRED MIGHT HAVE POSTED THESETHINGS AREADY ON THE WEB SIGHT.
FRED'S GREAT GRANDSON IS MAKING UP A CLASS PROJECT OF COLLECTING POSTCARDS FROM AS MANY STATES AS HE CAN. THIS GROUP COVERS A LOT OF STATES. SEND THE CARD TO:
KADEN MARTIN, C/O D.DOOLEY, 211 W. 2ND ST., CHANDLER. OK 74834
FROM JANICE RAMEY, GENE WILSON'S DAUGHTER, "WE ARE TRYING TO REACH AS MANY PEOPLE AS POSSIBLE TO SHOWER DAD WITH BIRTHDAY CARDS FOR HIS 90TH BIRTHDAY ON DECEMBER 22ND. MAIL CARDS TO: GENE WILSON 129 EAST STREET, ASHVILLE, OHIO 43103.
BOB NAVARRO, AMERICAL DIVISION: "WE WERE TALKING ABOUT THAT GROUP PICTURE WE ALL TOOK TOGETHER. I WOUD LIKE A COPY TO SHARE WITH THE REST OF OUR GUYS. YOU SEE, SOME OF OUR GUYS BACK HOME BELONG TO ORGANIZATIONS THAT ARE MAINLY MARINES, SO WE WANT TO SHOW IT OFF. IF YOU HAVE A COPY OR KNOW SOMEONE IN YOUR GROUP THAT MIGHT HAVE ONE WILL YOU PLEASE EMAIL ME A COPY?" (EMAIL OR SEND PHOTO TO MR. ROBERT NAVARRO, PO BOX 87, ASHERTEN, TX 78827 rc.navarro@hotmail.com OR PHONE 210-501-6189)
MICHAEL WALTON: "I AM FINISHING UP SOME RESEARCH, WAS THERE A PILOT BY THE NAME OF BLAINE KEITH ATTACHED TO VMF-311 IN 1949-52 TIME FRAME WHO FLEW F-9S IN KOREA? ( I DON'T HAVE A BLAINE KEITH ON MY ROSTER BUT SOME OF YOU GUYS FROM THE KOREAN ERA MIGHT RECALL HIM. EMAIL: mjskwalton@aol.com )
PAT HERBER, WIFE OF MAJOR JACK HERBER, PILOT, VIETNAM 1967-68, GIG HARBOR, WA: "MAYBE SOMEONE MIGHT REMEMBER THIS STORY. THE FIRST PART WHICH WE DIDN'T SAVE WAS ABOUT HIS MISSIONS OVER LAOS AND RETURN WHERE HE LOST ALL HIS ELECTRICAL SYSTEMS. HE DIDN'T KNOW WHAT HIT HIM BUT HIS WING MAN SAID HE SAW SMOKE. HE RETURNED TO BASE AND JACK BAILED OUT. HERE IS THE TEXT OF THE STORY."
(I'LL PRINT THIS IN TWO PARTS AS IT IS PRETTY LONG. I DON'T RECALL LOSING THIS AIRCRAFT AND JACK'S BAILOUT AND I WORKED ON THE FLIGHT LINE IN 67-68. SHE SENT A PICTURE OF SOME PILOTS WALKING AFTER MISSION 200 IN 1968. I REMEMBER ALL THE NAMES: RON MERRIMAN, DON KIRBY, NORM PRIDGEN AND JACK HERBER. DON'T REMEMBER THE INCIDENT.)
"I WAS RELUCTANT TO HIT THE SILK OVER HOI AN BECAUSE ONLY A WEEK BEFORE I HAD BEEN ON A CAS MISSION IN THAT AREA AND THE FIGHTING FOR THE GROUND MARINES HAD BEEN INTENSE AND THE VC WOULD NOT GIVE UP EVEN WHEN WE HIT THEM WITH EVERYTHING WE HAD. MUCH LATER WE FOUND OUT THE VC WERE BEING BACKED BY NVA REGULARS HIDDEN IN CAVES.
BUT, IT WAS TIME TO GO SO I REACHED UP AND PULLED THE CURTAIN. THE BLAST OFF WAS SMOOTH, THE CANOPY FLEW OFF AND BETWEEN MY LEGS I COULD SEE THE SEAT ROCKET LIFTING ME OUT OF THE AIRCRAFT. SINCE I WAS RELATIVELY SLOW, ABOUT 200 MPH, THERE WAS RELATIVELY NO TURBULANCE. IT LOOKED LIKE THE AIRCRAFT TURNED TO THE LEFT AS THE ROCKET BURNED OUT AND I BEGAN TO DO A BACKWARD SUMMERSAULT. WITHOUT WARNING I SEPERATED FROM THE SEAT, AND BANG, THE CHUTE OPENED AND I FOUND MYSELF FLOATING IN THE AIR. WHEN I LOOKED DOWN IT APPEARED I WAS ON THE EASTERN EDGE OF TOWN AND THE LIGHTS BELOW ME WERE MOVING AWAY TO THE LEFT. I SAW THE AIRCRAFT IMPACT NORTH OF TOWN AND EXPLODE. RIDING IN THE CHUTE AT NIGHT IS A PLEASANT EXPIERIENCE BECAUSE YOU HAVE NO IDEA YOU ARE MOVING OR HOW FAST YOU ARE DECENDING. BUT, I KNEW THIS WOULD NOT LAST LONG. AND I WAS RIGHT.
AS I DECENDED CLOSER TO THE GROUND, I COULD HEAR PEOPLE SHOUTING AND SMALL POPS LIKE GUNFIRE. I DON'T KNOW HOW THE VC KNEW I WAS COMING DOWN IN THEIR TERRITORY BUT THEY KNEW AND WERE WAITING FOR ME. BUT I GOT LUCKY AND CONTINUED MY DECENT TO THE EAST OF TOWN. WITHOUT A WARNING I SLAMMED INTO THE GROUND AND ROLLED A LITTLE BIT. LUCKILY, I MISSED A BIG TREE OR I WOULDN'T BE HERE TO TELL ABOUT IT. WHEN I GOT UP I COULD HEAR THE ENEMY COMING AND THEY WERE YELLING AND SHOOTING THEIR GUNS BUT THEY COULDN'T SEE ME, THEY WERE JUST MAKING NOISE TO GATHER UP MORE HELP.
I THREW AWAY MY HELMET AFTER UNBUCKELING MY CHUTE AND DECIDED TO RUN NORTH IN THE DIRECTION OF DA NANG BECAUSE I FIGURED THE VC WOULD THINK I WAS HEADED EAST TO GET TO THE WATER. BESIDES, I DID NOT WANT TO GET TRAPPED ON THE WATER'S EDGE WITHOUT A RAFT WHICH I LEFT AT THE LANDING SITE SO I COULD MOVE FASTER.
THINGS WERE REALLY GETTING TENSE ABOUT THIS TIME AND I RAN A COUPLE OF HUNDRED YARDS NORTH IN THE DARK AND STOPPED AND LISTENED. THAT'S SOMETHING YOU LEARN IN SURVIVAL SCHOOL. MOVE, STOP, LISTEN AND TRY TO FIGURE OUT WHAT THE SEARCHERS ARE DOING.
IT WASN'T LONG BEFORE I HEARD A LARGE GROUP OF PEOPLE YELLING AND SHOUTING TO THE SOUTH OF ME. THIS WENT ON FOR ABOUT 5 MINUTES OR MORE AND I KNEW THEY HAD FOUND MY CHUTE AND HELMET AND THEY KNEW I WAS ON THE RUN. THEN QUIET.
WITH ALL THIS SILENCE I KNEW THAT IT WAS OK TO MOVE AGAIN SO I BEGAN TO MOVE QUIETLY NORTH AGAIN. I DIDN'T NEED TO USE MY COMPASS BECAUSE I COULD SEE THE LIGHTS FROM DA NANG ON THE HORIZON TO THE NORTH AND THE LIGHTS OF HOI AN BEHIND ME.
ALTHOUGH THERE WAS NO MOON LIGHT I COULD DISTINGUISH THE BRUSH AND VEGITATION BECAUSE IT WAS DARK AGAINST THE LIGHT COLOR OF THE SAND. WHENEVER I STOPPED MOVING I WOULD ALWAYS STOP IN A DARK PLACE AND LISTEN.
THIS STOP AND GO MOVEMENT WENT ON FOR CLOSE TO A HALF HOUR WHEN ALL OF A SUDDEN I BEGAN TO SEE A STRING OF LIGHTS UP AHEAD. IT APPEARED TO BE MOVING TOWARDS ME AND WAS ORIENTED EAST TO WEST AND MOVING SOUTH. I WAS GUESSING BUT I BELIEVED IT WAS THE VC WITH FLASHLIGHTS FORMING A SKIRMISH LINE LOOKING FOR ME.
MY FIRST THOUGHT WAS TO HEAD EAST TOWARDS THE WATER BUT DECIDED THAT WOULD BE WRONG BECAUSE THAT'S WHAT THEY WANTED ME TO DO. INSTEAD I TURNED WEST AND HEADED TOWARD THE JUNGLE. NOW THAT I KNEW THEY WERE ON MY TRAIL I MOVED QUIETLY BUT STEADILY AWAY FROM MY LAST HIDING POSITION. THE TERRAIN WAS VERY IRREGULAR AND I RAN INTO A LITTLE CREEKWHERE I MOVED IN THE WATER AND THEN WOULD EXIT ON ONE BANK, MOVE FOR AWHILE AND THEN BACK IN THE WATER AND EXIT ON THE OPPOSITE SIDE. I WANTED TO MAKE MY TRAIL AS DIFFICULT AS POSSIBLE FOR THE VC TO FOLLOW AND IT OCCURRED TO ME THAT I WAS GLAD THESE PEOPLE ATE THEIR DOGS INSTEAD OF USING THEM TO HUNT PEOPLE.
I HAD PROBABLY MOVED ABOUT A QUARTER MILE OR MORE WHEN I STOPPED AND LOOKED BACK AND COULD JUST BARELY MAKE OUT THE ENEMY SEARCH LINE WHICH I HAD SPOTTED EARLIER. I HAD OUTFLANKED THEM BUT SUDDENLY I REALIZED THERE WAS A SECOND LINE OF LIGHTS IN THE SOUTH HEADING NORTH. IF I HAD NOT MOVED TO THE WEST I WOULD HAVE BEEN TRAPPED BETWEEN THE TWO LINES. I COULDN'T HEAR ANY SOUNDS FROM THESE MOVING LIGHTS BUT KNEW THEY WERE THE ENEMY. I GUESS I HAD BEEN ON THE GROUND FOR OVER AN HOUR WHEN I DECIDED TO USE MY SURVIVAL RADIO. WHEN I CALLED I IMMEDIATELY GOT A REPLY FROM A MARINE C-117 CIRCLING OVERHEAD. THEY TOLD ME THAT A JOLLY GREEN FROM DA NANG WAS BEING LAUCHED AND WOULD BE ON ITS WAY TO PICK ME UP. THAT GAVE ME THE GOOD FEELS BUT WHAT I DIDN'T KNOW WAS THAT THE ENEMY WAS ALSO LISTENING TO THE CONVERSATION AND HAD THE EQUIPMENT THAT THEY COULD USE TO FIND MY POSITION ON THE GROUND.
SINCE I HAS SEEN THE TWO LINES OF LIGHTS I TURNED ONCE MORE TO MOVING NORTH INSTEAD OF WEST. I FIGURED I HAD OUTFLANKED THEM AND IT WAS OK TO MOVE TOWARDS THE LIGHTS ON THE HORIZON. ABOUT A HALF HOUR LATER I USED MY RADIO AGAIN AND THE PILOT OVERHEAD SAID THE JOLLY GREEN GIANT WAS IN THE AIR AND HEADED SOUTH OVER THE WATER. WHAT HE DIDN'T SAY WAS THERE WAS A FOG LAYER FORMING ON THE WATER AND WAS MOVING IN OVER THE HOI AN AREA. I COULDN'T TELL THAT FROM MY POSITION BUT IT WOULD BE A FACTOR ON THE FIRST ATTEMPT TO PICK ME UP.
A SHORT TIME LATER I HEARD THE JOLLY GREEN ON GUARD CHANNEL NAD HE SAID TO STAY ON THE AIR SO HE COULD FIND MY POSITION. HE SAID HE HAD CROSSED THE BEACH INBOUND TO MY POSITION AND I SHOULD LISTEN FOR HIS ENGINE NOISE. MINUTES LATER I HEARD THE SOUNDOF HELICOPTER BLADES AND I KNEW HE WAS CLOSING IN. BUT I COULDN'T SEE HIM BECAUSE OF THE FOG. AS HE GOT CLOSER I TOLD HIM TO START DOWN AND I WOULD LET HIM KNOW WHEN HE WAS OVERHEAD. ONLY MINUTES LATER I SAW HIS LANDING LIGHTS SHINING THROUGH THE FOG AND THEN ALL HELL BROKE LOOSE.
WHILE THE JOLLY GREEN AND I HAD BEEN TALKING, THE VC HAD CLOSED ON MY POSITION AND SUDDENLY THERE WAS RIFLE AND MACHINE GUN FIRE COMING FROM ALL DIRECTIONS. HOLY SMOKES, I WAS SURROUNDED AND THE JOLLY GREEN WAS UNDER INTENSE FIRE.
WITHIN SECONDS HIS LANDING LIGHT WAS OUT AND HE PULLED UP AND AWAY FROM MY POSITION. I DECIDED THAT THE ONLY WAY TO ESCAPE AGAIN WAS TO HEAD WEST TOWARDS THE JUNGLE AND SEE HOW LUCKY THIS WOULD WORK OUT FOR THE SECOND TIME.
(TO BE CONTINUED)
PRETTY GOOD READING HUH? YOU'LL HAVE TO TUNE IN AGAIN NEXT NEWLETTER TO FIND OUT HOW JACK GOT BACK TO CHU LAI.
LTC TOBY MOORE, COMMANDING OFFICER VMA-311: "I CANNOT BEGIN TO EXPRESS WHAT YOUR GIFT MEANS TO THE FAMILY READINESS. THE MONEY IS MOST DEFINATLY HELPFUL AND WILL GO TO EXTREMELY GOOD USE. BUT, MORE THAN THE MONETARY VALUE, I SO GREATLY APPRICIATE THE THOUGHT BEHIND THE GIFT. THANK YOU AND THE ALUMNI ASSOCIATION FOR YOUR SUPPORT."
ONE OF ALUMNI, JIM ECHEMENT (68-69), IS THE EXECUTIVE DIRECTOR OF THE RESCUE MISSION OF MAHONING COUNTY HERE IN OHIO. THEY DO A REALLY GREAT JOB IN PROVIDING FOOD AND SHELTER FOR THE HOMELESS AND HUNGRY OF THE VALLEY AREA. AS I WATCH THE NEWS EVERY NIGHT I HAVE SEEN JIM ON THE TV ON MORE THAN ONE OCCASION ASKING FOR HELP. I KNOW THAT, ESPECIALLY THIS TIME OF YEAR, YOU ALL SWAMPED WITH CHARITABLE ORGANIZATIONS WANTING DONATIONS. SEEMS EVERYONE WANTS A PIECE OF YOUR PAYCHECK. BUT, THAT BEING SAID, IF YOU HAVE A FEW EXTRA BUCKS AND WANT TO MAKE A WORTH WHILE DONATION TO JIM'S CAUSE I KNOW THAT IT WILL BE APPPRICIATED. JIM DIDN'T ASK ME TO MAKE THIS APPEAL. I THOUGHT I WOULD THROW IT OUT THERE. IF YOU WISH TO DONATE YOU CAN SEND A CHECK TO THE RESCUE MISSION OR MAIL DIRECTLY TO JIM. I'M SURE IT WILL GET WHERE IT NEEDS TO GO. MAKE ANY CHECK PAYABLE TO: RESCUE MISSION OF MAHONING VALLEY AND MAIL TO : RESCUE MISSION OF MAHONING VALLEY, 962 MARTIN LUTHER KING JR. BLVD., YOUNGSTOWN, OH 44501-0430 OR MAIL TO JIM AT 8580 INDIAN CREEK DRIVE, YOUNGSTOWN, OH 44514-3387.
BOTTOM OF THE NINTH...
WHEN WE WENT DOWN TO SAN ANTONIO TO CHECK OUT THE PLACE A YEAR AGO CHRIS CHEEKA STATED THAT SHE WOULD NOT ASCEND THE TOWER OF THE AMERICAS. REUNION TIME WE GATHERED UP A BUNCH TO GO UP TO THE TOP AND EAT DINNER AND GLAD TO SAY SHE MADE IT. I DON'T RECALL IF SHE LOOKED OUT THE ELEVATOR AS IT WAS GOING UP THE SIDE OF THE TOWER BUT WE DID HAVE A GREAT MEAL AND SAW THE MOST BEAUTIFUL SUNSET I HAVE EVER SEEN.
KRIS SHEWELL (85-89) HEADS UP A GROUP OF TOMCATS AND I HEARD A RUMOR THAT THEY WILL BE MEETING IN INDIANAPOLIS IN 2015. I HAVEN'T HEARD ANY DETAILS BUT I'LL TRY TO FIND OUT AND PASS THAT INFO ALONG TO ANYONE WHO MIGHT WANT TO ATTEND.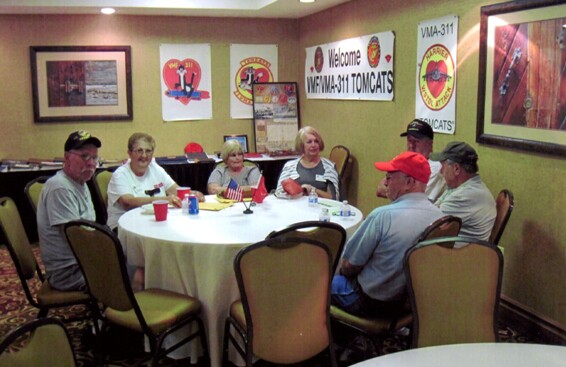 KEN AND KATHY DUCET, LYNN STEPNOWSKI, CYNTHIA AND BILL MURPHY, ED STEPNOWSKI AND DAVE PARKER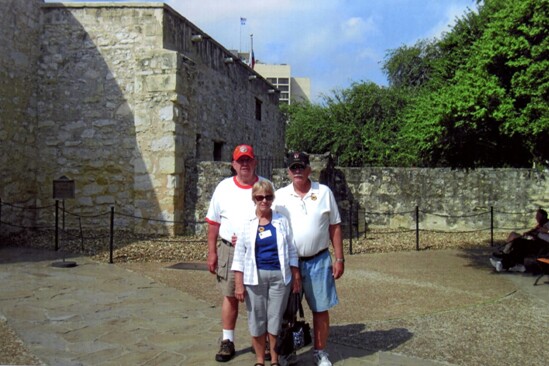 DICK KIELMAN, LES AND BONITA MCMILLAN AT THE ALAMO
COUPLE MORE THINGS I WANTED TO MENTION. JERRY HOLLERAN HAD HIS KNEE REPLACED AND HAD TO CANCEL AT THE LAST MINUTE TO THE REUNION. HAVEN'T TALKED TO HIM SINCE BUT MOST KNEE REPLACEMENTS SEEM TO DO OK. SAM AND LORIE DICKEY WERE ON THEIR WAY TO THE REUNION AND WERE INVOLVED IN A CAR WRECK THAT TOTALED THEIR CAR. I CALLED THE AFTER WE GOT HOME AND HE SAID THEY WERE BANGED UP BUT OK. TO ALL CONCERNED I CALLED TEE BIBEY UP WHEN WE GOT HOME FROM THE REUNION AND SHE WAS DOING WELL.
WELL, THAT'S ABOUT ALL I CAN THINK OF FOR THIS ISSUE. SUE AND I WISH EVERYONE A JOYOUS AND BLESSED CHRISTMAS SEASON. WE HOPE THAT THE NEW YEAR WILL BRING US ALL HAPPINESS AND CONTINUED HEALTH. MANY THANKS TO ALL OF YOU WHO HAVE MADE THE PAST 20 YEARS A HUGE PART OF OUR LIVES. KEEP THE FAITH AND GOD BLESS.
FOR THE ALUMNI ASSOCIATION
JIM GALCHICK
TIMELINE: APRIL 1959: THE UNIT BECAME ONE OF THE FIRST MARINE SQUADRONS TO BE DEPLOYED TO THE NEWLY DESIGNATED MCAS YUMA, AZ, WHICH ORIGINALLY HAD BEEN VINCENT AFB. WHILE DEPLOYED, THE SQUADRONS ORDNANCE CREWS WORKED LONG INTO THE NIGHT KEEPING THE A-4S ARMED WITH BOMBS AND ROCKETS. BY THE END OF THE MONTH, THE UNIT HAD SET A NEW MONTHLY FLIGHT HOUR RECORD FOR AN A-4 SQUADRON WITH A TOTAL OF 1,042 HOURS. LTC DAVID RICKABAUGH, COMMANDING OFFICER, STATED THAT THE HOURS AND SORTIES FLOWN WERE SYLLABUS HOPS WHICH CONTRIBUTEDGREATLY TO THE SQUADRON'S COMBAT READINESS CAPABILITY.
TOMCAT AIR; ON TIME, ON TARGET