VMF-V MA-311 Reunion Association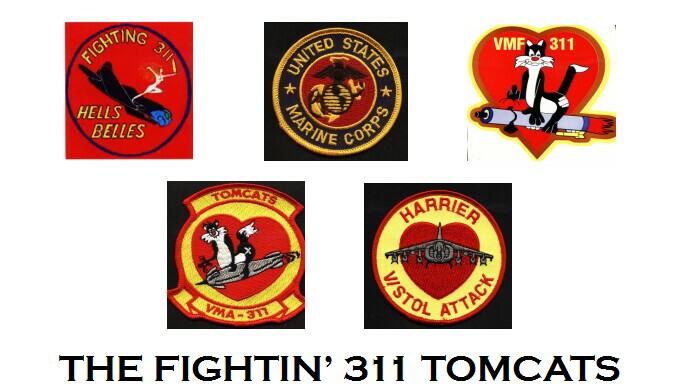 OFFICERS

GEORGE PHANDER
3032 POTSHOP ROAD

NORRISTOWN, PA 1940

(610)584-5654
JIM GALCHICK
1290 E. 12TH ST
SALEM, OHIO 44460
330-337-9383
CECIL CHEEKA
2207 Lilac St. S.E.
Lacey, WA 98503

**********************************************************************************************************************************
OFFICIAL WEB SITE:

http://ww.vmf-vma-311reunion.org
Webmaster: FRED TOWNSLEY
805 PRICE AVE,
CHANDLER, OK 73834, (405)258-0532
E Mail: vmfvma311reunion@gmail.com or oldsargfred@gmail.com
MEMBERSHIP COMMITTEE
CHAIRMAN: CHARLES "RALPHIE" REED
14 BRENTWOOD ROAD, KINGSTON, MA 02364
(781)-585-8184 , cread1@comcast.net
*********************************************************************************************************************************
WELCOME TO VMF/VMA-311 REUNION 2014 1-5 OCTOBER SAN ANTONIO, TEXAS
WE

WELCOME

YOU

TO

SAN

ANTONIO

IN

THE
"
LONE
STAR

STATE

"

.

HOME

OF

D

A

VEY CROCKETT'S

LAST

STAND,

THE

FAMOUS

RIVERWALK,

OLD

SPANISH

MISSIONS

AND

THE

TOWER

OF

THE

AMERICAS.
THE REUNION CREW HAS BEEN WORKING SINCE QUANTICO TO LINE UP THIS REUNION AND WE BELIEVE YOU WILL HAVE AN ENJOYABLE TIME IN SAN ANTONIO. THE ONLY COLLECTIVE TOUR WE HAVE THIS TIME IS FREDERICKBURG , THE HOME OF ADMIRAL CHESTER NIMITZ MUSEUM AND MEMORIAL GARDENS, AND THE GEORGE H.W. BUSH NATIONAL MUSEUM OF THE PACIFIC WAR. THIS TOUR WILL BE ON FRIDAY.
READ OVER THE PROPOSED ITINERARY IN THIS PACKET. SOME OF THE THINGS MAY CHANGE A BIT AS WE ARE STILL TYING UP SOME LOOSE ENDS. WHEN YOU PICK UP YOUR PACKET AT THE HOTEL THE AGENDA PAGE WILL HAVE ALL THE TIMES AND INFO FOR THE PLANNED ACTIVITIES.
BELOW FIND THE HOTEL ADDRESS, WEB SITE AND REGISTRATION PHONE NUMBER THE ROOM BLOCK IS NOW OPEN FOR YOU TO CALL IN YOUR RESERVATIONS.
AGAIN, THANK YOU FOR YOUR CONTINUED SUPPORT IN KEEPING THE 311 ALIVE. TRAVEL SAFE AND WE'LL SEE YA'LL IN TEXAS.
HOLIDAY INN
DOWNTOWN MARKET SQUARE
318 W. CESAR E. CHEVEZ
SAN ANTONIO, TX
78204 RESERVATIONS : 210-225-3211
WEB: http://www.holiday-inn-san-antonio.pacificahost.com
WEB: www .holiday-inn-san-antonio.pacificahost.com
TOMCAT AIR: ON TIME, ON TARGET
~~~~~~~~~~~~~~~~~~~~~~~~~~~~~~~~~~~
REUNION OVERVIEW
FREE BUFFET BREAKFAST: 0630 MONDAY TIIRU FRIDAY: 0700 SATURDAY AND SUNDAY HOSPITALITY ROOM WILL OPEN EACH MORNING AFTER BREAKFAST.
WEDNESDAY

1

OCTOBER

2014:
CHECK IN AT THE HOTEL IS 1500. ROOMS MAY BE READY BEFORE THAT. HOPITALITY ROOM WILL BE OPEN AT MID MORNING. IT rs LOCATED TO THE RIGHT OF THE LOBBY FRONT DESK AND STRAIGHT TIIROUGH THE DINING AREA.
PICK UP YOUR WELCOME PACKETS WHICH WILL CONTAIN ALL THE INFORMATION YOU MAY NEED FOR THE REUNION. ALSO INCLUDED ARE YOUR BANQUET TICKETS WHICH YOU WILL HAVE TO BRING WITH YOU ON SATURDAY NIGHT. BRING IN YOUR MEMORABILIA IF YOU LIKE. THERE WILL BE TABLES FOR THAT. COMPLIMENTARY DRINKS AND SNACKS. HOTEL BAR OPENS AT 1600.
THERE WILL BE A REPRESENTATIVE FROM ALAMO TROLLEY TOURS THERE TO GIVE YOU ALL THE INFO ABOUT TOURING SAN ANTONIO.
THURDAY

2

OCTOBER

2014:
THE HOTEL HAS A FREE SHUTTLE AND WILL START TAKING PEOPLE UP TO ALAMO CENTER TO GET THE TROLLEY TOUR WHICH STARTS AT 0930 AND 1015. YOU CAN ALSO GET THERE BY CAR AND FIND A PUBLIC PARKING AREA FOR
ABOUT $10-12 PER DAY OR JUMP A YELLOW TAXI FOR $6.00 A CAR FULL. SEE SAN ANTONIO AT YOUR OWN PACE . THE TROLLEY TICKET IS GOOD FOR TWO DAYS AND YOU GET (1) RIVERBOAT TOUR AND (1) ACCESS TO THE. TOWER QF THE AMERICAS. GET BACK TO THE HOTEL BY CALLING THE HOTEL SHUTTLE, CAB OR WALK A COUPLE BLOCKS FROM MARKET SQUARE WHICH IS ONE OF THE TROLLEY STOPS. DINNER ON YOUR OWN. THERE ARE MANY FINE EATING
PLACES INCLUDING THE HOTEL.
FRIDAY

3

OCTOBER

2014:
ELEGANT LIMO SERVICE WILL PICK US UP AT THE HOTEL AT 0800-0815 FOR A TRIP TO FREDERICKSBURG , TX AND THE GEORGE BUSH WWII MUSEUM, THE ADMIRAL CHESTER NIMITZ MUSEUM AND MEMORIAL GARDENS . PICK UP YOUR TICKETS AT THE FRONT DESK OF THE WWII MUSEUM. WHEELCHAIRS ARE AVAILABLE AT NO COST. MANY DINING AREAS ALONG MAIN STREET FOR LUNCH. THE BUS WILL LOAD UP AGAIN AT 1500 FOR THE TRIP BACK TO SAN ANTONIO. DINNER ON YOUR OWN.
FRIDAY NIGHT AT ABOUT 1930 WE'LL HAVE OUR AUCTION IN THE BANQUET ROOM. THIS GIVES US THE MONEY
FOR OPERATING EXPENSES FOR THE NEXT TWO YEARS. BRING SOMETHING AND BUY SOMETHING. SNACKS WILL BE SERVED AND WE'LL WRAP IT UP AT ABOUT 2200.
SATURDAY

4

OCTOBER

2014
:
BUSINESS MEETING IN THE HOSPITALITY ROOM AT 0830. ELECTION OF OFFICERS, FINANCIAL REPORT AND VOTE ON SITE FOR REUNION 2016 .
BANQUET IS AT 1800 WITH A CASH BAR. BRING YOUR CAMERAS. MEMORIAL SERVICE WILL START AT 1900 WITH DINNER AND SPEAKERS THEREAFTER..
DRESS IS CASUAL. WEAR WHAT EVER YOU FEEL COMFORTABLE IN.
WRAP EVERYTHING UP AT ABOUT 2200
SUNDAY 5 OCTOBER 2014: HOTEL CHECK OUT IS AT 1200.
~~~~~~~~~~~~~~~~~~~~~~~~~~~~~~~~~~~~~~~~~~~~~~~~~~~~~~~~~~~~~~~~~~~~~~~~~~~~~~~~~~~~
REGISTRATION FORM
VMF/VMA - 311 TOMCATS REUNION 2014
HOLIDAY INN DOWNTOWN MARKET SQUARE
318 W. CESAR E CHAVEZ SAN ANTONIO, TX 78204
***** RESERVATION PHONE # 210-225-3211 GROUP CODE: VMF/VMA-311
***** FINAL DATE FOR HOTEL AND TOUR REGISTRATION I5 SEPT. 2014
_______ I need permanent name tags. I do not need name tag. I have the permanent one(s) given at the last reunion

List Names(s) as you want them to appear on name tags
NAME:
SPOUSE: --------------
OTHER:
OTHER:
REGISTRATION NUMBER OF ATTENDEES:

#

x $10.00 =

SAN ANTONIO ALAMO TOURS:

FREDERICKSBURG TOUR

#

#

X $40.00 =

x $28.00=
BANQUET (TOTAL FROM SELECTION PAGE): $
TOTAL $
ADDRESS:
CITY, STATE, ZIP:
YEARS WITH 311( ie 1966-67): 311 JOB OR CAPACITY AGE AS OF OCT l, 2012
PHONE: ------- EMAIL: ---------
MAKE ALL CHECKS PAYABLE TO: VMF/VMA-3 11 REUNION ASSN. MAIL BANQUET FORM AND REGISTRATION FORM TO:
JIM
GALCHICK
1290 E. 12TII ST.
SALEM,

OH

44460 PHONE#

330-337-9383

EMAIL:

jgalchick
(a)
neo.
rr.

com
~~~~~~~~~~~~~~~~~~~~~~~~~~~~~~~~~~~~~~~~~~~~~~~~~~~~~~~~~~~~~~~~~~~~~~~~~~~~~~
BANQUET MENU SELECTION
4 OCTOBER 2014 1800 HRS.
CHOOSE YOUR DINNER FROM THE SELECTIONS BELOW:
ENTREE # 1: FILET MIGNON : 8 ounces charbroiled Filet Mignon wrapped with bacon and cooked to perfection ENTREE #2: GRILLED BREAST OF CHICKEN: Grilled Breast of Chicken with choice of Marsala or fire roasted
Pepper

Sauce.
ENTREE # 3: SEARED SALMON: Tender North Atlantic Salmon seared to retain it's natural juice . Served with creamy white Sauce
ENTREE #4: VEGETARIAN :Penne Pasta with Portobello mushrooms, tomatoes, Kalamata olives, fresh herbs and extra virgin olive oil. Chef s choice of starch and vegetables.
NOTE: The vegetarian entree is only offered to those who may have dietary situations preventing them from eating meat or seafood or being that they may be strict vegetarians.
THE MEAL INCLUDES:
Garden Salad
Glass of red or white house wine
Roasted redskin potatoes
Vegetable medley
Fresh Baked rolls
Chef s choice of desert
Iced tea or coffee
PRICE PER ENTREE:
FILET MIGNON : $46.00
GRILLED CHICKEN : $37.00
SEARED SALMON: $44.50
VEGETABLE: $35.50
Price includes 20% service charge and 8.250% Texas sales tax
If you have any special dietary needs please list here ___ ___
NAME ENTRÉE NO. PRICE $
NAME ENTRÉE NO. PRICE $
TOTAL

TOTAL$

Add the total of all entrees to space on the registration page and include this page when you mail in your registration .
If you need more than one sheet copy this one or I'll send you another.
Added 3/8/2014 s/FNT
~~~~~~~~~~~~~~~~~~~~~~~~~~~~~~~~~~~~~~~~~~~~
~~~~~~~~~~~~~~~~~~~~~~~~~~~~~~~~~~~~~~~~~~~~
FEBRUARY 2014 EDITION
REUNION is Oct 1st to 5th, 2014
We welcome HELLxS BELLES, WILLY LOVERS AND TOMCATS and their families. We also extend an invitation to the widows of our alumni.
I hope that you all have had a joyous holiday season and are welcoming in the New Year with health and prosperity. For us here in the North it has been a hard cold reception. Itxs dang cold even for us who are used to being in the cold but hopefully the furnace holds out and the water pipes donxt freeze. Other than that it is another year and itxs time to put the TOMCAT reunion into play.
The short version of what is going to transpire in October in San Antonio is thus.
Wednesday Oct 1st is the check in time at the hotel:
HOLIDAY INN DOWNTOWN MARKET SQUARE, 318 West. CESARE. CHAVEZ , SAN ANTONIO, TX 78204.http://www.holiday-inn-san-antonio.pacificahost.com and the number for hotel reservations is (210)225-3211.
The room block is now open and you can start making reservations at your convenience. Be sure to tell them that you are with the VMF/VMA-311 reunion group. Those of you who have internet access can go on line and have a look at the hotel and itxs amenities. The hospitality room will be located to the left of the lobby, through the dining area and past the bar. Pick up your reunion packets there. That will give you all the times and info for the coming days.

Thursday October 2nd you will be afforded to explore San Antonio on your own. The ALAMO TROLLEY will give you a one hour guided tour through the city and places of interest then you will be able to hop on and off at those places as you want. The ticket price for the trolley is $39.94 and itxs good for two days, the ticket also includes a pass to go on a guided tour down the river and access to the Tower of the Americas. You only get one admission to both of those but you can ride the trolley for two days. There will be a representative from ALAMO TROLLEY at the hospitality room to give you your ticket and explain all the really neat sites with brochures and map hand outs.
ALAMO TROLLEY will not pick us up at the hotel. I couldn't smoozel them into it. The hotel has a twelve person free shuttle that will take you up to the trolley tour origin up at Alamo Center about 8 blocks away. Or you can jump a cab for $6.00 per car load or you can drive it in your own car and find a public parking area for $10-$12.00 per day. The hotel will work with us to get all of you up to the Alamo Center to start the tour.
Getting back from the downtown area you can either call the hotel shuttle to pick you up, take a cab back or walk two blocks from one of the trolley stops at Market Square. This may sound confusing but we can do it and itxs not as confusing as it may seem. You can put in as much of a day as you want on Thursday.
Friday October 3rd is a group tour going to the Admiral Nimitz Museum and the George Bush WWII Museum of the Pacific. Bus will pick us up at 0800 at the hotel and get to Fredericksburg at about 0915. The cost of the ticket for the museums is $8.00 good for two days. Rather than set up a lunch at the museum we decided to let you sample the local food which is high in German accent. You can schnitzel and brat until contented. The museums have wheelchairs and motorized wheelchairs for those that need them at no cost. WWII guys are free of charge. The bus will load up at 1500 and get us back to the hotel. I hired a 56 passenger bus but if we need another the bus line has a big fleet and assured me that they can lay on another if needed. If we go over the 56 we may need to hire another bus for the excess which will drive up the cost. For now the price per person is about $19.00. And if we need more than that, we will get it when you check in.
Friday night Oct 3rd will be our auction. We do this to raise money to keep the group going and itxs really a great time. George Phander continues to be my procurer of priceless artifacts for the auction so if you wish to donate some thing bring it to the reunion or contact on of the officers. You can also send it to the hotel I guess. Ralphie Read and Jim Davis have really done a great job running these auctions. We plan to provide some eats and refreshments halfway through the auction courtesy of the hotel. Menu is still being decided. Last year we provided the VMA-311 Family Assistance Group with a nice check thanks to the gallant bidders at the auction. Itxs a great time.

Saturday October 4th will be a business meeting in the hospitality room. We give the state of the group address, election of officers, after action review and a vote for the site of Reunion 2016. After that everyone is free to roam in San Antonio. Your trolley ticket is good for two days if you only used it on Thursday you can go for another site seeing trip. I doubt that you can see everything in one day. You can spend one whole day riding on the Water Taxi eating, site seeing and shopping.
Saturday night is the banquet. It starts at 1800. Dress is casual most wear jackets but it doesn't matter. We are still lining up a lot of things concerning the banquet so I'll just leave it at that. Banquet will last until about 2200.
Checkout time is Sunday 5th of October. There will be a number of us at the hotel on Sunday September 28th a few days prior to the reunion. Feel free to hook up with us if you are early. We usually stay one day after the reunion to tie up all the loose ends. If you live close to San Antonio and will not be attending all the festivities feel free to stop in and say hello.
We're making up the reunion packets and we'll be sending the out sometime mid to late February. If you attended the reunion in Quantico you will be receiving a packet unless you tell me different that you will not be attending San Antonio. If you intend on going, but were not at Quantico call me or email me and we will send you a packet. Cut off for registration is 19 September 2014. We have to have all the solid numbers to the tour bus, museums, trolley, caterer and everyone else. The hotel caterer is not allowing for any excess (First time we ever ran into that). The number we give her is the number we get.

Everyone knows that things are subject to change as we get closer to reunion time. There should be three newsletters between now and reunion time and we will keep you updated on any changes that may occur. All in all we feel we have put together a pretty good reunion. One that you will enjoy. If you have never been to a reunion with our group youxll go away with more friends than you came with. Also, itxs a chance for some of you to round up a few buddies for a get together. We always seem like we have a few that have not seen each other in 40-50 years. And really thatxs what these reunions are all about. I believe that when you get older your mind regresses to the times that were enjoyable and exciting for you but mostly to the people you spent those times with whether it be military or civilian.
Military guys have a certain bond among them and if you happened to serve with a really great outfit like the 311 then that just makes all things better. TOMCATS have a great history and it continues with the VMA-311 in Yuma. From Page Field to Enduring Freedom the 311 has been a family and we know it will continue as such for years to come.
****************************************
ADDRESS CHANGES

BLAKE, PETER 92 Thoburn Apt. 108, Stanford, CA 94305

MENTCH, KENNETH 131 Aspen Knoll, Holly Lk Ranch, Texas 76765-7708 Kenneth.Mentch@etex.net

SOFGE, ROBERT 7 Tyler Drive, Havelock, NC 28532-3615

MURPHY, BILL 3001 58TH Ave. S Unit 213, St. Petersburg, FL 33712 murphy100@comcast.net

******************************************

DONATIONS

SHIRL TODD, (48-52), CALUSA, CA;

RICHARD AREHART (66-67, 69-70) LATHAM, OH ;
ELLIS KNUTZ (64-65) MONTESANO, WA;
AL FAVELA (62-65) TUCSON, AZ
LYLE PROUSE (63-65) STOCKBRIDGE, GA.
Big thanks Marines!!

*************************************
TAPS
GLAESE, DORY BOYNTON BEACH, FL VMF-311, KOREA, VIETNAM, PT
VOLLMER, ROBERT CARSON, WA 1953, K-3, ORDNANCE

Names will be read at the memorial service in San Antonio.
**************************************
NOTES FROM THE TROOPS

SAMANTHA NYE, VMA-311 FAMILY READINESS OFFICER, YUMA, AZ: I realize you have not been receiving our monthly emails since I took over. I am very sorry for that. Attached you will find this month's newsletter and I will continue to email them to you from now on. This is the only email I could find for the (Web Site) alumni Association. I took over in mid-June so if you would like any of the newsletters from then to now I can also send them along. EMAIL: samantha.nye@usmc.mil WEB SITE:www.3maw.usmc.mil/external/3rdmaw/mag13/vma311/family/family.jsp
FACEBOOK: "Marine Attack Squadron 311"

PETER TKACHUK, EXETER, NH: I believe it was Capt. Stone who demonstrated a short field take-off one afternoon at El Toro. After a short roll the JATOs ignited propelling the A-4 almost vertical to about 500 ft. where it stalled to the right and headed toward the tower. Fortunately, he had enough altitude to regain flying speed and missed the tower by a few hundred feetxa testament to his flying skills. I recall after landing he was shaking his head as he walked down the flight line toward the hanger with his helmet tucked under his arm. He could have punched out at any time but he risked his life to save those Marines in the tower. That was about 50 years ago.
CAPTAIN J.M. BRAUDT, VMA-311, YUMA: Over the past year I have been working on a research article on the construction of the Chu Lai Airfield in 1965. This month (October 2013) it was published in the November issue of the Marine Corps Gazette. I know several members of the VMA-311 Reunion Group were at Chu Lai during this time and thought you would appreciate hearing about it. It was written after extensive research and interviews ( with Col. Speed Shea, Col. Bertie Bertrand and Maj. Larry Gibson, all former TOMCAT pilots, and if there are any historical inaccuracies they are my own and I apologize. The TOMCATS have a long and proud history and Chu Lai still stands as one of our distinguishing actions (If you have anything you want to relay to Capt. Braudt his email is jbraudt@gmail.com )
ELLIS KNUTZ, MONTESANO, WA: On the night of October 27, 1965 I was on the Chu Lai flight line in the supply tent. I was awakened by sounds that were out of place. Instead of machines and aircraft sounds it was Marines talking like something was going on. Still half asleep, I put my cartridge belt on and then sat on the edge of the cot. The tent flap was thrown back and I was staring into the muzzle of an M-14. The Marine said x Whoxs in there?x and I answered x Knutz on supply watch!x I asked what was happening and he said it was a mortar attack and it had stopped. Then I went outside. The base was lit up with flares. Later that night I learned it had been sappers. The VC had been killed but they had trashed three Skyhawks. One Marine was injured jumping off the crash crew truck during the attack. ( Ellis sent me a bunch of photos from the xoldx Chu Lai and the village of An Tan. Ixll try to get a few of these in the newsletters to come.)
AL FAVELA, TUCSON, AZ: (From Alxs continuous memoirs verbatim ) In this edition I was going to write about the case of beer (from Ski) I stole off the 1st shirt in the early days of Chu Lai, but, since Jim stated that xwe didnxt see much war at Chu Laix I decided to relate something that happened in the middle of the night in the early days of
Chu-Lai-By-The-Sea. On guard duty I would always volunteer for the quick reactionary force as no one could often sleep the whole night undisturbed in the guard area tents, if no action was required.
One night in the wee hours and darker than hell, I, along with four other Marines, were woke up and hustled out to the northern end of what would eventually be the runway. When we arrived at the spot one of the dog handlers was there with his "killer pooch". The dog went haywire for a second or two until the handler got him under control. Just in case, I had my finger on the trigger ready to radiate the will to do- bloody dog!! (Remember Al likes guard dogs from newsletter October 2013- Editor)

The handler told us that there was suspected VC activity at the end of a small ravine with high banks on each side that ended where the heavy jungle started about a hundred very dark yards away.

I volunteered to walk up the middle of the ravine, quickly thinking, if I was up on one of those banks in the ravine, I might just get silhouetted and be an easy target for Charlie. (My parents produced no fools!!) the other four Marines walked two on each bank, again, it was so dark that it was hard to see anything.

After walking about 50 yards towards the jungle, all hell broke loose. The VC had a machine gun aimed directly down the ravine. I hit the deck and received 40-50 rounds around my head and body. My head was buried in the sand
and the rounds hitting the Chu Lai sand sounded like jackhammer blows. About this time a Marine tank that had quietly been parked on our right flank started it's very loud engines and started barreling ass with it's M-60 and 50 Cal. firing at the VC muzzle flashes. I and my fellow Marines did not know that the tank was even parked there.
This action, much to my relief, stopped the incoming fire. Next day the tank crew informed the guard detail that they found blood stains and many empty cartridges on the spot. It had been a Russian made machine gun that had been used in the attack.

In the following years I would often wish that one of those rounds had barely grazed me in a safe spot and so, with my Purple Heart Medal, would have been a "genuine war hero". I often wonder how many men and women have been wounded while hiding or running away from a battle and received the Purple Heart. Many, many one supposes. By the way, one of those Russian cartridges stamped "CCCP" wound up in England at a friends (of 45 years) home loft along with many other of my souvenirs.

LYLE PROUSE, STOCKBRIDGE, GA: I noted a message to you regarding a good book read from Dick Norris, who was one of my squadron mates at both El Toro and Chu Lai. It was good to see his name. I also noted the obituary for Joe Stone who was one outstanding gent and a fellow squadron mate at El Toro prior to our deployment overseas. Joe was an ex-enlisted and was a superb aviator and traffic officer.
Thanks to all of you who participates in the reunion effort and newsletters
-
1969:CHU LAI: In September the squadron was recipient of the CNOxs 1969 aviation safety award. Although the squadron had itxs combat losses, it recorded over 10,000 flight hours and 11,000 sorties without a combat accident.
-
**********************************************************************************************************************************
TOM, THE TOMCAT'S TOMCAT; ILL TEMPERED, HE LOVES BEER
(Reprinted from the SEA TIGER 8 January 1971)

DA NANG: Tom lives in the corner of an air-conditioned room and doesnxt leave the area unless someone takes him out.
Few take him out, though. Everyone is afraid of him.
Food is literally thrown to him in his makeshift quarters comprised of cardboard and old maps. He is unfriendly, anti-social, ill tempered and grouchy. He also loves beer, someone said.
The Commander has ordered persons to stop giving Tom the beer he loves so much, but he somehow manages to keep company with undesirable characters, who manage to supply him with the brew.
Since he is military minded they have tried to give Tom a rank but no one can touch him, for any who approach him arouse his anger.
At first, Tom roamed the entire hanger of his squadron in the 1stMAW at will. It was even rumored that he dirtied the Commander's carpet.
His outbursts to the men around him forced them to confine him to a corner.
Even his origin is shady. Some say he came from Thailand, others claim he just wandered in one day and took VMA-311 known as the "TOMCATS".
No one can throw him out. Tom is a good cat, the squadron's mascot, and has scratched every man in the unit, including the Commanding Officer.
**********************************************************************************************************************************
U.S. NAVAL MEDICAL CENTER SAIGON SUBJECT: RETURN FOR REHABILITATION.
UNDER ITEM 6 : BELOW ARE LISTED SOME DO'S AND DON'TS WHEN DEALING WITH RETURNING VETERANS
a. Don't mention anything about going to the beach or on an over night camping trip.
b. Don't serve canned foods, recombined milk, instant coffee or other dehydrated foods. This may result in wild rage.
c. Make no flattering remarks about the exotic Southeast Asia, and avoid mentioning the benefits of overseas duty, such as seasonal weather (typhoons, sand storms, monsoons, etc.), lavish beaches, and beautiful resort areas such as Phu Bai, Da Nang, Chu Lai, Quang Nhon, and Cam Ranh Bay.
d. Don't under any circumstances question your Marine about his visit or visits and deployments to duty areas and R & R ports such as Japan, Korea, Okinawa, Philippines, Bangkok and Hong Kong, as these questions will go unanswered except for a sly smile and an animalistic howl.
e. Give him an abundance of love.
f. Show him where the household shower is located and how to operate it. Imagine what your neighbors will think when they see YOUR MARINE naked, with a towel over his shoulder and a bar of soap in one hand, going down the alley looking for an outdoor portable shower unit that he has come to know so well. It can be hard to explain to the local police department.
g. Do, by all means, inform all relatives, friends, and neighbors to stay away from the premises for at least 48 hours. This is the DANGER PERIOD. We have absolutely no idea what he will do. Remember, this is a battle scarred Marine, anything can happen.
h. Hire the best lawyer in town. You may need him!
i. If you intend to meet your son / daughter on the west coast we highly recommend you bring enough money to pay for damages at LAX and to pay for the other offenses such as slander, public drunkenness, and some stunts they may have pulled off which were legal in the far east.
Keep in mind that beneath his tanned and rugged exterior beats a heart of pure gold. Treasure this, for it is the only thing of value he has left, although he may have tried to pawn it on several occasions. Treat him with kindness, give him an occasional quart of whole milk, and you will be able to rehabilitate this hollow shell of a man you once knew..
Send no more letters to FPO 96601. He is leaving the tropics and heading to the land of the big PX. PS: Fill the icebox with booze and beer!
THE KIDxS COMING HOME
**********************************************************************************************************************************
That last bit of stuff came from a letter you could send home when you were getting ready to depart across the big pond. Although the whole thing is tongue-in-cheek parts of it may ring a little true. In my last week in Chu Lai I was assigned the job of switchboard operator on a telephone somewhere south of the living areas inside the wire. When you were short they tended to give you easy duty for a few days. My job as I remember it was to man the radio under all circumstances including attack. There was a couple times that there were mortars going off, ours or theirs I donxt remember, I thought if they get any closer my days of being a Ma Bell worker are over. Ixm heading for a bunker. I remember leaving on a Thursday and Saturday morning I was drinking coffee on the steps of my Parentxs house. I considered that really ironic to go from 20 months in Chu Lai to home in less than two days. I suppose it was the same for everyone that came home.
**********************************************************************************************************************************
I will post the reunion announcement in the VFW Magazine and the American Legion Magazine. Many of you subscribe to different periodicals that will post our reunion info. Use the POC as anyone on the front of the newsletter and wexll get the word out. Fred Townsley will get this out to the email recipients and the hard copy will go out by the weekend. Check the web site for updates and changes as needed.
Phander tells me he is need for some things for the auction. If you are not going to San Antonio and want to donate something let him know. Stay warm and THINK SPRING!!!
Semper Fidelis,
Jim Galchick
TOMCAT AIR: ON TIME, ON TARGET
**********************************************************************************************************************************
Pete Phillips ( Upper Right) sent this in. Other names donxt ring a bell. No pun intended.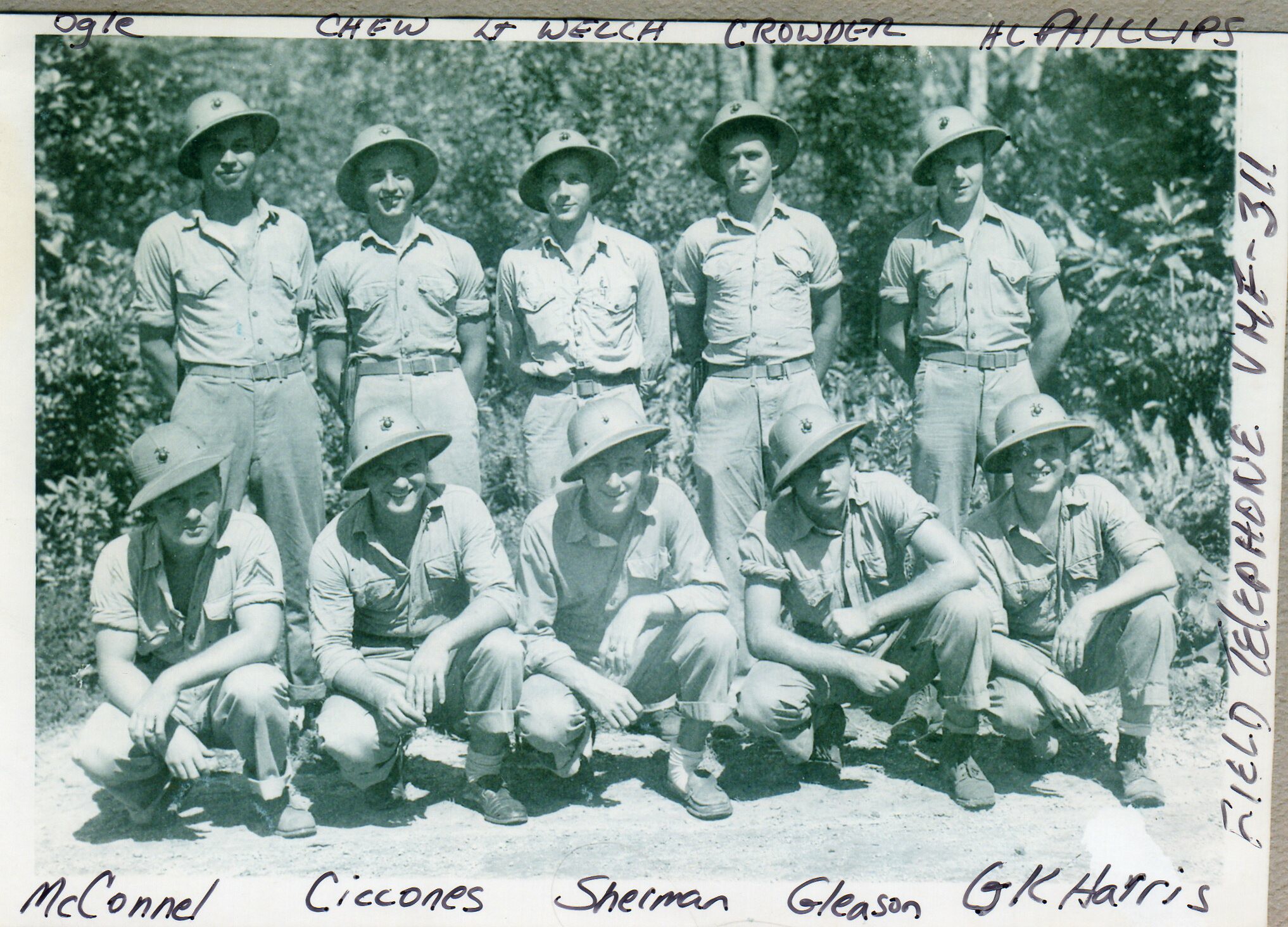 **********************************************************************************************************************************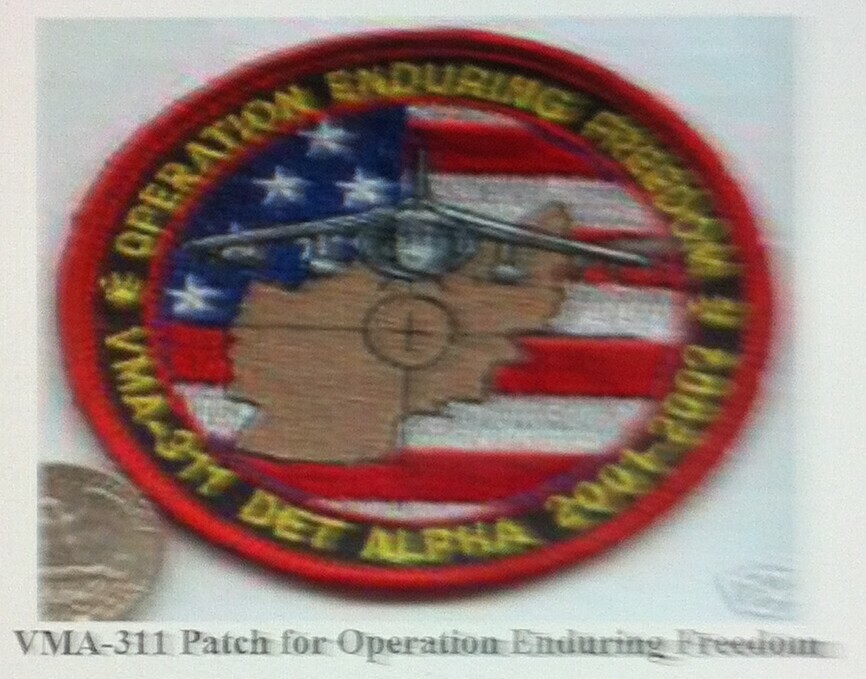 VMA-311 Patch for Operation Enduring Freedom
*************************************************************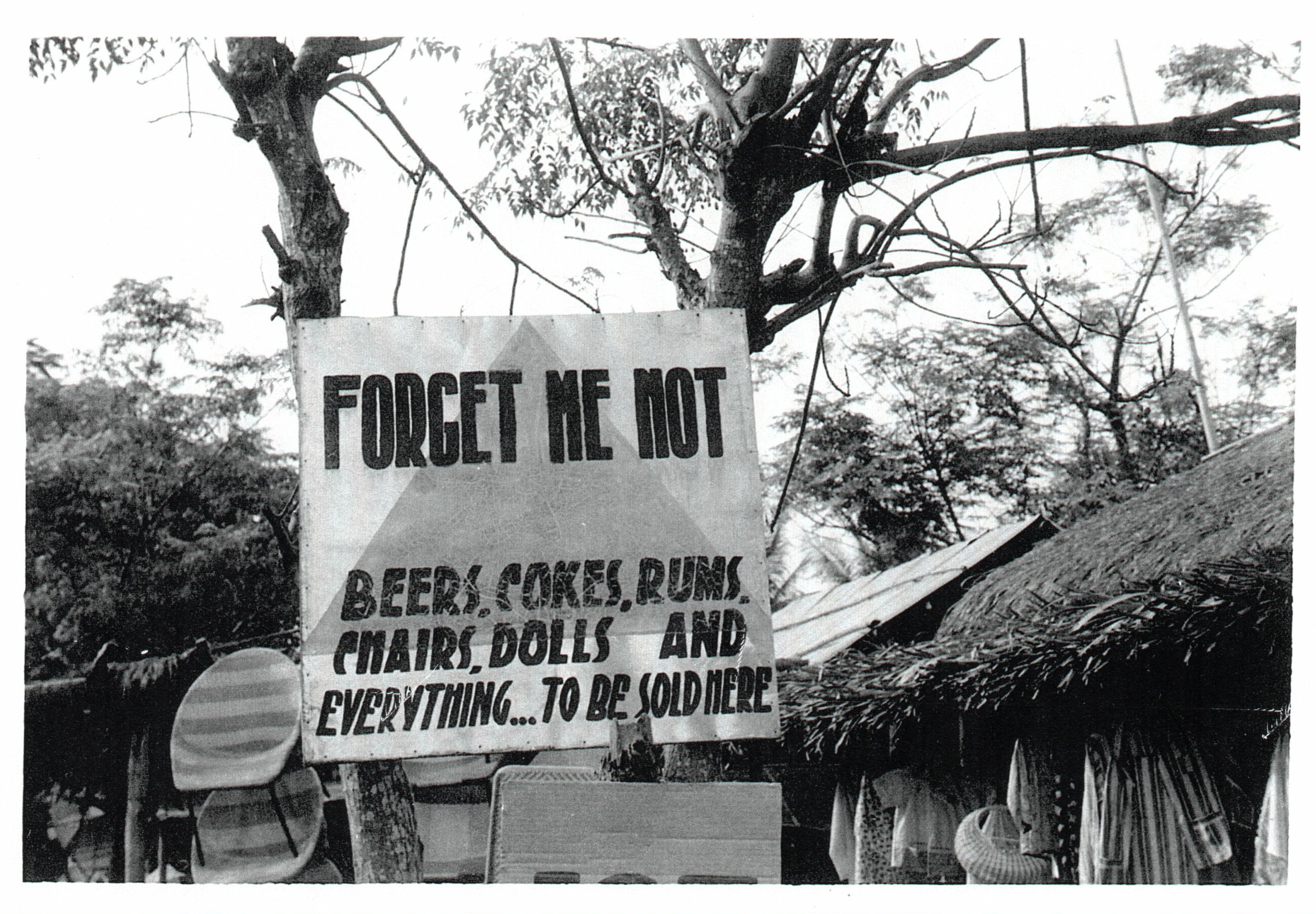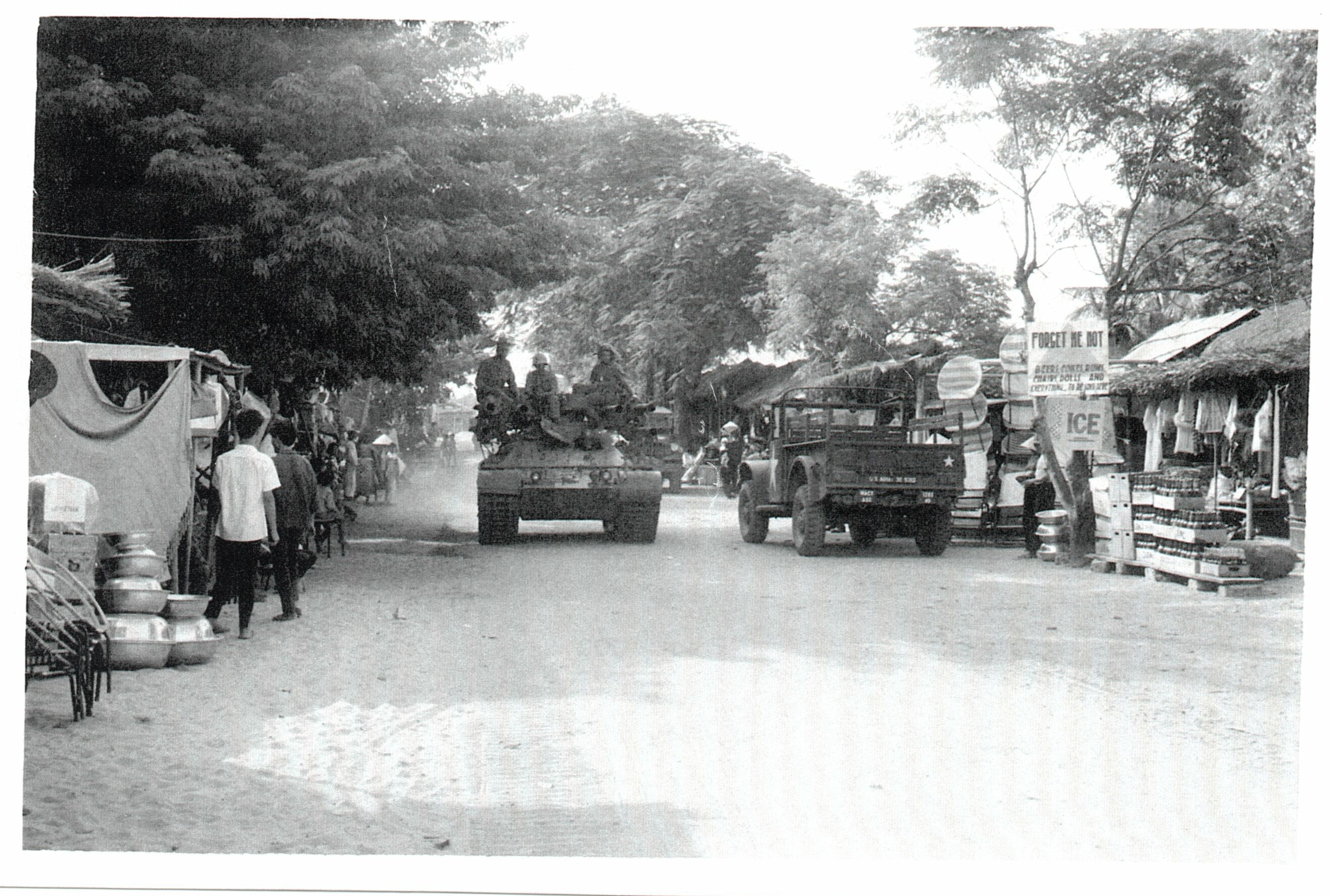 These two pictures were sent by Ellis Knutz. Top one is a Marine xOntosx w/ 6 106 recoilless rifles rolling down the street in An Tan just outside Chu Lai.
Picture number two is a shop in An Tan. He said xI bought one of the chairs shown on the sign. The beer was called xTiger Beerx. The bottles had been refilled so many times they appeared to be frosted. The beer was so green we joked that if you bought it in the evening they started brewing it that morning. The rum was vanilla rum which when you opened a bottle it smelled like vanilla extract.x
**********************************************************************************************************************************