VMF-V MA-311 Reunion Association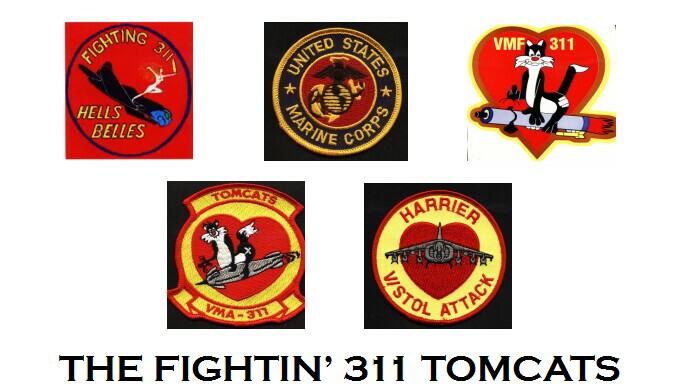 OFFICIAL WEB SITE:

*********************************************************************************************************************************
THE FIGHTIN' 311 TOMCATS
GEORGE AND JACKIE PHANDER JIM AND SUE GALCHICK CECIL AND CHRIS CHEEKA
3032 POTSHOP ROAD 1290 E. 12TH ST. 2207 LILAC ST. S.E.
NORRISTOWN, PA 19403 SALEM, OH 44460 LACEY, WA 98503
Piboxer@comcast.net jgalchick@neo.rr.com ccheeka@comcast.net
610-584-5654 330-337-9383 360-352-7227
OFFICIAL WEB SITE: FRED TOWNSLEY, 805 PRICE AVE, CHANDLER, OK 73834, 405-2580532
http://www.vmf-vma-311reunion.org or e-mail oldsargfred@gmail.com
MEMBERSHIP COMMITTEE CHAIRMAN: CHARLES "RALPHIE" REED,
14 BRENTWOOD ROAD,
KINGSTON, MA 02364
cread1@comcast.net
2014 San Antonio Reunion Packet.pdf
*********************************************************************************************************************************
MAY 2014 EDITION

*********************************************************************************************************************************

SAN ANTONIO 1-5 OCTOBER 2014
Just verified that the Holiday Inn is still standing. They did switch managers on me but the old one is still there working in a different capacity. Stuff happens. Bus line is still in business. Everyone who attended the reunion at Quantico received a registration packet in the mail. I think I mailed out about 60 so far. Remember to reserve your rooms at the hotel. Here's the address and phone number. HOLIDAY INN DOWNTOWN MARKET SQUARE, 318 W. CESAR E CHAVEZ , SAN ANTONIO, TX 78204 PHONE: 210-225-3211 and tell them you are with the 311 reunion group. The web site is www.holiday-inn-san-antonio.pacificahost.com
We're still working on some banquet things and hopefully we'll have a speaker lined up. VMA-311 Commanding Officer says he may be attending and that is always a plus. Commanding Officers always have a speech in their pocket.
Anyone has any questions about anything feel free to get in touch with anyone on top of this page and we'll be glad to get you some information. Barring Mother Nature we are ready to go west.
DONATIONS
Richard Arehart (66-67, 69-70) Latham, OH; Jerry Holleran (55-57) Colledge Point, NY; Morris Liebhaber (1943) Del Ray Beach, FL; Al Favela (62-65) San Diego, CA; George Flores ( 64-66) Anaheim, CA; and Dick Kielman (62-64) Elkhorn, WI. THANKS MARINES!!
Just a note to use up a couple spaces. I actually bought a movie called "DEAD MAN" starring Johnny Depp. I bought it for .95 just so I could watch our group VP Cecil Cheeka (67-68) say one word and 5 seconds worth of screen time. LOL
NEW ALUMNI
COOK, JAMES 725 Acadia Ct., Kendallville, IN 46755
260-349-0960 jacojeco@hotmail.com
1966-67 Chu Lai Avionics
MCFARLAND, MATT 12430 Maggie Lane, Willis, TX 77318
936-222-1027 mattm@osgtax.com
1977-80, Plane Captain, El Toro
NOEL, JOHN 8239 Dundee Drive, Lincoln, NE 68510
402-505-0438, johnnoel@pellaomaha.com
1993-98, Yuma, Ground Safety Officer
VANDERBERG, JOE 905 Bucknell, Arlington, TX 76012
817-538-7107, joevberg@sbcglobal.net
1978-80, El Toro, Ordnance
*********************************************************************************************************************************
EMAIL CHANGES
HARNETZ, MIKE kraftyjill@yahoo.com
LEESE, BILL wleese@rittermail.com
MCCURLEY, DAVE dmccurley2@cox.net
VANCIL, JACK drjwv33@msn.com
VOLLMER, LINDA windwalker870@yahoo.com
HATTEN, ED blwn34@gmail.com
ROESER, HARLAN hroeser@sccoast.net
BANKS, BILL BillBanks@OxfordResearch.org
COLLAZO, LONNIE ccollazo@nycap.rr.com
LEAVENGOOD, BOB evnbob@yahoo.com
STEPNOWSKI, ED epstep@gmail.com
REGAN, ART arthur.regan@rockwellcollins.com
*********************************************************************************************************************************

ADDRESS CHANGES
GILBERT, ERNEST 1801 Gloucester St. Suite E, Brunswick, GA 31520-6937
KNIGHT, WAYNE Golden Crest #7, 29 Baldwin St., Franklin, NH 03235
LEAVENGOOD, BOB 91 Glenbury St, Apt. 2, Pittsburgh, PA 15234
ROESER, HARLAN 4870 Luster Leaf Circle, Apt 401, Myrtle Beach, SC 29577-7655
STEPNOWSKI, ED 102 Granville Ct., Naples, FL
********************************************************************************************************************************
TAPS
ARNOLD, JEANETTE Wife of Richard Arnold (WWII) in Bemus Point, NY. 3 March 2014
CHECKFIELD, DON 2011 IN Papillion, NE, 1942-43, Roi-Namur, Line Crew
PAGE, LTC DORSIE D.,JR.. Alexandria, VA. 1966 Chu Lai, Pilot, 1974-76
VMA-311 Commanding Officer. 13 February 2014
WAIGAND, FRED Stockbridge, GA, 1944-45 Okinawa, Crew Chief . March 2014
WILSON, JANE Wife of Gene Wilson (WWII) in Ashville, OH, 4 March 2014.
Names will be read at the memorial service in San Antonio.
*********************************************************************************************************************************
LETTERS…EMAILS…AND SCOOP FROM THE TROOPS…
LONNIE COLAZZO, STILLWATER, NY: "I have begun working for the New York State Police aviation Unit in Albany, NY. It's a paramilitary unit and we fly and maintain King Airs for the governor as well as Bell 430 executive ships for him. We do medivacs with the Bell 430 Utility and have bell Hueys for the DEC and police missions. They are not Harriers and we don't drop iron on the bad guys but it pays the bills!
Semper Fi gents and love the newsletter. The picture of the guys with the A4 on the flight line with the pilot brought back memories of Desert Storm."
RUE CAPRI BROWN, RESTON, VA: "I am a friend of Fred Waigand's daughter in law and she asked me to work with the local newspaper on featuring an article about him. Fred passed away at age 93. He was fit to the end doing yard work the day before he died. His family is from Georgia.
(I spoke to Ms. Brown on a couple of occasions and learned some things about "Walkin' Fred" that I didn't know. His truck has over 700k miles on it. Fred belonged to the "Long Walkers Association" and he went to their reunion every year. Fred walked the entire Appalachian Trail, Pike's Peak and the Great Wall of China to name a few. In his military days after he left Okinawa he was assigned a machine gunner in a bomber squadron and had a ship torpedoed out from under him and spent time in the water. This is why he never ate fish or took up fishing for a pastime At our reunions Fred always manned the hospitality room while we went on tours. Quantico reunion was the first time he went on tours with us. He was always first up in the morning and in line for chow and the first in line for seconds.

Fred had made all our reunions since 1998 and it was always good to see him. We'll miss him. For my part, I lost a friend. Jg)
BOOK QUOTE: NEVER IN DOUBT: REMEMBERING IWO JIMA: Cpl. Raymond J. Mik, Gunner, 37MM Antitank Gun, Regimental Weapons Company, 23rd Marines, 4th Marine Division. " I am always asked why Marines act the way that they do and I say that in boot camp they put you in a tent with a corpsman and a DI. You are told to drop your trousers and bend over a table while a specially qualified Marine Corps physician, armed with a hypodermic syringe about the size of a bicycle pump and fitted with a needle six inches long, injects a substance known as "The United States Marine Corps Serum" into your kiester. The needle is then broken off at the flesh line and thus you are and act like a Marine forever."
SHERRY CARLETON, BEMUS POINT, NY: "I wanted to contact someone involved with the Marine "311" to ask that you might pass on the news of my mother's death (Jeanette Arnold) on march 3rd 2014. She had been ill for a couple months and on March 1st, had a bad fall which was most likely caused by a stroke.
VMF-311was a very special group of people to both her and my father (Dick). She would receive the newsletters and read them over and over, discussing every story and the upcoming reunion plans. Though she was unable to attend the last couple, she never gave up hope that she might once again be able to go.

My sisters and I would greatly appreciate it if you would have her passing put in the newsletter so that others from your very special group will know that another WWII patriot is gone. We are so proud of my father's participation in that life-changing war and my mother's part of "The Greatest Generation".
CAL CALVERT, FOUNTAIN HILLS, AZ: (Editor's Note: Dorsie Page was a great storyteller. He and Glenna attended the first four reunions we were in charge of. Not only was he one of the only pilots in attendance but the only former squadron CO. He teamed up with some of his fellow pilots at the reunion where I conned him into being the guest speaker. I think that was St. Louis or San Diego. I know that everyone who served under his command thought very highly of him not only as a CO but as a person. Again, for my part I lost a friend. Cal Calvert wrote this tribute to Dorsie and I'm sure he would like to have it read by all. Some may have already read it.)
On February 13, 2014 our brother and dear friend, Colonel Dorsie Page USMC (Ret) went to join his savior in paradise. I guess I should be happy about that, but down deep inside I'm selfish when it comes to my friends and loved ones and just always assume they will be here at least as long as I. I first met Dorsie in beautiful Beaufort by the sea, 26 miles from Yemassee. If you have not heard that before, you probably have not had the pleasure of being stationed at MCAS Beaufort, South Carolina. Just after VMA-324 was disbanded, it was re-designated VMA-311 (as the squadron rotated back from the far east) and Lt Col. Dorsie Page took the reins as Skipper. I happened to be the Operations Officer at the time and Dorsie asked me that I remain in that slot. Not long, thereafter, it was decided to move the attack community out of Beaufort with VMA-331 being sent to MCAS Cherry Point, NC and VMA-311 assigned to MCAS El Toro, CA. As the squadron packed up and headed out to El Toro, like all our families did, Glenna, Dorsie Denton, and Mariana stood by while we all tried to find housing in California. Eventually, everyone was settled into our new surroundings in southern California and, under Dorsie's leadership, continued as an aggressive, close knit outfit dedicated to our trade. Seeking every opportunity to improve our craft, we begin to experiment with the increasing difficulties of the business in an escalating high threat environment. Studying the lessons learned in Southeast Asia, Dorsie was convinced that we had to figure out how to become more effective and survive in low altitude environment while still being able to provide the close air support that our brothers on the ground had become accustomed. Dorsie spent a lot of time up at Group and Wing Headquarters lobbying or explaining why one little attack squadron needed most of the Wing assets of Electronic Warfare Management Systems along with radar warning receivers and associated flare and chaff upgrades; not to mention most of the available range times at Echo Range, China Lake and NAS Fallon, NV. We planned ahead and apparently 3rd MAW was not used to such enthusiasm. The low level flying came easy enough because we were used to low levels associated with our nuclear strike pilot training, but now we were doing it with multiple aircraft and in some cases multiple divisions much like the old Alpha Strike formations - but on the deck. Through Dorsie's persistence, the Group CO and the wing commander finally acquiesced and allowed us to continue requesting only that we didn't kill anyone doing it. Through Dorsie's oversight and leadership, we were able to come up with a document that was forwarded to Wing Headquarters that outlined tactics and procedures based on training scenarios conducted over about a year. Later during the establishment of MAWTS-1 a multi-service conference was held at MCAS El Toro to establish guidelines for tactics to be used by attack assets in a high threat environment which eventually over the years became MCWP 3-23. Much of the information and recommendations for tactics and procedures came from the lessons learned by the efforts of VMA-311 under Dorsie's command. I'm sure that anyone 5.who knew Dorsie especially those who served under him as TOMCAT-6 can come up with a memorable story or two and that would be very appropriate in this venue. I have a picture on my den wall given to me by Dorsie with an inscription written in his hand. With all respect, I would like to share it with you all, but will reverse our names as it was written:
To Dorsie Page,
Warrior, friend, confidant…and except for the inconsequence of blood line, my brother. With all respect and highest esteem, I am, Semper Fidelis ,
Cal Calvert
Farewell Brother.Saepe Experus, Semer Fidelis, Fratres Aeterni-
JOSEPH J. KALIL, FISHER, IN: (EDITORS NOTE: Joe is the membership chairman for VMF/VMA-211 and they are looking for Marines to bolster their roster. Many of our 311 group served also in 211, myself included. They put out a good newsletter and have a reunion once a year.)
"If you, or anyone you know served in VMF/VMA-211, this letter is for you. Our VMF/VMA-211 association has been having a reunion once a year for many years. The problem is our group is getting older and smaller. We are looking for Marines that served in this unit to contact us as well as any other Marines with whom you served. The reunions have ben absolutely fabulous. For example, last year we went to Toms River, NJ. We went on a guided tour to Ground Zero which proved to be very informative and very emotional as well. We also did a tour of the battleship New Jersey as well as visiting the casino in Atlantic City. Hotel was nice but not expensive. However, the top activity was sharing stories and renewing friendships. As usual, it was a grand experience.

Pretty soon we will be announcing the date and location for Reunion 2014. If you care to submit ideas, they will be most welcome. We are not asking for commitments or dollars, just communication and ideas. CONTACT: Joseph J. Kalil, Sr, 10927 Fairway Ridge Lane, Fishers, IN 46037-9130 joe.kal75@att.net

AL FAVELA, SAN DIEGO, CA: (Editors Note: The continuing memoirs of Al Favela Ret. MSGT USMC/USAF)
"I left Chu Lai on 25 April 1966, weighing 125 lbs, down from the normal 150 lbs. C-Rations and especially WWII K-Rations did not agree with me.

I was in Da Nang for a few days and then on to Okinawa for a week of eating and partying. I arrived at El Toro, CA in early May, the same place the squadron had departed from, in late 1964.
I would always remember at the out briefing in El toro, being told by the Sergeant very loudly "Don't wear your uniforms off base or things could get ugly if you do." I thought to myself, "charming" after 13 months in the Nam I come back to this.

I stayed in a small hotel in Santa Ana that night as I had missed the last bus to LA and decided to go out and have a few beers as I was now 21 years old and legally allowed to.

I decided to stay in the Mexican part of town where I was unlikely to run into any anti-war hippies. I walked into the first drinking place I saw, with ID card at the ready and sat down at the bar. Before being waited on I looked at the wall in front of me and saw a large sign that read "NO DOGS OR MARINES ALLOWED" .I got up and walked back to the hotel and called my mother and made up a story that I would stay in El Toro for another week of duty and come and see her in 7 or 8 days time.

Next morning I caught the greyhound bus to Yuma and hitch hiked to San Luis ( A very different place back then) . I was so digusted, I proceeded to stay drunk for the whole week. At least down in Mexico, they didn't care if you had just returned from "killing babies", according to my fellow Californians, and "staying drugged up for a year in the Nam".

When I finally made it home I had found that my mother had aged 5 years since I left a year ago. In her lifetime she had seen two younger brothers off to fight in WWII, two sons and another brother to Korea, Me (3 times) and two nephews off to Viet Nam, not knowing if they would ever return. On of her nephews, SGT. Lois Lopez, from parkers, AZ serving with the 101st Airborne had been recommended for the Medal of Honor fighting of all places, Chu Lai! He received the DFC. 60 when she died and if she didn't deserve a few campaign ribbons , I don't know who did.

In the winter I do a lot of reading as ice fishing is not on my to do list as much as I like to fish and yard work is out of the question so I am a frequent flyer at the Public Library and the Video store. I've rented a mini series called "The Pacific" so many times I could have bought it by now. If you have not seen this 10 hour series, it highlights the !st Marine Divisions push through the islands in WWII. Highlighted from the memoirs of Eugene Sledge , Robert Leckie, Chesty Puller, John Basilone and others. Sledge wrote his memoirs in a book called " With the Old Breed on Pelelui and Okinawa" Leckie's was "Helmet for My Pillow". I read both books just to see how close they came to the movie version. They were pretty close. I also read Robert Leckie's "Strong Men Armed: The United States Marine Corps Against Japan". All good reading. Leckie was a very prolific writer and wrote many books on the Marine Corps and WWII.
******************************************************************************************************************************

IT'S A WRAP
Remember to call the hotel and reserve your room once you've mailed me your registration. Still got the auction going for Friday night at the reunion. Bring something to auction off or buy something you don't need. Before every auction I ask if there is anyone who has never been to an auction and there are some. I explain " An auction is a place where you spend a lot of money on something you don't need and you take it home and put it on the shelf for 5 years and sell it for half price at your yard sale." We have a great time with the auction.

When you hit your knees at night say one for the men and women in uniform. God bless.
Semper Fidelis,
Jim Galchick
TOMCAT AIR... ON TIME...ON TARGET
******************************************************************************************************************************

VMF-311 "HELL'S BELLES" ROI NAMUR 1944 CORSAIR AND CREWS