VMF-VMA-311 Reunion Association

THE FIGHTIN' 311 TOMCATS
GEORGE AND JACKIE PHANDER JIM AND SUE GALCHICK CECIL AND CHRIS CHEEKA
3032 POTSHOP ROAD 1290 E. 12TH ST. 2207 LILAC ST. S.E.
NORRISTOWN, PA 19403 SALEM, OH 44460 LACEY, WA 98503
Piboxer@comcast.net jgalchick@neo.rr.com ccheeka@comcast.net
610-584-5654 330-337-9383 360-352-7227
OFFICIAL WEB SITE: http://www.vmf-vma-311reunion.org
Webmaster: FRED TOWNSLEY
805 PRICE AVE, CHANDLER, OK 73834,
Phone #:405-2580532
EMail: oldsargfred@gmail.com
MEMBERSHIP COMMITTEE CHAIRMAN: CHARLES "RALPHIE" REED,
14 BRENTWOOD ROAD, KINGSTON, MA 02364
The fightin '311
DECEMBER 2015 EDITION
PENSACOLA, FLORIDA 2016 REUNION
OCTOBER 12-15

THE HOTEL CONTRACT IS ALL SIGNED AND WE WERE GIVEN THE BLOCK CODE FOR THE REUNION RESERVATIONS. ANYONE WISHING TO PUT IN THEIR RESERVATIONS EARLY CAN START DOING SO. BELOW IS THE COMPLETE ADDRESS AND PHONE . MAKE SURE YOU MENTION THE ROOM BLOCK CODE SO YOU WILL GET THE REUNION ROOM RATE OF $119.00 PLUS TAX.THIS INCLUDES A VOUCHER FOR BREAKFAST EVERY MORNING OF THE REUNION.
HILTON GARDEN INN
1144 AIRPORT BLVD.
PENSACOLA, FL 32504
850-479-8900
REUNION CODE: REFER TO VMF/VMA-311 REUNION OR "VMA"
IF YOU ATTENDED THE REUNION IN SAN ANTONIO WE WILL SEND YOU A PACKET FOR PENSACOLA UNLESS YOU TELL US DIFFERENT. IN THE SAME REGARD IF YOU WANT A PACKET LET US KNOW AND WE WILL GET ONE TO YOU. FRED TOWNSLEY USUALLY POSTS THE PACKET ON THE WEB SITE IN CASE YOU JUST WANT TO DOWN LOAD IT OFF THERE.
WE WILL BE GETTING ALL THE TOURS AND THINGS LINED UP SO WE WILL HAVE MORE INFO FOR YOU ON THAT IN MARCH.
CHANGES OF ADDRESS AND EMAILS….
VINCENT, CHUCK 15789 PARKWOOD DRIVE S., GULFPORT, MS 39503-2766
cjvincent2007@aol.com
PIERCE, GUS 7900 FOREST LANE, OKLAHOMA CITY, OK 73150
mastergunse9@cox.net
SCOTT, RICHARD 9715 12TH PL SE, LAKE STEVENS, WA 98258-1992
BOLLINGER, ROBERT 2858 JOSEPH PARKWAY, BRUNSWICK, OH 44212-1437

SOFGE, ROBERT 6116 WOOTEN DRIVE, FALLS CHURCH, VA 22044-2628
INGLE, CHARLES charlesingle@hughes.net
ROSTER LOSS
ANDERSON , DAVID LKA GLENDALE, AZ
ALEXANDER, RICHARD LKA JOLIET, IL
APPL, FRED LKA BEMENJI, MN
ELKINS, RICHARD LKA ROSEVILLE, MI
FREAUFF, MELVIN LKA PORTLAND, OR
GUNNING, PETE LKA HAILEY, ID
JACKSON, JACK LKA WILDWOOD, MO
MITCHELL, JOE LKA COURSEGOLD, CA
MATTOS, JACK LKA SAN LEANDRO, CA
SANDLIN, MIKE LKA FALLBROOK, CA
WOLTMAN, CLYDE LKA McLEAN , VA
WE HAD A BUNCH OF FAILED EMAIL COME BACK LAST NEWSLETTER. WHEN THIS HAPPENS I MAIL OUT A HARDCOPY TO THE ADDRESS I HAVE ON THE ROSTER. IF YOU MOVE OR CHANGE YOUR EMAIL WE NEED TO KNOW IN ORDER TO KEEP THE ROSTER UP TO DATE. IF ANYONE IS IN TOUCH WITH ANYONE ON THE ABOVE LIST PLEASE LET ME KNOW WHERE THEY ARE.
TAPS
MULES, RICHARD 1967-68, CHU LAI, HYDRAULICS. IN JANESVILLE, MI 2015 OF CANCER.
WEATHERFORD, LOU 1953-55, K-3, CREW CHIEF IN MARIETTA, GA JUNE 2015.
NAMES WILL BE READ AT THE MEMORIAL SERVICE IN PENSACOLA IN OCTOBER.
DONATIONS
AL FAVELA (62-65), SAN DIEGO, CA; TOM GRIFFITHS (64-66) DEL MAR, CA. THANKS MARINES!
DATELINE: SEPT-OCT 1960: The squadron operated from the auxiliary landing field San Clemente, CA. While deployed, the Tomcats participated in a demonstration at Camp Pendleton staged for the Joint Civilian Orientation Conference. Besides showing that an A-4 could deliver more fire power than a B-17 Flying Fortress, the jets flew bombing and strafing runs over the target area, while ground troops from of the 1st Marine Division stormed their objectives from amphibious craft and MAG-36 helicopters.
AL FAVELA (62-65), SAN DIEGO, CA: "AS I ONLY LIVE ABOUT FOUR MILES FROM MCRD HERE IN SAN DIEGO AND SINCE THEY LET ME PARK MY RV IN THE STORAGE AREA THERE, I SPEND QUITE A BIT OF TIME ON THE BASE.
I NOTICED THE OTHER DAY THAT THERE IS NOW A STREET NEAR THE OBSITCLE COURSES NAMED AFTER CHU LAI. CAN YOU IMAGINE THAT? RIGHT NEXT TO GUADALCANAL, IWO JIMA AND TARAWA STREETS!
THE MARINES THAT FOUGHT AND DIED IN THOSE FAR AWAY PLACES ARE THE MAIN REASON I JOINED THE CORPS BACK IN 1961 AND I WAS ONE OF THE FIRST GUYS TO COME OFF THAT LSD AT CHU LAI ON MARCH 15TH 1965. IT REALLY MAKES ME FEEL PROUD—BUT SOMEHOW, I DON'T FEEL THE EQUAL TO THOSE MARINES THAT CAME BEFORE ME—MAYBE I'VE JUST SEEN TOO MANY HOLLYWOOD MOVIES IN MY SPARE TIME. I'LL HAVE TO GET A PICTURE OF THAT SIGN AND SEND IT TO YOU ONE OF THESE DAYS. ALL THE BEST FOR THE HOLIDAYS AND THE NEW YEAR!
ELLIS KNUTZ (64-65), MONTESANO, WA: "THIS CARD (see pages 5-6) IS FOR THE SERVICE OF 1ST LT. ELDRIDGE. IT WAS GIVEN TO ME BY ONE OF THE MEN IN VMA-311 SUPPLY SECTION. SGT HARTLING OR L/CPL CRAWLEY. THE LT. WAS A VMA-311 PILOT. HIS OTHER JOB WAS LOGISTICS OIC. BEFORE WE WENT OVERSEAS, HE USED TO COME INTO OUR SUPPLY OFFICE AT EL TORO. WHAT I HEARD ABOUT HIS DEATH HE WAS ON A MISSION A HEAVY MACHINE GUN ROUND PENETRATED HIS SEAT AND HIT HIS LEG. HE WAS ON THE RADIO WITH HIS WING MAN FOR AWHILE BUT DIDN'T MAKE IT BACK TO CHU LAI.
WHEN THIS HAPPENED I WAS AT CHU LAI WITH VMA-211. THE MARINE CORPS HAD TRANSFERRED MEN TO DIFFERENT SQUADRONS SO WE WOULDN'T ALL ROTATE BACK TO THE STATES AT THE SAME TIME FROM ONE SQUADRON."
FROM THE VAULT…
FOR THE BASEBALL FANS OUT THERE..A NUMBER OF OUR 311 GUYS ON THE ROSTER PITCHED IN WITH COMMENTARY FOR THE BOOK "TED WILLIAMS AT WAR" BY BILL KNOWLIN. VMF-311 AND VMF-115 WERE SISTER SQUADRONS IN THE KOREAN WAR AND SOME SERVED IN BOTH SQUADRONS.
"VMF-311 WAS QUITE THE SQUADRON, INCLUDING AS IT DID BOTH JOHN GLENN AND TED WILLIAMS. THEN THERE WERE LLOYD MERRIMAN AND JACK BOLT IN SISTER SQUADRON VMF-115. BOLT WAS A MARINE ACE FROM WWII, WHO BECAME AN ACE IN KOREA AS WELL. MERRIMAN WAS, LIKE WILLIAMS, A MAJOR LEAGUER. HE HAD PLAYED OVER 300 GAMES IN THREE SEASONS WITH THE CINCINNATI REDS. THERE WAS ALSO ANOTHER PILOT IN VMF-311 WHO HAD A BASEBALL CONNECTION. CAPTAIN CHARLES E. STREET, JR., THE COMMUNICATIONS OFFICER, HAD JOINED THE SQUADRON ON 17 DECEMBER 1952. HIS FATHER WAS VETERAN MAJOR LEAGUE CATCHER GABBY STREET, WHO'D PLAYED FOR A NUMBER OF TEAMS FROM 1904-1912. HE'D BEEN WALTER JOHNSON'S CATCHER ON THE SENATORS IN THE YEARS 1908-1911, AND ON AUGUST 24, 1908 HE CAUGHT THE BALL THROWN FROM THE TOP OF THE WASHINGTON MONUMENT. THE SENIOR STREET SERVED IN THE U.S. ARMY IN BOTH THE SPANISH AMERICAN WAR AND WORLD WAR I, AND AFTER HIS WWI SERVICE WAS KNOWN AS "OLD SARGE" THROUGHOUT BASEBALL, PATICULARLY WHEN HE MANAGED THE ST. LOUIS CARDINALS TO PENNANTS IN BOTH 1930 AND 1931."
MAJOR JON MENDES, VMF-311 1953, INSTRUCTED TED WILLIAMS AT CHERRY POINT. JON WAS THE OPERATIONS OFFICER OF VMFT-20. "JON MENDES KNEW THAT HIS TRAINING SQUADRON WAS SEEN AS A PLUM BY MANY MARINE AVIATOR HE CONCLUDED THAT TED "HAD ENOUGH PULL TO BE SENT TO MY SQUADRON LIKE GLENN DID- TO BE CHECKED OUT ON JETS. THAT'S THE TOP OF THE LINE." THE TRANSITION TRAINER WAS A TV-2. MENDES EXPLAINED THAT THE FIVE RIDES WERE FOR FAMILIARIZATION. "I WAS THE OPERATIONS OFFICER AND WHEN HE CAME TO THE SQUADRON. I SAID TO MYSELF, WELL, HERE'S A GUY WE DON'T WANT TO LOSE OR 4. GET HURT, SO I'D BETTER TAKE HIM MYSELF. I WAS IN CHARGE AND I'D BEEN DOING IT LONGER THAN ANYONE ELSE. HE REPORTED AND I GOT HIS NAME AND PUT HM ON THE BOARD. WE GAVE HIM SOUND GROUND SCHOOL- THE MANUAL AND CHECKOUT OF THE PLANE, LET HIM WALK AROUND AND KICK THE TIRES UNTIL HE FELT COMFORTABLE AND THEN I TOOK HIM OUT ON HIS FIRST FLIGHT. HE RESPONDED JUST AS WELL AS ANY OTHER PILOT. THERE WAS NOTHING SLOW OR FAST OR OUTSTANDINGOR BAD. IT'S A REGULAR ROUTINE. YOU DEMONSTRATE IT AND THEN YOU PRACTICE IT. DEAD STICK LANDINGS. GLIDING. IT'S NOT COMPLICATED BUT YOU HAVE TO BE TAUGHT. ONCE YOU LEARN IT, THEN YOU GO UP TO THE F-9. IT'S A HEAVIER PLANE AND MORE COMPLICATED, BUT YOU LEARN."
MAJOR JON MENDES (Ret.) FLEW THE LAST MISSION IN KOREA ON JULY 27, 1953. IF YOU VISIT THE MARINE CORP MUSEUM IN QUANTICO YOU WILL NOTICE THAT THERE IS A FLIGHT SUIT WITH A VMF-311 WILLY LOVER PATCH WITH HIS NAME TAG ON IT. AS OF 2012 HE WAS STILL RUNNNG IN THE NEW YORK MARATHON AT THE AGE OF 92 AND HAS RUN A NUMBER OF MARINE CORP MARATHONS.
READING THE BOOK ABOUT TED WILLIAMS YOU WILL BE MIXED IN YOUR MIND AS TO WHETHER HE WAS A GOOD GUY OR BAD OR INDIFFERENT. BARNEY McSHANE WANTED TO GET HIM COURT MARTIALED, GUYS COMPLAINED THAT HE WAS TOO ALOOF OTHERS THOUGHT HE WAS GREAT TO BE AROUND. EVERYONE SEEMED TO SEE IT IN THE WAY THEY REMEMBER IT. I SEEM TO REMEMBER THAT HE WAS NOT THE MOST FAVORITE BALL PLAYER IN BOSTON BY FANS AND SPORTS WRITERS ALIKE. BUT LIKE HIM OR NOT HE WAS AND WILL ALWAYS BE KNOWN AS THE "SPENDID SPLINTER". HIS .400 BATTING RECORD WILL BE TOUGH TO CRACK.
IN READING THE BOOK I WOUD BE AMISS IF I DID NOT GIVE OUR BELOVED FRED TOWNSLEY (53-54) HIS MOMENT OF PRINT. IN CHAPTER 13, LIFE ON THE BASE- K-3 POHANG, PAGE 171 THERE IS A STORY THAT MAKES REFERENCE TO SOMEONE NAMED TEAGUE CUTTIE. SEEMS SHE WAS A SHORT KOREAN WOMAN WHO PARTICULARLY ENDOWED AND RAN A HOUSE OF SOME SORTS. I'LL LEAVE IT AT THAT. YOU'LL HAVE TO READ IT TO FILL IN THE BLANKS. OF COURSE IF YOU HAVE "SEMPER FI" IN YOUR BLOOD THEN YOU CAN PROBABLY FIGURE THE WHOLE SCENARIO OUT. FRED WAS ALSO A RUNNER AT ONE TIME FOR TED WILLIAMS AND SAID HE HAD SHEETS FOR HIS COT SOMETHING THAT THEY DIDN'T. THERE YOU GO FRED!!
WRAPPING IT UP…
WOW—THIS WEATHER IS HARD TO TAKE ISN'T IT. IF YOU FOLLOW THAT LITTLE SLIVER OF WEST VIRGINIA UP BETWEEN OHIO AND PENNSYLVANIA I'M RIGHT AT THE TIP AND BY GOLLY WE HAVEN'T SEEN SNOWFLAKE ONE. I HATE TO THINK IT BUT I MAY HAVE TO BREAK OUT THE LAWN MOWER THIS WEEK. BIG CONTRAST FROM LAST YEAR. THE GUYS IN NEW ENGLAND WERE TRYING KEEP THEIR ROOFS SHOVELED OFF.
HOPE THIS FINDS EVERYONE WELL. ON BEHALF OF THE REUNION GROUP:
MERRY CHRISTMAS
HAPPY NEW YEAR
SHABAT SHALOME
SEMPER FIDELIS,
JIM GALCHICK
TOMCAT AIR…ON TIME…ON TARGET!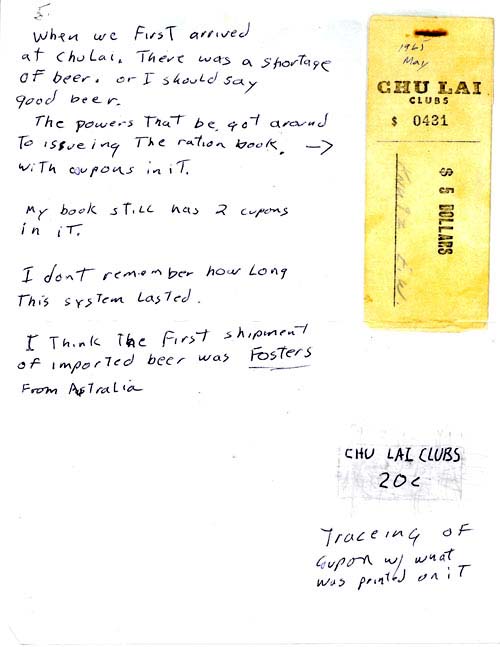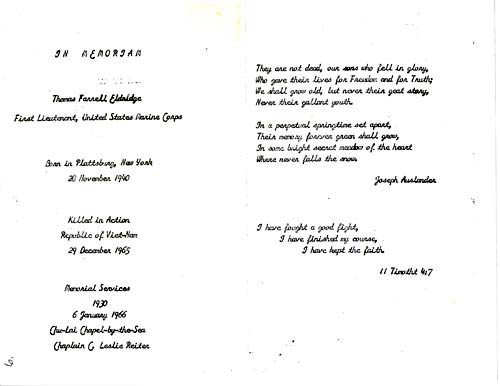 ***************************************************************************************************************
OCTOBER 2015 EDITION
PENSACOLA, FLORIDA REUNION 2016 OCTOBER 12-15
SOMEHOW IN THE MIDDLE OF ALL THE SUMMER CONFUSION AND WORK, I HAVE MISSED A COMPLETE NEWSLETTER. TRUTH BEING THAT I WANTED TO WAIT UNTIL WE GOT A CONFIRM ON THE HOTEL DOWN IN PENSACOLA. SEEMED LIKE EVERY TIME WE HAD TO MAKE A REVISION THAT WEEKS HAD GONE BY. BUT, LOW AND BEHOLD WE DO NOW HAVE A SIGNED CONTRACT. WHAT WE DON'T HAVE IS A ROOM BLOCK NUMBER WHICH THEY SAID THEY COULDN'T ISSUE UNTIL NOVEMBER WHEN THE REUNION WAS UNDER A YEAR OUT. WHATEVER! THAT BEING SAID, ANYONE WHO IS GOING TO PENSACOLA WILL HAVE TO CALL IN FROM DECEMBER ON. I'LL POST THE ROOM BLOCK CODE IN THE NEXT NEWSLETTER. HERE'S THE ADDRESS AND WEB SITE. THEY SAID THAT THE HOTEL WAS TO UNDERGO A COMPLETE TRANSFORMATION BY THE TIME WE GET THERE NEXT YEAR. THAT OUGHT TO BE INTERESTING!
HILTON GARDEN INN PENSACOLA AIRPORT/ MEDICAL CENTER
1144 AIRPORT BLVD.
PENSACOLA, FL 32504
PH: 850-479-8900
I GUESS YOU CAN GOOGLE IT UP ON FACEBOOK. HAVEN'T WENT THERE YET. HOWEVER, WE DID GET A GOOD PACKAGE TOGETHER THAT WAS COST EFFECTIVE INDIVIDUALLY AND FOR THE GROUP. GOT TO GET BUSY LINING UP THE TOURS AND THOSE SORT OF THINGS. BE INFORMED THAT WE ARE NOT GOING TO BE ON THE BEACH. ONE QUESTION WE ASKED OURSELVES WAS " HOW MANY OF US ARE GOING TO SPEND A LOT OF TIME ON THE BEACH?" FOR THOSE WHO WISH TO PARTAKE OF THE SANDY PENSACOLA BEACHES, WE ARE ONLY 15 MINUTES AWAY. WE HAD A LITTLE REUNION GOING WITH THE SITE INSPECTION. THERE WAS CECIL AND CHRIS CHEEKA, AIME AND PAT YOCCA CAME OVER FROM ORLANDO, JIM AND DOT DAVIS WHO RESIDE THERE AND OF COURSE THE FIRST SERGEANT AND I. JIM DAVIS GAVE US A SHORTENED TOUR OF PENSACOLA AND WE GOT AN IDEA OF WHAT WE ARE GOING TO TRY TO DO FOR THIS REUNION. ALL TO BE SPELLED OUT LATER.
2. NEW ALUMNI
BONNER, DANNY M. 316 VALERIE DRIVE., CRANBERRY TOWNSHIP, PA 16066
VIETNAM (GREG MANLEY SENDS)
ADDRESS CHANGES
RICHARD AREHART 792 RICHARD DRIVE, ZENIA, OH 45385-2500
PH: 937-432-5951
DARRELL BJORKLAND 4528 PIPER GLEN DRIVE, PENSACOLA, FL 32514
MORRIS LIEBHABER ATRIA SENIOR LIVING, 3718 HENRY HUDSON PARKWAY, BRONX, NY 10463
PH: 347-341-5904 EMAIL: morrisliebhaber29@gmail.com
JOEL WADE 27719 94TH AVE. SW, VASHON, WA 98070-8609
PH: 206-463-2273 EMAIL: joelwade@centurytel.net
MIKE TRANT THREE FOUNTAINS, 6011 MELODY LANE, APARTMENT 437, DALLAS, TX 75231
PH: 214-363-1841
PAT HERBER 12507 GREENWOOD AVE. N, APT A-404, SEATTLE, WA 98133
EMAIL: pat.jackherber@comcast.net
VMF/VMA-211 RUNION ASSN. BRUCE M. HARTON, MARINE AIR GROUP 24, 10415 LEE ANN COURT, BRIGHTON,
MI 48114 PH: 810-588-6303 EMAIL: pbharton@comcast.net
EMAIL, PHONE AND OTHER CHANGES…
BILL LEESE wleese@rittermail.com
MARK WILLIAMS A-4 SKYHAWKERS GROUP rogerwilco@comcast.net
MATT HAEFNER av8b.heed@me.com
KRIS SHEWELL Kristine.shewell@yahoo.com
PH: 832-847-5411
GREG MANLEY mmanley6@tampabay.rr.com
ART REGAN Arrc310b@gmail.com
TAPS
JOE COTY PITTSFIELD, MA , VMF-311 1942-44, ROI-NAMUR, TRANSPORTATION COMPANY
( I DO NOT KNOW ANYTHING ELSE CONCERNING JOE'S DEATH. I RECEIVED HIS
NEWSLETTER BACK MARKED "DECEASED")
NAME WILL BE READ AT MEMORIAL SERVICE IN PENSACOLA.
LOST IN THE MAIL MIKE BERGER LKA WASHINGTON ISLAND, WI
3. DONATIONS
RICHARD AREHART (66-67, 69-70), ZENIA, OH; BOB SIMMONS, (72-73), COLORADO SPRINGS, CO; JOEL WADE (77-79), VASHON, WA. THANKS MARINES!!
LETTERS AND EMAILS FROM THE TROOPS…
MARTY IRONS, FAIR HAVEN, VT: " I'M RESEARCHING CORSAIR PILOT RESCUES IN THE PACIFIC IN WWII. DOES YOUR ORGANIZATION HAVE ANY INFO ABOUT A RESCUE OF A LT. SARK ON 6 JUNE 1945 BY A PBM OF VH-3? THE VMF-311 RECORDS ARE AWFULLY THIN."
(THE HISTORY OF 311 BOOK SHOWS THAT ON 11 JUNE, 2ND LT. WILFRED W. WILHIDE WENT DOWN AT SEA AFTER EXPERIENCING ENGINE FAILURE AND ON 22 JUNE, 1ST LT. EUGENE READE WAS HIT BY GROUND FIRE WHILE MAKING A STRAFING RUN. MAKING A SUCCESSFUL WATER LANDING HE WAS UNABLE TO INFLATE HIS WATER RAFT , THE AIRCRAFT SANK AND HE WAS NOT FOUND. THERE IS NO MENTION OF A LT. SARK. AND THESE WERE THE ONLY TWO FATALITIES THE SQUADRON SUFFERED IN JUNE 1945. THERE ARE SOME OF YOU CORSAIR PILOTS OUT THERE THAT WERE WITH THE SQUADRON MAYBE YOU REMEMBER THE INCIDENT. MARTY'S EMAIL IS ironsrx@aol.com )
MATT HEFNER, VIRGINIA BEACH, VA: "JEN AND I HAVE FOLLOWED THE NEWSLETTERS AND WISH WE COULD HAVE MADE THE 2014 REUNION. WE JUST WEREN'T ABLE TO CARVE OUT THE TIME. I WAS BASICALLY WORKING TWO JOBS GETTING READY TO GET OUT OF THE MARINE CORPS.
I STARTED FLIGHT INSTRUCTING AT A LOCAL FLIGHT SCHOOL TO BUILD FLIGHT CURRENCY IN ORDER TO APPLY AT THE AIRLINES SINCE I WAS WORKING ON STAFF "FLYING" A DESK. I WAS DOING INSTRUCTING DURING THE EVENINGS AND ON THE WEEKENDS.
MY RETIREMENT CEREMONY WAS JULY 24TH AND MY LAST DAY AS AN ACTIVE DUTY MARINE WAS 31 AUGUST 2015.
THE EFFORT OVER THE LAST 18 MONTHS PAID OFF AND I WAS HIRED BY UNITED BACK IN MAY AND I STARTED TRAINING WITH THEM IN AUGUST. WE PLAN ON STAYING IN NORFOLK UNTIL OUR OLDEST SON GRADUATES FROM HIGH SCHOOL AND THEN WE PLAN TO PICK UP AND MOVE…ONE LAST TIME HOPEFULLY!!
JEN AND I BOTH HOPE THAT MY SCHEDULE WILL ALLOW MAKING THE TRIP TO PENSACOLA IN 2016. SHE HASN'T BEEN THERE SINCE I FINISHED FLIGHT SCHOOL. I'VE BEEN BACK TWICE FOR VARIOUS MILITARY CONFERENCES. TELL SUE HELLO AND WE HOPE TO SEE EVERYONE IN 2016."
JOEL WADE, VASHON, WA: "I HAD THE PRIVILEGE OF SERVING IN VMA-311 AS AN A-4 DRIVER FROM 1977 TO 1979 IN EL TORO AS WELL AS IWAKUNI ,JAPAN. SINCE LEAVING THE USMC IN 1985, I PUT MY MARINE CORPS TRAINING TO WORK AS AN AIRLINE PILOT FOR 23 YEARS; NOW I'VE CROSSED TO THE "DARK SIDE" AND HAVE WORKED FOR THE FAA FOR THE LAST EIGHT.
NOTHING WILL EVER COMPARE WITH THE EXPERIENCES AND FRIENDSHIPS THAT I ESTABLISHED DURING MY TIME WITH THE "TOMCATS"; SOME OF THOSE INDIVIDUALS WITH WHOM I AM STILL IN TOUCH WITH TODAY!
THANK YOU FOR YOUR CONTINUING WITH THE LONG HOURS AND HARD WORK THAT IT TAKES TO KEEP AN ASSOCIATION LIKE THIS GOING; IT IS MY HEARTFELT DESIRE TO ATTEND A REUNION AT SOME POINT SO I CAN HAVE THE PRIVILEGE OF REESTABLISHING OLD FRIENDSHIPS AND STARTING NEW ONES WITH THOSE THAT PRECEEDED ME.
SEMPER FIDELIS!"
BRUCE M. HARTON, VMF/VMA-211 ASSOCIATION: "AFTER THE DAVENPORT REUNION , RICHARD DOWNS AND BILL BURGETT RETIRED AFTER MANY YEARS OF SERVICE TO OUR ORGANIZATION. A BIG THANK YOU IS DUE BOTH OF THESE MEN FOR THEIR FAITHFUL SERVICE IN KEEPING US GOING. ALTHOUGH NOONE CAN FILL THEIR SHOES, JOE KALIL AND I HAVE ASSUMED THEIR RESPONSIBILITIES. JOE AS TREASURER AND ME AS "AVENGER" EDITOR. JOE'S ADDRESS IS 10927 FAIRWAY RIDGE LANE, FISHER, IN 46032 PHONE: 317-842-7461. FINANCIAL THINGS GO TO HIM. NEWS FOR THE NEWSLETTER OR ANY OTHER BUSINESS CONTACT ME ( SEE ADDRESS CHANGES THIS NEWSLETTER). WE WANT TO KNOW WHAT'S HAPPENING WITH OUR MEMBERS SO KEEP SENDING LETTERS. ALSO IF YOU LEARN OF THE PASSING OF ANY 211 MEMBERS, PLEASE LET US KNOW SO WE CAN PAY TRIBUTE TO THEM IN OUR NEWSLETTERS. AND FINALLY, DUE TO TECHNICAL DIFFICULTIES IN DATA TRANSFER, WE LOST OUR MAILING LIST SO WE HAD TO REENTER THE DATA. PLEASE SEND ANY ADDITIONS OR CORRECTIONS TO ME. ALSO, WE WOULD LIKE YOUR EMAIL AND PHONE NUMBER IF YOU ARE COMFORTABLE WITH SHARING THAT."
(NOTE: I KEEP 211 IN OUR LOOP BECAUSE A NUMBER OF OUR GROUP SERVED IN 211 ALSO, ME INCLUDED.)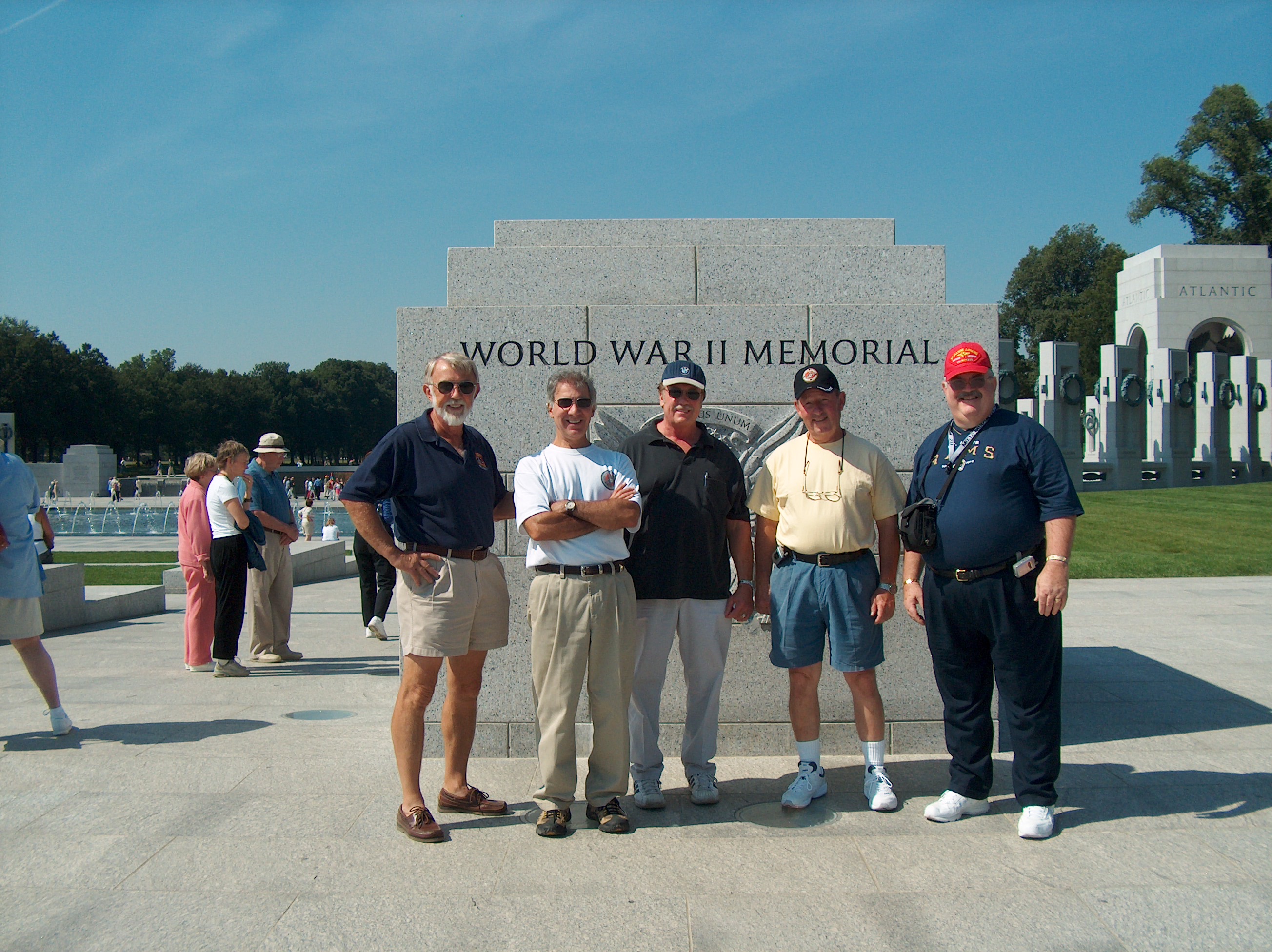 IN ARLINGTON IN 2004. IT DROPPED OUT OF ONE OF MY PILES OF PAPERS THAT I KEEP AROUND. (L-R) STEVE KALAFUT (64-66), GEORGE ARNONE (65-66), NEED SOME HELP WITH THE GUY IN THE MIDDLE, FRED AVERY (64-66) AND JERRY BRADLEY (64-66). ANYONE GOT THE MIDDLE GUYS NAME?
THIS NEXT STORY WAS RELATED BY FRED BAUER, CINCINNATI, OH, WHEN HE WAS IN VMF-311. FRED JOINED 311 A SHORT TIME AFTER IT WAS COMMISSIONED.
"I WAS FRESH OUT OF SCHOOL AT JACKSONVILLE, FL IN THE SUMMER OF 1943. I AND ABOUT 20 OTHER MARINES JOINED THE 311 AT PAIGE FIELD.
IN THE FALL OF 1943 THE SQUADRON WAS ORDERED TO MIRAMAR AIR FIELD AT SAN DIEGO, CA. WITHIN TWO WEEKS WE WERE ABOARD SHIP AND ON OUR WAY TO AMERICAN SAMOA. THIS TRIP TOOK ABOUT 29 DAYS. AFTER AN OVERNIGHT AT SAMOA WE WERE ON OUR WAY TO WALLACE ISLAND. WE WERE ON WALLACE THROUGH DECEMBER 1943. IN EARLY JANUARY 1944 WE WERE ON THE MOVE AGAIN, THIS TIME TO ROI AND NAMUR. WE ARRIVED RIGHT AFTER THE NAVY AND MARINE CORPS HAD BLOWN THE ISLAND APART. ONLY TWO PALM TREES WERE LEFT STANDING. THE GROUND CREWS WENT ASHORE TO UNLOAD EQUIPMENT. THERE WERE STILL JAPANESE SOLDIERS LAYING ON THE GROUND WAITING TO BE BURIED. WE WERE BOMBED, HAD A FEW MORE ALERTS BUT NO MORE BOMBINGS
AFTER ABOUT 4 DAYS MYSELF AND ABOUT 20 GROUND CREW WERE SENT TO KWAJALIEN ATOLL ALONG WITH 4 OR 5 F4US FOR PROTECTION OF A SQUADRON OF AIR FORCE B-24S. TWO WEEKS LATER WE WERE BACK ON ROI. BY THAT TIME THE TENTS WERE UP AND THE AIRFIELD WAS IN PRETTY GOOD SHAPE. FROM THEN ON IT WAS OUR JOB TO KEEP THE F4US FLYING EVERY DAY.
IN THE LATE FALL OF 1944, MYSELF AND A GROUP OF MARINES WITH ABOUT 10 TO 15 F4US WERE SENT BACK TO AMERICAN SAMOA. WE WERE TOLD IT WAS FOR IFF (FRIEND OR FOE PRACTICE). IT WAS A HELL OF A LOT OF WORK. OUR
5. BUDDIES ON ROI HAD LITTLE TO DO WHILE WE WERE GONE; MAJOR HOOPER GAVE EACH OF US A CASE OF BEER. WHEN I RETURNED THERE WAS ONLY TWO BOTTLES LEFT IN MY CASE. MY BUDDIES ENJOYED MY ABSENCE.
IN DECEMBER 1944 I AND SEVERAL OTHER MARINES WERE TOLD TO GET WEIGHED WITH A RIFLE, 100 ROUNDS OF AMMUNITION AND WHATEVER ELSE WE WANTED NOT TO EXCEED 200 TO 215 POUNDS. WE THOUGHT WE WERE GOING TO OKINAWA.
IN THE MEANTIME NEW PEOPLE BEGAN ROTATING INTO THE SQUADRON AND OUR CREW LEFT ROI FOR QUANTICO, VIRGINIA. ALL THE TIME I SPENT WITH VMF-311 OUR PLANES HAD THREE BLADED PROPELLERS. WE HAD NO NICKNAME THEN. THE F4US WERE GREAT PLANES."
WAY ON THE OTHER END OF THE SQUADRON TIMELINE…WITH COL. CLYDE WOLTMAN COMMANDING, THE TOMCATS DEPLOYED TO IRAQ IN NOVEMBER 2004. THIS IS HIS INITIAL CONTACT WITH THE FAMILIES OF 311 MARINES:
GREETINGS FROM AL ASAD AIRBASE, IRAQ. WITH THE EXCEPTION OF TWO HARRIERS AND A SMALL GROUP OF MAINTAINERS, THE MAJORITY OF OUR MARINES ARRIVED HERE FROM THE UNITED STATES THIS MORNING, AND WE'VE HIT THE DECK RUNNING. I AM SURE YOU ARE ALL WATCHING THE NEWS AT HOME AND ARE AWARE THAT THE MARINES ARE VERY BUSY. ALTHOUGH THE LAST LARGE ECHELON OF OUR SQUADRON ARRIVED JUST THIS MORNING, YOU SHOULD BE VERY PROUD THAT WE HAVE BEEN HEAVILY ENGAGED IN SUPPORTING THESE ACTIONS FOR THE PAST WEEK. AND IN TRUE TOMCAT FORM, YOUR MARINES ARE PERFORMING ADMIRABLY.
TO GIVE YOU A FEEL FOR THE CURRENT SITUATION, OUR MARINES ARE IN A TRANSITIONAL PHASE. THE UNIT WE ARE REPLACING IS STILL HERE, AND ALTHOUGH AGGRESSIVELY PREPARING FOR THEIR NEAR-TERM DEPARTURE, THEY REMAIN IN OUR FUTURE WORKPLACES AND LIVING FACILITIES. THEREFORE FOR THE NEXT SEVERAL DAYS MOST OF OUR MARINES WILL BE LIVING IN TENTS , NOT OF THE KOREAN WAR VINTAGE THAT WAS COMMONPLACE A COUPLE OF YEARS AGO, BUT HARDENED DOUBLE LAYERED, CLIMATE CONTRLLED FACILITIES. THE TENTS ARE GROUPED IN SORT OF A "CITY", OURS POPULATED PRIMARILY BY VMA-311 AND MALS-13 MARINES. NEAR EACH GROUP OF TENTS ARE THE "CONVENIENCE SHELTERS", WHICH ARE SIMPLY PORTABLE SHOWER/SINK/TOILET STRUCTURES. ON THAT NOTE, "INDOOR PLUMBING" IS NOT SOMETHING YOUR MARINES WILL SEE FOR QUITE SOME TIME. ONCE OUR PREDECESSOR SQUADRON DEPARTS, WE WILL LEAVE OUR TENT CITY AND MOVE INTO THE "CANS", WHICH ARE HARDENED MOBILE STRUCTURES, RESEMBLING TRAILERS. OUR MARINES WILL STILL SHARE THEIR ROOMS, BUT THE PRIVACY WILL BE VASTLY BETTER THAN LIFE IN THE TENTS.
WITH RESPECT TO AMENITIES HERE AT AL ASAD AIRBASE, FIRST AND FOREMOST WE HAVE A COUPLE CHOW HALLS, SO REST ASSURED YOUR MARINES HAVE ACCESS TO THREE WARM MEALS A DAY. WE HAVE A BASE EXCHANGE, WHICH OFFERS THE "BASICS" SUCH AS SNACKS, CLOTHING , TOILETRIES, UNIFORM ACCESSORIES, BOOKS, CDS, DVDS, APPLIANCES, BARBER SHOP AND PHONE CENTER, ETC. ADDITIONALLY WE ALSO HAVE IRAQI CONCESSIONAIRES, WHICH SELL LOCAL GOODS SUCH AS RUGS, APPLIANCES AND SOUVENIRS. ALSO WE HAVE, INTERNET CAFÉ/PHONE CENTER, CHAPELS, POST OFFICE. THEATER, LAUNDROMAT SERVICE, GYM, AND "SATURDAY NIGHT BOXING". ALL IN ALL, THE LEVEL OF COMFORT IS NOT TOO BAD.
IF YOU HEAR OF ANY COMPLAINTS FROM YOUR MARINES, THE MOST COMMON ONE IS LACK OF TRANSPORTATION. BILLETING, THE MAIN MESS HALL, AND THE EXCHANGE COMPLEX ARE ALL WITHIN 5-10 MINUTES OF EACH OTHER, HOWEVER THE DISTANCE FROM BILLETING TO THE FLIGHT LINE IS A 25 MINUTE WALK. THERE IS A SHUTTLE SERVICE, WHICH IS UNRELIABLE AT BEST, BUT IT GETS US THERE.
FOR THE REMAINDER OF THE DEPLOYMENT YOUR MARINES WILL BE WORKING 12 HOUR WORK DAYS. THE SQUADRON HAS TWO SHIFTS, SO WE ARE AT THE JOB 24 HOURS A DAY, SEVEN DAYS A WEEK, UNTIL WE GO HOME. THE DEMAND FOR AIR SUPPORT BY OUR HARRIERS IS CONSTANT. THE HARRIERS HAVE PROVIDED THE GROUND FORCES AN INVALUABLE SERVICE, AND IN TRUE TOMCAT TRADITION. I EXPECT THAT WE WILL CONTINUE TO OUR JOB RIGHT.
ON A LAST NOTE, I AM CERTAIN THAT ALL OF YOU ARE CONCERNED ABOUT SAFETY. I CAN'T DICUSS ANYTHING ABOUT SAFETY MEASURES, HOWEVER PLEASE BE CONFIDENT THAT YOUR MARINE CAN'T BE BETTER PROTECTED. IN CASE YOU WERE WONDERING, YOUR MARINES ARE RESTRICTED TO BASE; OFF BASE LIBERTY DOES NOT EXIST HERE.
SEMPER FIDELIS.
TIMELINE: DA NANG: MARCH 1971:
VMA-311 PILOTS HAVE FLOWN 46,000 COMBAT SORTIES IN THE REPUBLIC OF VIETNAM, MORE THAN ANY OTHER MARINE FIXED WING SQUADRON HAS FLOWN HERE.
PILOTING THE TWO A-4 SKYHAWKS ON THE 46,000 MISSION, FLOWN 7 MARCH, WERE LTCOL RICHARD LEE, MAG-11 S-3 OFFICER, AND LT. BRIAN HOWE.
6. MAJOR GENERAL ALAN J. ARMSTRONG, CG OF THE 1ST MARINE AIR WING, AND COL A.C. POMMERENK, MAG-11 CO, WERE ON HAND WHEN THE AIRCRAFT TOUCHED DOWN TO CELEBRATE THE OCCASION.
VMA-311'S MISSION IS TO ATTACK AND DESTROY ENEMY GROUND TARGETS. THEY ALSO SUPPORT ALLIED GROUND UNITS IN MR1.
(REPRINTED FROM THE SEA TIGER 26 MARCH 1971)
THE REUNION BY RACHEL FIRTH:
AUTUMN LEAVES RUSTLING, TOGETHER TO AN APPOINTED PLACE, THE OLD WARRIORS COME. PILGRIMS, DRIFTING ACROSS THE LAND THEY FOUGHT TO PRESERVE. WHERE THEY MEET IS NOT IMPORTANT ANYMOR